Description & Technical information
The present travelling nécessaire from the end of the seventeenth century has nine parts. Thus, it is made of the following: a bowl with a cover, a dish with a broad edge, a double beaker, a candlestick with a base plate, a salt-cellar, a knife, a fork, a spoon and a pair of snuffers. The parts are placed in an original case of wood, covered with leather and with tailored walls for receiving them in the Interior.
All objects are worked in discrete design and have typical features of the end of the seventeenth century. They are silver-gilt – also typical for travelling necessaires. The marks are punched on all nine parts.
The body of the bowl with the cover is plain, except for the two naturalistic, side-handles. In this way, the wonderful, cast finial is particularly highlighted. This has the form of a snake and is located on the vaulted and decorated with two rings cover. The dish is left smooth and has a broad edge. The candlestick has also a smooth surface and is standing on a broad base plate. This base plate is slightly decorated with two engraved rings. Above it is raised the bell-form shaft, decorated with three balusters. The spout is, according to all other parts, left smooth. The round salt cellar with a deep hollow has two broad edges on its upper and lower part and has on both of them two engraved rings. The fork and the soup spoon have a typical end for the second half of seventeenth century, the trefid (three-sectioned end), that is: a longer edge in the middle and two smaller edges at its sides. The fork prongs shape a square-end. The knife-handle is round and silver-gilt, while the blade of it can also be unscrewed. The semi-circular holder of the wick is in a similar way left plain, without any adornment. Finally, the double beaker consists of two tapering beakers fitting together and with alternating plain and matted spiral flutes. The rims are plain and with incised lines.
All nine parts are placed in an original case made with intended, lined walls covered with red velvet. The case closes with brass fittings and has above a handle. The case presents a very qualitative work of leather art (maroquinerie). The leather is decorated with inlays, punched with different motifs of flowers and naturalistic decor. There are remnants of gold. Originally, there was a mirror, which is missing today. The case provides an impressive effect both when left closed or open.
Travelling Nécessaire: An Object of the Seventeenth and Eighteenth Century
Travelling necessaires are cases, which can be transported and which contain the absolutely most necessary objects for the travel (the necessaries or "nécessaires"). They were more and more frequently produced towards the end of the seventeenth century. Their wide diffusion became important during the eighteenth century.
These objects represent master works produced by several experts: cabinetmakers, goldsmiths, mirror manufacturers and leather goods manufacturers. The purpose of these travelling cases is to be able to contain as much objects as possible in an as much small as possible space.
Travelling cases are divided in under-categories: for coffee and tea, for writing, for eating, for the ladies' toilet, and so on. The aesthetic aspect of them has always been of great importance and this is why these objects were most often made of silver, silver gilded, gold and other precious materials.
When the ordering customer was an important person, she or he could also actively participate in the shaping of the travelling case. In any event and in particular for larger travelling cases, the objects made of silver were produced by several makers.
For an elaborate, large travelling case from Augsburg, made in the middle of the eighteenth century, s. in the Deutsches Historisches Museum (German Historical Museum) in Berlin.
Makers
Peter Neuss II became a master maker in 1689. Tobias Haillaicher, son of Hans Ludwig Hallaicher was baptized in 1645 and became master in 1676; he got married in the same year. Tobias Haillaicher died in 1691.
Learn more on Travelling with Silver here.
Weight: ca. 1050 gr.; variable dimensions: 8-20,5 cm (3,15-8,07 in.)
Date: 1690
Period: 1600-1750, 17th century
Origin: Germany, Augsburg
Medium: silver-gilt
Signature: City's hallmark: a "pyr" for Augsburg, 1689 (Seling nr.142 )
Makers' marks: a marguerite for Peter Neuss II (Seling 2007, nr. 1842); "HTS" in a shield for Tobias Hallaicher (Seling 2007, nr. 1739)

Dimensions: 20.5 cm (8¹/₈ inches)
Categories: Silver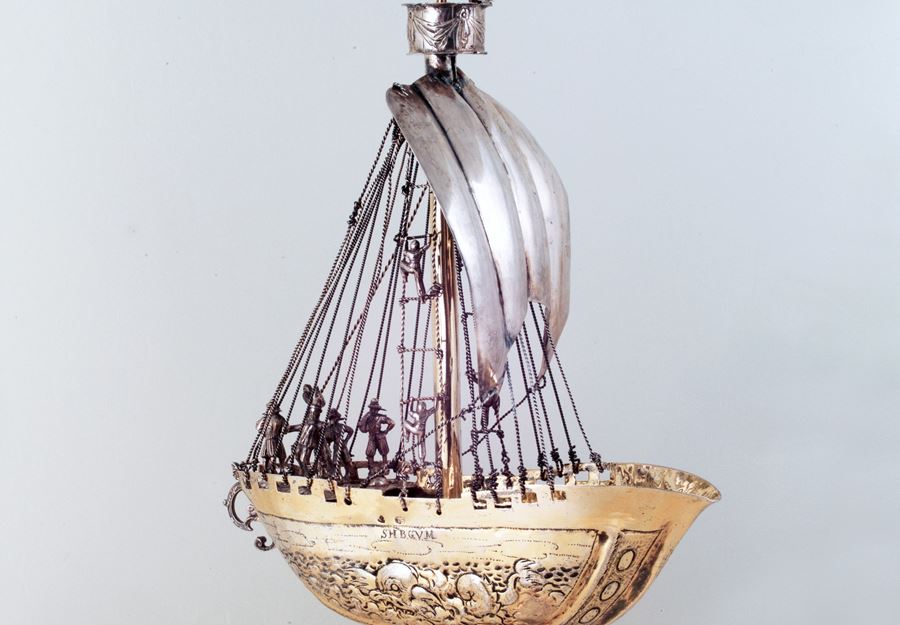 Discover the gallery
Helga Matzke
European Silver and Silver-Gilt Objects coming from the 16th to the early 19th centuries. Our key areas are collectibles and tableware, especially of German cou...
More Works From This Gallery