Description & Technical information
This magnificent palma takes its name from its general shape, which resembles that of a palm with a rounded edge, resting on a triangular base. It is one of the elements of the Mesoamerican ballgame with the yoke and the hacha.

The artist used the contrast between the high relief and bas-relief in order to detach the human figure from the surrounding scenery. The character is at the center of the composition. He has his legs folded to the sides, sitting on the forward protruding base. He holds in each hand a ceremonial rod. A zoomorphic jaguar headdress clasps his face. The detail of the eyes, nostrils and rounded ears of the jaguar are rendered concisely. The man, bare-chested, is wearing a finely woven loincloth, called maxtlatl, whose central strip falls to the front and extends beyond his knees.

Behind the character, the palm is adorned with finely carved bas-relief. Two wings seem to frame the figure and end in a set of wavy lines. A volute escaping from a deity's head seen in profile comes coiling above the dignitary. An elaborate interlacing decor develops on the whole surface behind the character while the back of the palma is left smooth.
Date: 800 - 1100 A.D.
Period: Antiquity
Origin: Mexico, Veracruz
Medium: Brown patina trachyandesite
Dimensions: 48.8 x 20.5 x 14.9 cm (19¹/₄ x 8¹/₈ x 5⁷/₈ inches)
Provenance: Former collection Everett
Rassiga, New York, since 1969
Former collection Olman
Gutierrez, Miami, since 1990.

Literature: Trésors du Nouveau Monde, « A propos des jougs, des haches et des palmes », pp. 33-34,
September 15 - 27 December 27, 1992, Musées Royaux d'Art et d'Histoire, Brussels, 1992
Secrets in Stone: Yokes, Hachas and Palmas from Southern Mesoamerica
SHOOK E. M., MARQUIS E., American Philosophical Society Independence Square, Philadelphia, 1996
Ulama, Jeu de balle des Olmèques aux Aztèques, June 26 – October 12, 1997
Olympic Museum, Lausanne, 1997
The Sport of Life and Death: The Mesoamerican Ballgame, Septembre 22, 2001 – Janvier 6, 2002,
Mint Museum of Art, Charlotte, North Carolina, 2001
Haches cérémonielles de la culture maya, Objets rituels du « sacré » jeu de balle, Cahiers N°2,
Galerie Mermoz, Paris, 2015
Museo Nacional de Antropologia de Mexico, Arqueologia, Ignacio BERNAL, Aquilar, 1967.
Ulama, The ballgame of the Mayas and Aztecs, 2000 BC-2000 AD, From human sacrifice to sport, Ted
J. J. LEYENAAR et Lee A. PARSONS, Spruyt, Van Mantgem & De Does BV/ Leiden, The Netherlands,
1988.
Mourir à El Tajín, Jean-Claude DELHALLE et Albert LUYKX, Revue de l'histoire de la religion, 1998,
p. 217 à 247.
Le jeu de balle des indiens Mésoaméricains, Eric Taladoire, Interview, le Monde Précolombien, 2007.
Veracruz Mural Traditions : Las Higueras, México, John L. Machado, Jr, FAMSI, 2003.
Palma stones and thin stone heads: suggestions on their possible use, Gordon F. Ekholm, American
Antiquity, Vol. XV, n°1, July 1949.
Paraphernalia for the ceremonial ball game in ancient mexico, Hasso von Winning, Southwest
Museum, Los Angeles, 1985.
Categories: Tribal Art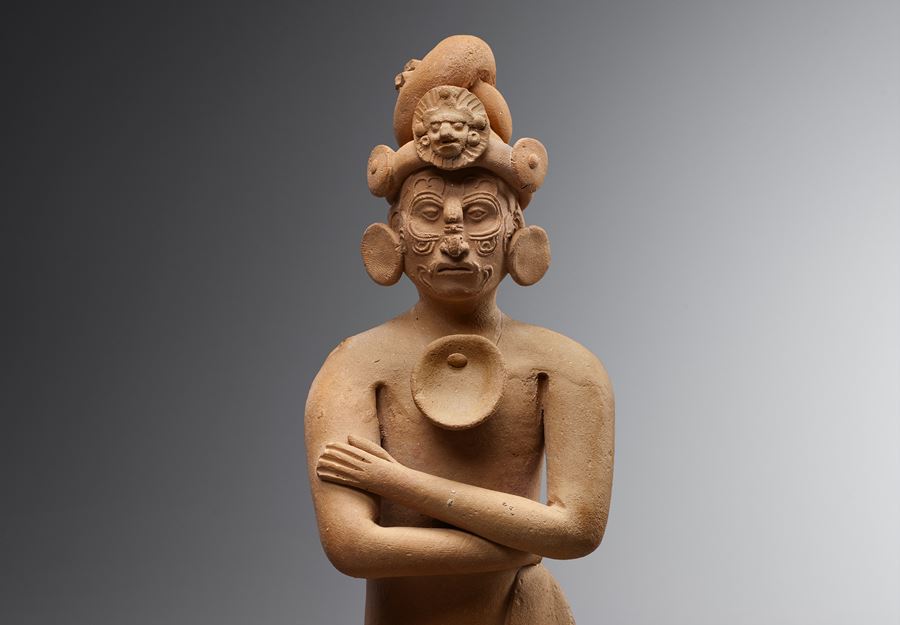 Discover the gallery
Galerie Mermoz
Pre-Columbian Mesoamerican and South American
More Works From This Gallery