Description & Technical information
This pair of spoons presents an exceptional example of the history of goldsmiths in Danzig (modern Gdansk). Each spoon has a round and bright bowl. The tapering square stem is part-twisted on the upper side and has a ball-finial. The lower part of the stem is decorated with an inner-engraving line, which ends at a wonderful leaf also engraved on the interior side of the bowl. On its backside, it is adorned with engraved leaves and a flower. The marks are punched inside this decoration.
During the medieval period, the Baltic ports were home to the Hanseatic League, a rich trading association whose commercial centres were for instance Hamburg, Lübeck, Bremen and Danzig. There were established trading links with the coastal cities of Scandinavia and western Russia and goldsmiths' work flourished there.
Maker: Johann Rohde II became a master maker in 1684 and died in 1720. Rohde was a successful maker, whose most beautiful works delivered to us today are his tankards. The present pair of spoons gives the chance to admire in a small format the certain work of the master.
Weight: each 50 gr.

Date: 1690
Period: 1600-1750, 17th century
Origin: Germany, Danzig
Medium: silver
Signature: City's hallmark: two crosses under a crown in a heraldic shield for Danzig, period c. 1760-1700 (s. Czihak, Nr. 6/p. 44)
Maker's mark: monogram "IR" in a curved shield for Johann Rohde II (Czihak Nr. 385; Rosenberg Nr. 1575/Bd. II)

Dimensions: 20 cm (7⁷/₈ inches)
Literature: Czihak, Eugen, Die Edelschmiedekunst früherer Zeiten in Preußen, vol. I-II, Düsseldorf: Schwann, 1903-1908
Rosenberg, M., 1925, Der Goldschmiede Merkzeichen, Frankfurt am Main: Frankfurter Verlags-Anstalt A.-G.

Categories: Silver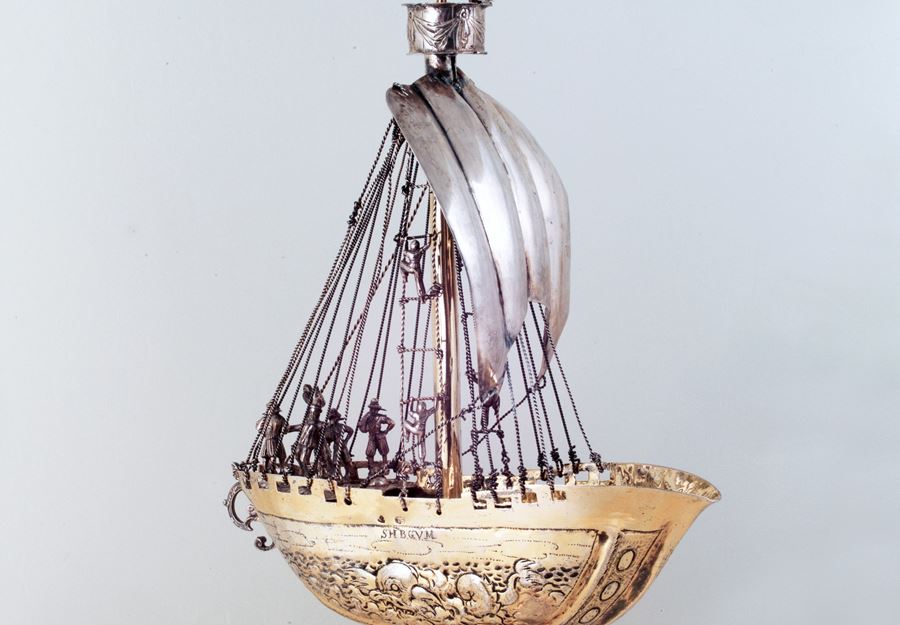 Discover the gallery
Helga Matzke
European Silver and Silver-Gilt Objects coming from the 16th to the early 19th centuries. Our key areas are collectibles and tableware, especially of German cou...
More Works From This Gallery