Description & Technical information
An Ushabti is a funerary figurine used throughout ancient Egypt, placed in a tomb to aid as a servant to the deceased, conducting manual labour for them in the afterlife. Often accompanied with various tools to assist their practices such as carrying sandals, plucking geese or baking bread, they are inscribed on their lower portions with hieroglyphs describing them as 'answerers', naming their characters and duties and summarising their readiness to work[1]. Originating in the Old Kingdom (2600 BC.), they were small in size, often created in multiples and sometimes covered the entire floor of a tomb surrounding the sarcophagus. Varying between wood, stone, clay, metal, glass and earthenware, often from a singular mould, and sometimes polychromatic, they take on a variety of forms, depending on the styles of the time. They are found in Egyptology collections throughout the world, and provide great insight in to the death rituals and afterlife beliefs of ancient Egyptians.
This mummyform shabti has seven horizontal registers of hieroglyphs, showing the name of 'Paser', who was a squire and 'head of cavalry', along with Spell VI of the Book of the Dead. He wears a braided tripartite wig, and carries the crook and flail in his hands. Two incisions highlight the neck folds. Carved from limestone, there is original terracotta red and black pigment on the hair and face, adding a sense of character to the small figure.
[1] M. Zaki; The Legacy of Tutankhamen Art and History, American University in Cairo Press, 2008, p.56

Period: Antiquity
Origin: Egypt
Medium: Limestone, Terracotta, Red and black pigment
Provenance:
Previously in the Private French Collection of Charles Bouché (1928-2010) originally acquired at auction 7th March 1977. Accompanied by a photocopy of the auction details from 1977 as well as the objects inventory details whilst in the Bouché collection.
With Daniel Lebeurrier.

French Art Market (accompanied by French Cultural Passport 140652).

Note on the Provenance

Charles Bouché (1928-2010), an antiquarian specialising in militaria of the First French Empire, was also an important collector of ancient Egyptian art. Fascinated particularly by funerary art, he spent the sixty years following the war amassing an important collection of funerary statuettes and other ritual elements, consisting of shabtis, scarabs, beautiful bronze statuettes and fine amulets. Often guided in his purchases by Egyptologists Professor Jean Yoyotte (1927-2009) and Madame Desroches-Noblecourt (1913-2011), he focused on collecting rare and atypical pieces. Charles Bouché would purchase pieces from other important collections including the collections of Lord Belmore, Mac Gregor, Amélineau, Monier, Omar Pacha, Michaïlidis, Hilton Price, Posno, Roger Peyrefitte and many more.

Of the countless fantastic objects in his collection, one worthy of a special mention is the exceptional Middle Kingdom blue faience shabti made for pharaoh Seti I, one of seven known to exist, special in terms of both provenance and scarcity. Another is the double wooden sarcophagus containing a New Kingdom shabti made from alabaster and inlaid with jasper and green stone. Bouché's collection contained interesting bronze statuettes, with some displaying very atypical representations of divinities. An example of this is the exceptionally rare Late Period statuette representing Harpocrates coming out of a lotus, with a prince kneeling before him offering him a goose.

Charles Bouché was also keen to share his knowledge and taste, allowing many of his art works to be published in publications such as 'Tanis, l'or des pharaons au Grand Palais' by Jean Yoyotte. Two years after his death, 200 objects from his collection were offered for sale in Paris.

Literature:
Collection Charles Bouché, Thierry de Maigret, 24th October 2012, Lot 22.
Categories:
Classical & Egyptian antiquities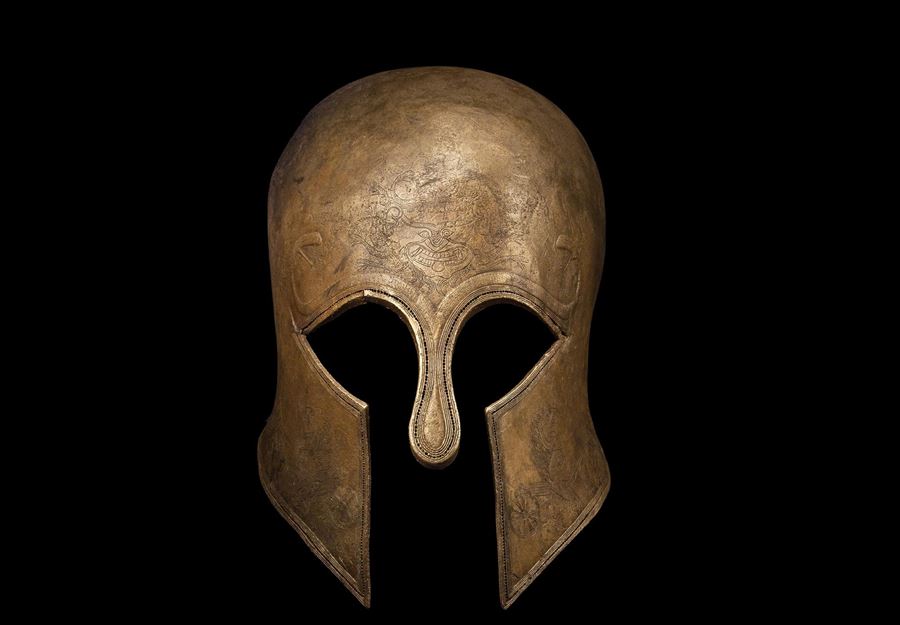 Discover the gallery
David Aaron
Specializing in Classical, Egyptian, Near Eastern, Islamic and Indian Works of art.
More Works From This Gallery