Description & Technical information
The structure of the porcelain reveals that this wall vase (bi ping) was made in the Kangxi period, even though it carries an apocryphal mark of the Ming Emperor Chenghua (1465 – 1487), which reads Daming Chenghua nian zhi. Robustly potted with two small handles, it has a square body and a bottle-shaped neck. It is flat on the reverse with a small hole, allowing it to be hung on a wall. The vase is decorated in an intense cobalt blue with peonies, pomegranates and rocks. The flaring mouth is embellished with a ruyi motif around the rim. The flared foot rim has a decoration of blue leaves in relief.

The imitation of earlier style and motifs, has been done in all periods of Chinese art. This was not done with the intention to mislead or as a counterfeiting practice, but an intentional part of the decorative scheme. Fifteenth century imperial marks, or Nian Hoa , appear regularly on later non-imperial Kangxi period wares. These were added as a tribute to the level of quality of the finest Ming dynasty items.

A wall vase such as this one, could have been part of the decoration of a scholars studio. Flower appreciation and arrangement, were typical pastimes amongst the educated classes in China. Small sophisticated floral arrangements would have been common, as miniature representations of nature indoors. The flowers used would vary with the seasons. Wall vases such as these, were considered practical as they could be hung on the wall, therefore taking up less space on the scholar's desk. An identical vase is in the Laura Collection, Italy. A late Ming double gourde shape wall vase, is in the collection of the Asian Art Museum, San Francisco (Object ID: B69P111L).

Date: 1690
Period: 1600-1750, 17th century
Origin: China
Medium: porcelain
Signature: Apocryphal Six-character Chenghua Mark inside the rim.

Dimensions: 29 x 10 x 6 cm (11³/₈ x 3⁷/₈ x 2³/₈ inches)
Provenance: Private Collection, United Kingdom (2014)
With Vanderven Oriental Art (2002)

Literature: Hay 2010
Jonathan Hay, Sensuous Surfaces: The decorative Object in Early Modern China, London, 2010, p.347-9 & 354

Qingzheng 2002
Wang Qingzheng, A Dictionary of Chinese Ceramics, Singapore, 2002, p.45

Rinaldi 1993 (p0029)
Maura Rinaldi, Ceramics in Scholarly Taste, Exhibition Catalogue, Southeast Asian Ceramics Society, Singapore, 1993

Scagliola 2012
Manuele Scagliola, Nera Laura (catalogue Rose Kerr & Luisa Mengoni), East Asian Ceramic: The Laura Collection, Turin, 2012 p. 169 nr.92.

Categories: Oriental and Asian Art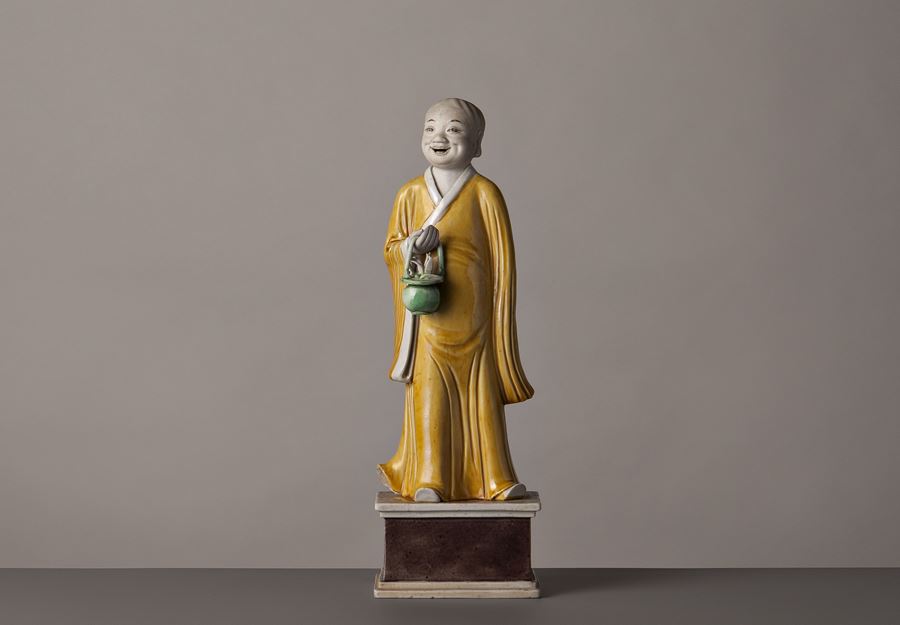 Discover the gallery
Vanderven Oriental Art
Chinese Ceramics and Works of Art
More Works From This Gallery