Description & Technical information
The large round monteith bowl rests on four cast lion's feet. The body is decorated with régence ornament, masks, strapwork, lambrequins and cartouches on a stippled ground. At each end there is applied a grotesque mask suspending a pendant ring handle. Slightly drawn in, there is a high, moderately outwardly curved, eight-fold cut-out edge, which rises above it. The shield-shaped sections show under a baldachin-like roof – an elaborated lunar deity, most probably the goddess Diana/Artemis or Selene. The two middle lobes are decorated with the alliance crest of General John William Egerton, 7th Earl of Bridgewater (1753-1823), and his wife, Charlotte Catherine Anne.
The bottom inside is engraved with the following: "GEORGE LEVESON GOWER FROM ADELBERT EARL BROWNLOW".

Maker
The first silversmith in the Family Gelb was Melchior I Gelb, who was born around 1581 in Ulm. He began his apprenticeship with Hans IV Pfleger in Augsburg. Around 1614 he became master maker. The creative period of the family members Matthias I, Melchior I and Johann Caspar III Gelb began in the early seventeenth century and continued into the eighteenth century.

Weight: 2.754 gr.


Date: 1708-10
Period: 1600-1750, 18th century
Origin: Germany, Augsburg
Medium: silver
Signature: City's hallmark: Pyr for Augsburg 1708-10 (Seling 2007, p. 46, no. 1320)
Maker's mark: a spade for the family Gelb, probably Johann Caspar III Gelb (Seling 2007, p. 480 no. 2018)

Dimensions: 38.6 cm (15¹/₄ inches)
Provenance:
General John William Egerton, 7th Earl of Bridgewater (1753-1823); Francis Henry Egerton, 8th Earl of Bridgewater (1756-1829); Brother John Hume Cust, Viscount Alford (1812-1851); Great-nephew John William Spencer Brownlow Egerton Cust (1842-1867), 2nd Earl Brownlow; Son Sir Adelbert Wellington Brownlow Cust, 3rd Earl Brownlow (1844-1921); George Leveson Gower (1858-1951).
The alliance crest belongs to General John William Egerton, 7th Earl of Bridgewater (1753-1823), and his wife, Charlotte Catherin Anne, daughter of Samuel Haynes. He took the title when his first cousin passed away. When William Egerton died, the title passed to his unmarried brother Francis Henry Egerton (1756-1829).
The 8th Earl was a noted eccentric, he was famous for giving dinner parties for dogs, dressed in the latest fashion, and for wearing a new pair of shoes each day and placing the worn ones in a row to track the passage of time. The 8th Earl donated an important collection of manuscripts to the British Library and established the Egerton Fonds, which allowed the acquisition of 3.800 additional manuscripts.
The estate was inherited by his great nephew, John Hume Cust, Viscount Alford, Son of Amelia Sophia Hume (niece of the 7th and 8th Earl) and Sir John Cust, 1st Earl Brownlow.
In 1898, Sir Adelbert Wellington Brownslow Cust, 3rd Earl Brownslow (1844-1921) gave the monteith to George Granville Leveson-Gower (1858-1951) as a wedding present (see engraving). The two men were related by the Earls of Bridgewater.
Literature:
Karl Hernmarck: Die Kunst der europäischen Gold- und Silberschmiede von 1450-1830, München 1978.
Helmut Seling: Die Augsburger Gold- und Silberschmiede 1529 ? 1868. Meister Marken Werke, München 1980 und 2007.
Klaus Pechstein et al. (Hg): Schätze deutscher Goldschmiedekunst. Vom 15. bis zum 20. Jahrhundert aus dem Germanischen Nationalmuseum, Berlin 1987.
Hans Ottomeyer (Hg): Die öffentliche Tafel. Tafelzeremoniell in Europa 1300 ? 1900. Begleitband zur Ausstellung. Wolfratshausen 2002.
Bayerisches Nationalmuseum, Edel gekühlt in Silber (last visited: 14.11.2018).
Categories:
Silver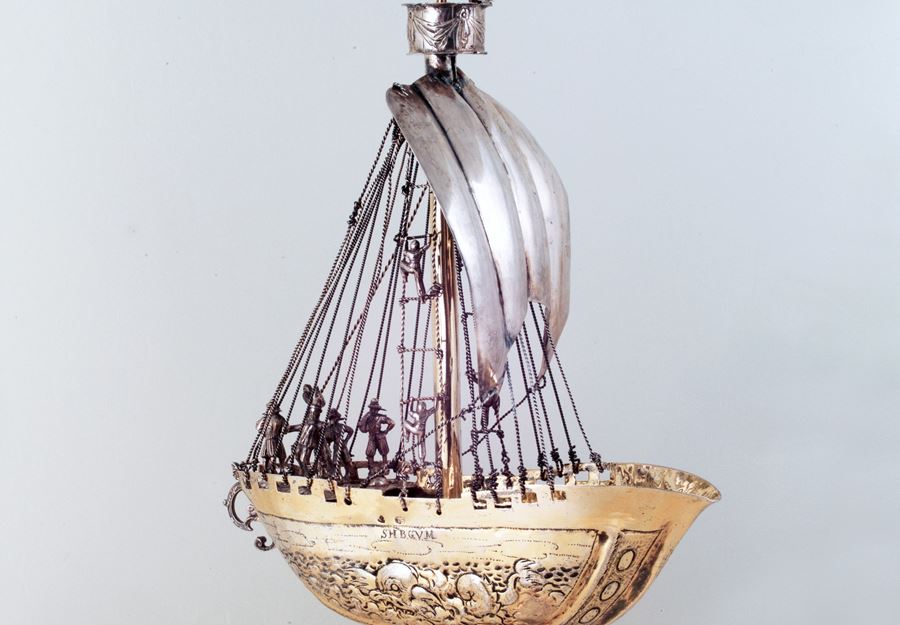 Discover the gallery
Helga Matzke
European Silver and Silver-Gilt Objects coming from the 16th to the early 19th centuries. Our key areas are collectibles and tableware, especially of German cou...
More Works From This Gallery