Description & Technical information
The present silver spoon presents a Scandinavian type from the seventeenth century. The bowl is big, bright, round and is adorned with the engraving of stylised acanthus-leaves. The stem is short, and its lower side consists of moulded bands. The cast, gilt finial of the stem forms a crown out of four stylised leaves. On top of the finial and on the inside of the crown, there is a gilt knop. Further decoration of the crown are five fluted hoops.
Silver Crown-Spoons

Around the mid-sixteenth century, it appears in Sweden the type of spoons that has as finial a crown. This spoon or also called "crown spoon" was very often offered as a christening present and was also used for tasting brandy. This type of spoon was popular and continued to be made during the seventeenth century.

Spoon and cutlery were in whole Europe favourite christening and marriage gifts because of their value.

Particularly in Denmark and in Scandinavia of the sixteenth and seventeenth centuries, wealthy citizens and farmers formed the "family treasure" out of silver spoons (Marquardt 1997: 13). An important part of these treasures was buried during wartime and later rediscovered.

See here for a very similar spoon from Sweden in Victoria & Albert Museum, London.

Maker: The silversmith Sven Broman was active from 1698 to 1712 (or 1718).
Period: 18th century
Origin: Sweden
Medium: silver, Partly gilt
Literature:
Amme, Jochen, Historische Bestecke: Sammlung Suermondt-Ludwig-Museum Aachen, Aachen: Suermondt-Ludwig-Museum, 2011.
Emery, John, European Spoons before 1700, Edinburgh: John Donald Publishers Ltd, 1976.

Grotkamp-Schepers, Barbara & Deutsches Klingenmuseum Solingen (Hrsg.), Historische Bestecke: eine Auswahl aus der Sammlung Marquardt, Berlin: Kulturstiftung der Länder, 2003.

Lightbown, Ronald W. & Victoria and Albert Museum,Catalogue of Scandinavian and Baltic Silver, London: Her Majesty's Stanionery Office, 1975.

Marquardt, Klaus, Europäisches Essbesteck aus acht Jahrhunderten: Eine Kunstsammlung, Stuttgart: Arnoldsche, 1997.

Categories:
Silver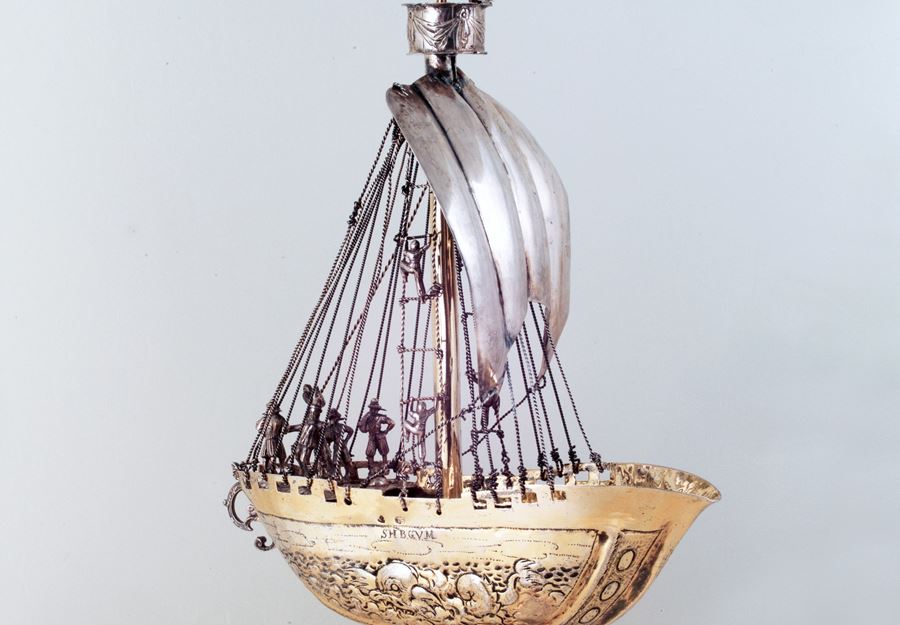 Discover the gallery
Helga Matzke
European Silver and Silver-Gilt Objects coming from the 16th to the early 19th centuries. Our key areas are collectibles and tableware, especially of German cou...
More Works From This Gallery