Description & Technical information
In this panel painting, Giacomo Raibolini, sometimes called Giacomo Francia, combines the monumental grace of Raphael with the gentle religiosity and archaic style of his father, Francesco Francia (c. 1450-1517), also known as Il Francia. In executing The Holy Family with the Infant Saint John the Baptist and Saint Elizabeth, Raibolini demonstrates the technical accomplishment and softly modelled figures that characterise his father's work. Both father and son were trained as goldsmiths, and the precision and skill gained from the trade is evident in their highly detailed painterly style. In contrast to his father's consistently traditional and formal approach, however, Raibolini tends to treat his subjects in a more dynamic and lucid manner. The figures in the present painting are elegant as well as fully engaging and modern in presentation, indicating the influence of Raphael. The painting, due to its size and format, was possibly commissioned by a private patron as a devotional image, and fulfils its purpose with refinement and delicacy.

The figures are harmoniously grouped, emanating serenity and contentment. The contrasting colours of their garments are rich without being excessive and their positioning is intimate while maintaining the formality necessary to their places within the religious hierarchy. The Virgin is particularly striking in her noble bearing and dreamy countenance. She dominates the scene, wearing a red dress, with arabesque gold trimming, a green mantle, and a nearly transparent veil. She holds the infant Christ seated on a red velvet cushion. Christ reaches his hand out in a welcoming gesture to the young John the Baptist, clad in a camel hair tunic, in anticipation of his future spent as a hermit in the desert. In his other hand he holds a peach, a symbol of salvation and truth. To the right of the Virgin stands Joseph clad in a gold mantle, while to her left is St. Elizabeth, John the Baptist's mother and the Virgin's older kinswoman, who holds white carnations. The carnation was introduced to Europe in the Middle Ages and symbolised the eye of God from which nothing could escape. According to legend, when Mary saw Christ carrying the cross, she wept, and carnations grew where her tears fell. The flower appears in a number of paintings of the Mother and Child, particularly in Renaissance iconography.

A painting by Raibolini, The Mystic Marriage of Saint Catherine (Private Collection), reveals a composition similar to the present one in which again the Virgin and Child are flanked by two saints. The Virgin's classicised features, graceful pose and long elegant fingers are likewise reminiscent of the present work. Christ's body is of similar proportions, looking remarkably naturalistic and child-like with rounded limbs and a plump face. Joseph is again placed on the right of the composition, witnessing the tender scene. St. Catherine of Alexandria stands on the left of Mary, holding the martyr's palm. Her hand is outstretched to allow the infant Christ to place a ring on her finger. The ring symbolises their 'mystic marriage', which according to the Golden Legend, was foreseen in a vision by St. Catherine after her conversion to Christianity.

Like Raibolini, his father, Il Francia, was best known for his intimate Madonnas although he also painted a number of complex large-scale altarpieces, with the Virgin and Child enthroned surrounded by monumental architecture and saints and angels. A painting of the Madonna and Child with St. Catherine of Alexandria (Private Collection) that is thought to have been painted by Il Francia with help from his son reveals how closely Raibolini modelled his own work on his father's compositions. The physiognomy and modelling of the figures is very similar to that of the present painting, and the faces are particularly sweet and softly rounded. In Madonna and Child with St. Catherine of Alexandria, as in The Holy Family with the Infant Saint John the Baptist and Saint Elizabeth, the training of both father and son as goldsmiths is most evident in the enamel-like finish of the work and the delicate details, particularly in the border of St. Catherine's garments, the scalloped edge of the Madonna's veil, and the leaves of the trees in the background.

Given that Raibolini was an assistant in his father's studio for such a long period, it therefore follows that Il Francia's work was a great source of influence. Indeed, throughout his career, Raibolini remained faithful to his father's style. Il Francia's manner of painting, passed down to Raibolini, seems to derive in many respects from the Umbrian master Perugino (c. 1450-1523), whose Madonnas have a particularly dreamy wistful quality. Perugino's constant preoccupation was in achieving harmony and balance in his works as well as light effects, concerns that are also illustrated in Il Francia and Raibolini's work1. Il Francia was certainly aware of Perugino's brilliant pupil, Raphael, who painted numerous Virgin and Child images, many based on Perugino's prototypes. Although Il Francia may have tried to imbue his paintings with Raphaelesque grace, his work is adamantly traditional and it does not seem that he responded in any significant way to the younger artist's innovations. Although he was a commercially successful artist painting pleasing pictures for his clientele, apparently he was aware of his shortcomings, as according to Vasari, 'Francia died of "grief" after seeing Raphael's St Cecilia [Pinacoteca Nazionale, Bologna], which made his own paintings look hopelessly old-fashioned'2. Raibolini, perhaps because he was of a younger less conservative generation, showed more of a leaning towards emulating Raphael. The Holy Family with the Infant Saint John the Baptist and Saint Elizabeth, although very similar in composition to many of Il Francia's paintings, gives the figures a greater monumentality and grace that is more suggestive of Raphael.

Lorenzo Costa, who on moving to Bologna c. 1483, began closely collaborating with il Francia, can be considered another influence on both father and son. The beauty of Costa's facial types and soft, atmospheric manner of painting is clearly translated into both Il Francia and Raibolini's work. Yet another artist who reached the height of his career in Bologna, and may have been a member of Il Francia's prosperous workshop, was Bartolomeo Ramenghi, called il Bagnacavallo who is considered a protagonist of so-called Bolognese Raphaelism3. Il Bagnacavallo, according to Vasari, was in Rome during Raphael's sojourn there from 1508 to 15204. He produced his principal works in Bologna between 1520 and 1530, which were very much styled afterRaphael and it seems likely that, either in Il Francia's workshop or afterwards, he would have been acquainted with Raibolini

A painting by Raibolini of the Madonna and Child (Private Collection), this time depicted without accompanying figures, is perhaps most revealing of his father's influence as it resembles the fine detail and smoothness of Madonna and Child with St. Catherine of Alexandria. The countryside displayed in the background is closely observed and brings to mind landscapes found in Flemish art. This influence may have been transmitted by Perugino, who also sometimes included misty northern-looking scenery in his religious compositions, as in The Crucifixion with the Virgin, Saint John, Saint Jerome, and Saint Mary Magdalene (National Gallery, Washington)5.

Raibolini's ability to convey softness and refinement is exemplified in his painting Sacra Famiglia (Private Collection), which is not symmetrical like most of his works and incorporates three figures. The gentle tilt of the Madonna's head, her languorous gaze, the rounded forms of the infant and softly modelled drapery reveal the extent to which Raibolini was inspired by elder masters Perugino and Costa and the youthful genius of Raphael. There is more fluidity and liveliness to Sacra Famiglia than is found in Madonna and Child with St. Catherine of Alexandria, which is dominated by Il Francia's hand and more conservative approach. The inclusion of a landscape in the background is like the earlier work, whereas the present painting and The Mystic Marriage of Saint Catherine both have plain dark backgrounds against which the figures are dramatically silhouetted.

Raibolini and his younger brother Giulio Francia were both trained by their father in the family business of painting and goldsmithing. On Il Francia's death in 1517, they took over the workshop, jointly painting a number of altarpieces, identifiable by the initials I. I., which stood for their Latinized names Iacobus and Iulius. Raibolini's earliest known work is the Virgin in Glory with Saints Peter, Mary Magdalene, Francis, Martha and Six Nuns (Pinocateca Nazionale, Bologna), painted after 1515 is signed by both brothers. In the 1520s, Raibolini most likely travelled to Florence and to Rome where he would have been exposed to wider artistic influences, and his paintings from this decade indicate that he had reached his full artistic maturity. Around 1530, Giacomo and Giulio painted an altarpiece depicting Saint Frediano with Saints James, Lucy, Ursula and a Blessed Person (Pinacoteca Nazionale, Bologna), which repeats the compositional structure of Raphael's St. Cecilia in Ecstasy, the painting that earlier had such an emotional effect on Il Francia. During this period, his paintings also most reveal the inspiration of Parmigianino, who spent the years 1527 to 1530 in Bologna, thus it is possible that Raibolini may have come into direct contact with the artist during this time.

By the mid to late 1530s, Raibolini seems to have abandoned his most experimental phase, in which he was open to the influences of dominant artistic trends. He spent the remainder of his career re-working existing compositions in a more traditional manner, similar to that of his father. This was perhaps a consequence of the spread of the more difficult Mannerist style, which he was unprepared to adopt6. His later works most often take the form of the Madonna with Child, based on the centralised Raphaelesque type, surrounded by saints, as is apparent in The Holy Family with the Infant Saint John the Baptist and Saint Elizabeth. As well as altarpieces, Raibolini executed a number of smaller panels for private patrons and female convents, of which the present picture may be an example. Though a prolific artist, many of Raibolini's works no longer exist and are only known through documentary sources.


1 Larousse Dictionary of Painters, Book Club Associates, London, 1981, p. 315.
2 The Concise Oxford Dictionary of Art and Artists, ed. Ian Chilvers, Oxford University Press, Oxford, 2003, p. 219.
3 Karl Ludwig Gallwitz, The Handbook of Italian Renaissance Painters, Prestel Verlag, Munich, 1999, p. 154.
4 Giorgio Vasari, Vite, 1550, rev. 2/1568, ed. G. Milanesi.
5 Larousse Dictionary of Painters, Book Club Associates, London, 1981, p. 315.
6 Nicosetta Roio: 'Giacomo e Giulio Raibolini detti i Francia', Pittura bolognese del cinquecento, ed. V. Fortunati Pietrantonio, Bologna, 1986, pp. 29–57.

Period: 1400-1600, 16th Century
Origin: Italy
Medium: Oil on panel
Dimensions: 56 x 68 cm (22 x 26⁴/₅ inches)
Categories: Paintings, Drawings & Prints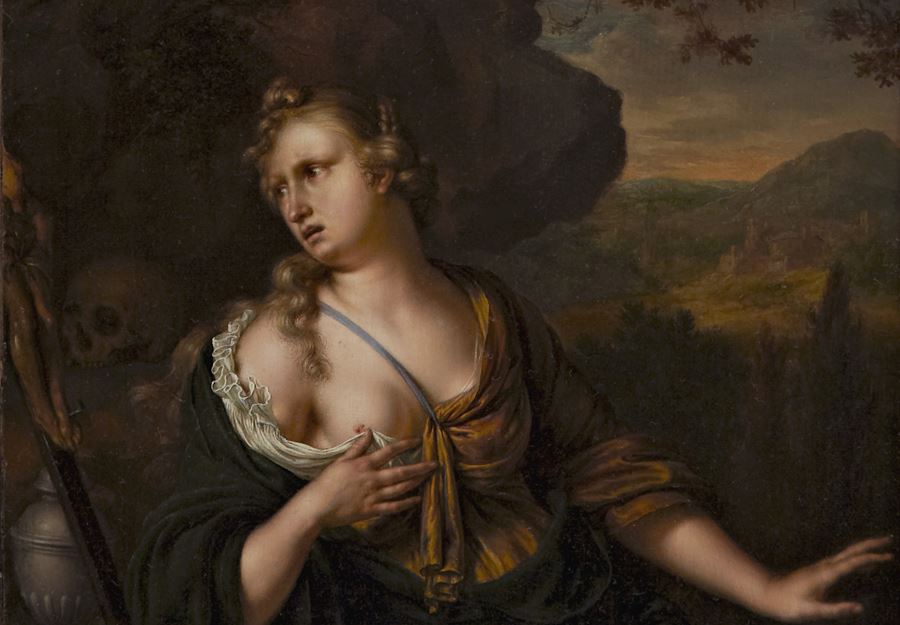 Discover the gallery
Sphinx Fine Art
Old Master & Russian Paintings
More Works From This Gallery