Description & Technical information
A very early and rare female ancestor figure. The large head presents the facial features in the classical manner with coffee-bean eyes, a long aquiline nose with pierced septum and nostrils for ornamentation, an oval, slightly smiling mouth and pierced ears. The facial decoration is composed of two large inverted triangles of black paint with white frames on the cheeks and a black and white head band with a yellow ocher surround. The inverted triangles probably represent the emaciated cheeks and jutting cheekbones seen on elderly, undernourished people - thus indicating an ancestral status (?). The body is of stylized format with an enlarged torso and small high-placed breasts. The arms are carved free from the body and the hands rest just to either side of the raised and defined vulva. The legs are stylized and reduced to a small arc under the pubis. The figure is painted all over with several layers of thick and encrusted reddish ochre, highlighted on the face and breasts with black and white motifs and yellow ochre. The figure is decorated with a necklace made of German colonial era glass trade-beads and rings as is the waist, which sports a trade-glass ring necklace as a belt or pubic cover.

Nagum – Boiken area, region of Sassoya Village, Boiken Plains to Prince Alexander Mountains, PNG, Melanesia. Painted wood with minor deficiency's due to age, insect damage and wear. Pre-contact and carved with neolithic tools.

Date: 19th/20th century
Period: 1850-1900, 19th century, 20th century
Origin: Melanesia
Medium: Painted wood
Dimensions: 52.5 cm (20⁵/₈ inches)
Provenance: Ex collection Private collection, Paris.
Categories: Tribal Art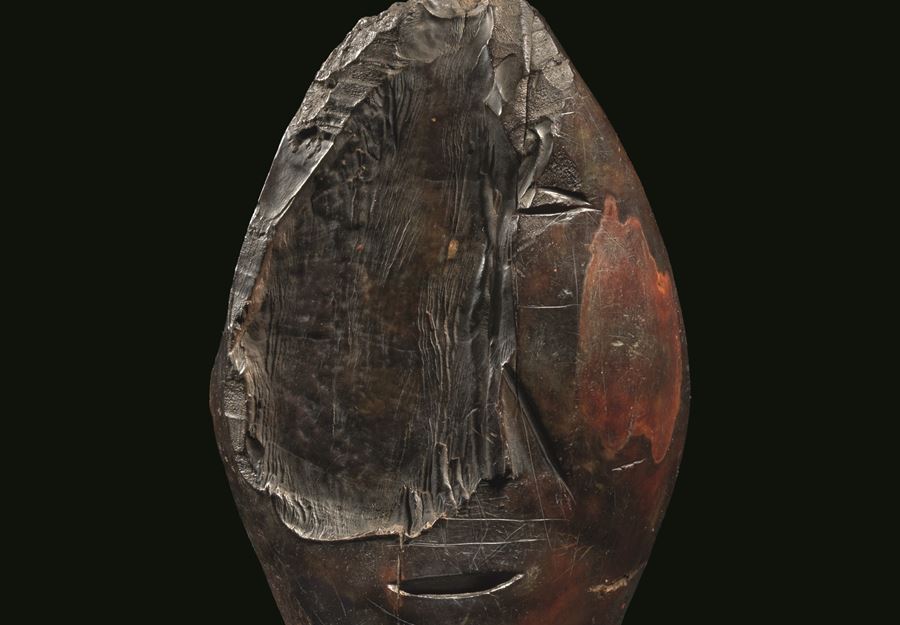 Discover the gallery
Galerie Meyer-Oceanic Art
Tribal Art dealer specializing in early Oceanic Art since 1980 and archaic Eskimo Art since 2010
More Works From This Gallery