Description & Technical information
The present goblet is a silver "roemer", which is fully gilt. The nine-fold lobed cuppa is raised on a cylindrical shaft, which has a profiled standing ring and is decorated with a rhomboid gadrooning creating thus a diamond-pattern. The shaft is furthermore decorated with an elegant fine engraving. The cuppa is also engraved with similar lines. Many details of this roemer witness a quite particular beaker, like for example the bottom, which is finely engraved and slightly vaulted, and the connecting ring of the shaft with the cuppa.
Roemer in Silver
The shape of the Roemer is derived from a medieval glass form, which is mentioned in the literature since the fifteenth century. The so-called "prunt-beakers" (in German "Nuppenbecher") have often a lobed or edged cuppa and appear in Nuremberg just before the first half of the seventeenth century (s. Nürnberger Goldschmiedekunst 2007, vol. II, p. 187). The roemer were mostly used as drinking vessels in Northern Europe.
Helga Matzke shows other Roemer as well. See one more from Nuremberg and Augsburg.
Maker: Oswald Haußner is the only known maker from Nuremberg who uses the mark "OH". He has made several drinking vessels; among them another roemer with lobed cuppa and prunts in the form of shells (see in the list of his works in Nürnberger Goldschmiedekunst, no. 9).
Weight: 137 gr.

Date: 1687
Period: 1600-1750, 17th century
Origin: Romania, Transylvania
Medium: silver, Parcel-Gilt
Signature: With no marks
Engraving in a medallion

Dimensions: 10.3 cm (4 inches)
Literature:
Tebbe, Karine et al./Germanisches Nationalmuseum (ed.), Nürnberger Goldschmiedekunst 1541-1868, vol. I-II, Nuremberg: Germanisches Nationalmuseum, 2007.
Tebbe, Karin, Trinken und Tafeln. Silbergefäße für den profanen Gebrauch, S. 165-204 in Nürnberger Goldschmiedekunst 2007, Bd. II.
Categories:
Silver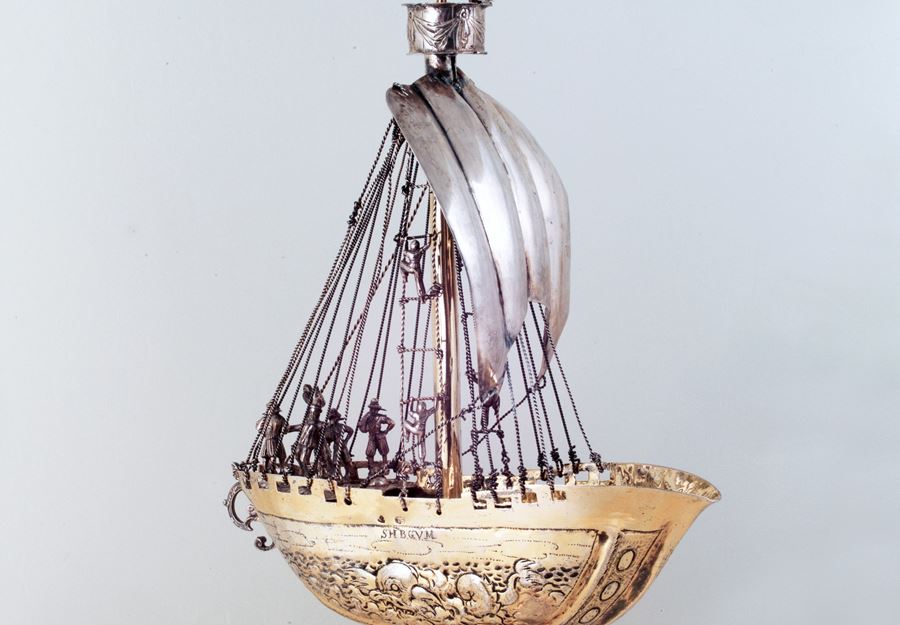 Discover the gallery
Helga Matzke
European Silver and Silver-Gilt Objects coming from the 16th to the early 19th centuries. Our key areas are collectibles and tableware, especially of German cou...
More Works From This Gallery