Description & Technical information
The present beaker is a nice example of Strasbourg's vermeil. The cup has a slightly conical shape, a half-round bottom and is gilded. Two narrow rings are engraved on the outer edge of the rim. The only decor are two medallions, which are placed under a counts crown and depicting hunting horns and poultry. Acanthus leaves and other stylized leaves form the frame around the two medallions.
Due to the choice of decor, it is very likely that this beaker was produced for a hunting society and was intended as a gift for the participants. The maker?s mark is on the bottom.

Strasbourg and its silversmiths
The history of the silversmiths in Strasbourg goes back to the fourteenth century. In the eighteenth century, the Strasbourg goldsmiths experienced their heyday. The new administrators who came to the city since 1681 (high officials, governors of the provinces, German princes with property in Alsace), the catholic clergy and the returned bishop provided the gold- and silversmiths with important orders. Thus, they could supply again enough luxurious objects to the new Patrons. The fashion in silver in Strasbourg at that time was based on the ?manières françaises? and no longer on the German silversmith cities of Nuremberg and Augsburg. Since the end of the seventeenth century, the Strasbourg masters were also authorized to produce silverware in the name of the King of France.
Because of the excellent quality of the Strasbourg gilding (vermeil) and its resistance to oxidation, the Vermeil from Strasbourg gained international importance. In addition to that, toll fees were not charged for exported objects, which meant that the German courts, which were now oriented towards French fashion, also bought silver from Strasbourg.

Maker: Johann Philipp Fucks became a master maker in Strasbourg in 1731. Objects of Fucks are often traded in the art market. A very similar in the decoration beaker made by Johann Philipp Fucks is in the collections of the Ashmolean Museum, Oxford (Welby bequeath).

Weight: 90 gr.


Date: Around 1731
Period: 1600-1750, 18th century
Origin: France, Strasbourg
Medium: silver-gilt
Signature: Maker's Mark: "FUCKS" in a rectangle for Johann Philipp Fucks (Haug 1978, table III; Les Musées de Strasbourg 2004, p. 292).

Import Mark: Swan in an oval for imports to France from countries without trade agreement, since 1893. (Tardy 1962, p. 188 and Rosenberg 1928, p. 207, No. 5911)

Dimensions: 6.2 cm (2¹/₂ inches)
Literature: Marc Rosenberg: Der Goldschmiede Merkzeichen (Band 4): Ausland und Byzanz, Frankfurt am Main 1928 (http://digi.ub.uni-heidelberg.de/diglit/rosenberg1928bd4, last call on 05/03/2017).
Hans Haug: L? orfèvrerie de Strasbourg dans les collections publiques françaises (= Inventaire des collections publiques françaises / Inventaire des collections publiques françaises, 22), Paris 1978.
Tardy: Les poinçons de garantie internationaux pour l?argent, Paris 61962.
Helmut Seling: Goldschmiedekunst deutscher Städte. Straßburg. In: Klaus Pechstein und et Al. (Hrg): Schätze deutscher Goldschmiedekunst von 1500 bis 1920. Aus dem Germanischen Nationalmuseum, Berlin 1992, p. 142-145.
Les Musées de Strasbourg: Deux siècles d?orfèvrerie à Strasbourg XVIIIe XIXe siècles dans les collections du Musée des Arts décoratifs ; [ce catalogue á été publié à l'occasion de l'ouverture des nouvelles salles du Musée des Arts Décoratifs de Strasbourg le 26 novembre 2004], [Strasbourg] 2004.

Categories: Silver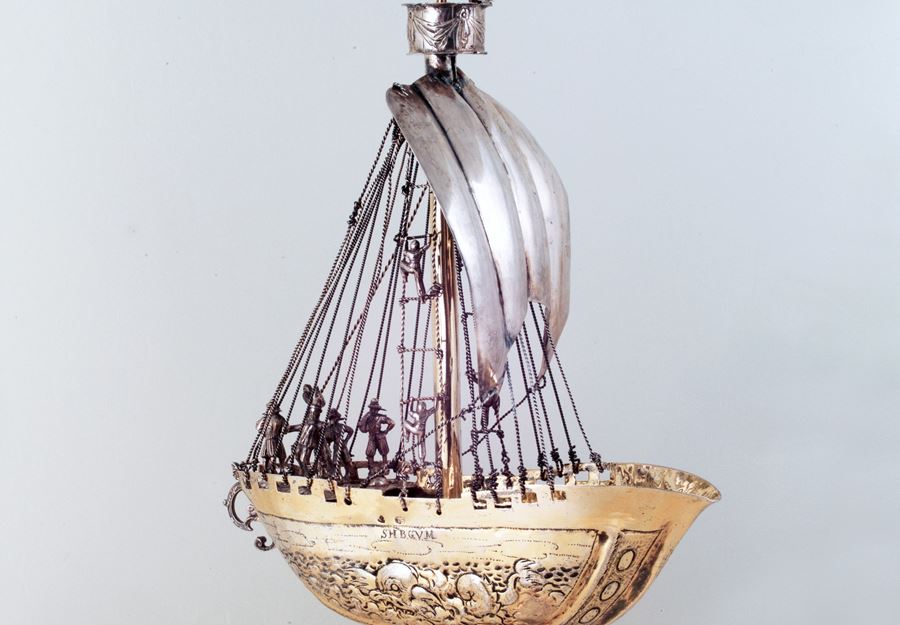 Discover the gallery
Helga Matzke
European Silver and Silver-Gilt Objects coming from the 16th to the early 19th centuries. Our key areas are collectibles and tableware, especially of German cou...
More Works From This Gallery