Description & Technical information
This bowl is silver-gilt. On the exterior, a beautiful snakeskin pattern adorns the middle part. The snakeskin decor is accentuated through two engraved rings on the upper and lower side of the body. The two cast handles are horizontally attached on the body just below the rim. At the level of the handles a double ring decorates the upper outside of the small bowl. The bowl is left plain inside.
Augsburg:
The city of Augsburg was during the sixteenth to the nineteenth centuries one of the most important cities in Germany for gold- and silversmith's works. The royal courts of Europe, as well as churches, synagogues, cities, wealthy citizens and guilds, were customers of the gold- and silversmiths of Augsburg. They received orders of all sizes and types and delivered works in a high quality, so that the works made in Augsburg were valued throughout Europe. Today, silver and gold objects from Augsburg enjoy a prominent position within public and private collections all over the world.

Maker: Gregor Leider was born around 1590 in Klagefurt. In 1624, he applied to become a master and he married in 1625. He was several times warden and member of the great council. In 1673, Gregor Leider died. Some of his works are today in private and church collections.

Weight: 61 gr.



Date: 1655-1660
Period: 1600-1750, 17th century
Origin: Germany, Augsburg
Medium: silver-gilt
Signature: City's hallmark: a pyr for Augsburg 1655-1660 (Seling 1980, p. 21, no. 93)
Maker's mark: "GL" interwoven into each other in an oval shield for Gregor Leider (Seling 2007, p. 243f, no. 1399)

Dimensions: 3.2 x 7.7 cm (1¹/₄ x 3 inches)
Literature: Karl Hernmarck: Die Kunst der europäischen Gold- und Silberschmiede von 1450-1830, München 1978.
Marc Rosenberg: Der Goldschmiede Merkzeichen (Band 4): Ausland und Byzanz, Frankfurt am Main 1928 (http://digi.ub.uni-heidelberg.de/diglit/rosenberg1928bd4, last visited on 17.07.2017).
Helmut Seling: Die Augsburger Gold- und Silberschmiede 1529 ? 1868. Meister Marken Werke, München 1980 and 2007.
Kurt F. Viermetz (Hg): Glückliche Momente. Neuerwerbungen 2001–2015, Augsburg 12016.

Categories: Silver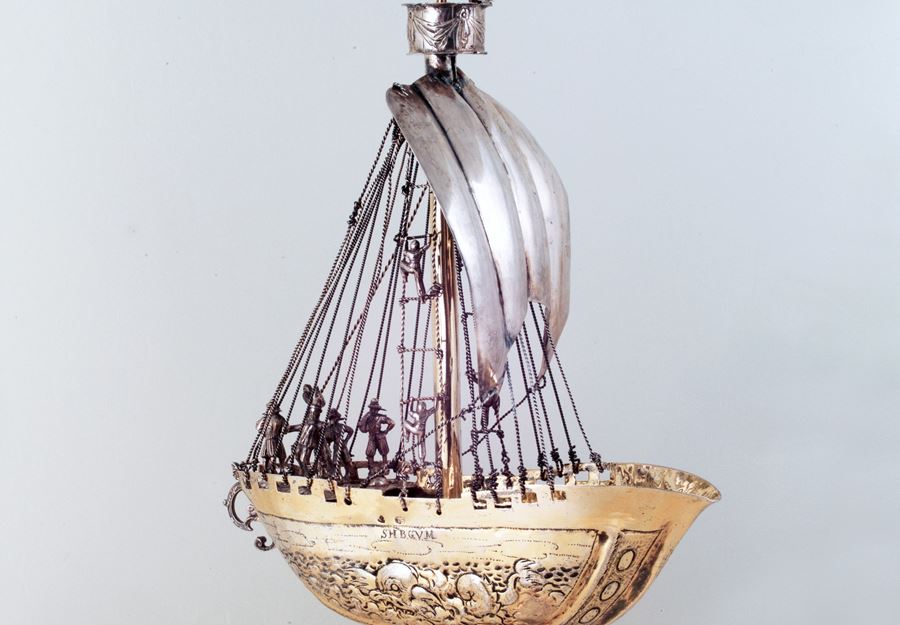 Discover the gallery
Helga Matzke
European Silver and Silver-Gilt Objects coming from the 16th to the early 19th centuries. Our key areas are collectibles and tableware, especially of German cou...
More Works From This Gallery