Description & Technical information
For its size, this miniature full-length marble is extremely powerful and a virtous piece of carving.The stunning rendering of the dress belies the marble medium - the folds appearing satin-like and soft as they are collected in the hand of the figure. Minute opulence, such as the braided hair ending in two roses, the bracelet in the form of a snake, the cameos, and the lace on the dress appearing like carved ivory rather than stone, show wonderful attention to detail.

Engraved on the binding of the book that the lady holds are the words René Atala confirming the book's title, but also proudly identifying the sitter as Marie Adélaïde Louise Henriette de Chateaubriand (1824-1903), niece of the author Francois-René Comte Chateaubriand – whose masterpiece about the plight of a young melancholic Frenchman, René, who seeks refuge among the Natchez people of Louisiana, America - was hugely popular as an early peiece of of Romantic writing. Henriette was the daughter of Louis Geoffroy de Chateaubriand (1790-1873), Count of Chateaubriand and Combourg, and a descendant of the noble Breton family Chateaubriant.

The marble statuette was commissioned in 1857 by Henriette's husband, Edmond Carayon La Tour, and exhibited at the Salon of the same year. Baron Edmond Carayon La Tour was the son of Jean-Mathieu, who had amassed great wealth and power, firstly under Napoleon and later under Louis XVIII after the restoration when he became Receiver General of the Gironde in 1815 and Baron de La Tour in 1819. The La Tour's were the largest taxpaying family in the Gironde region. Together Edmond and Henriette would use their fortune to create the chateau Grenade, a large estate with a house built by the architect Henri Duphot (1810-1889).

The statuette, commissioned ten years after their marriage in 1847, is symbolic of their marriage and the unity of the two great families. Not only does Henriette hold the book by her uncle, the Comte de Chateaubriand but also, Baron La Tour had chosen a young sculptor from his family's native Gironde region to execute the work.

The sculpture is important within Cambos oeuvre, being the first work that he submitted to the Paris Salon. As such, it is a significant early work, appearing on the market for the first time, having remained in the Carayon La Tour family until now. Having trained under François Jouffroy at the Ecole des Beaux Arts in Paris, this was Cambos' first finished work – a statement to the public of his intent and ability as an artist – and marking the beginning of a prestigious career.



Date: 1857
Period: 1850-1900, 19th century
Origin: France
Medium: Marble
Signature: Signed and dated to right of base 'J.CAMBOS 1857'
Dimensions: 66.6 cm (26¹/₄ inches)
Provenance: Given by the artist to Baron de Carayon La Tour, Gironde
By descent in the family of the sitter, until 2018
Exhibitions: Paris, Salon, 1857, no 2775 as Portrait de Mme la baronne de C.L
Categories: Sculpture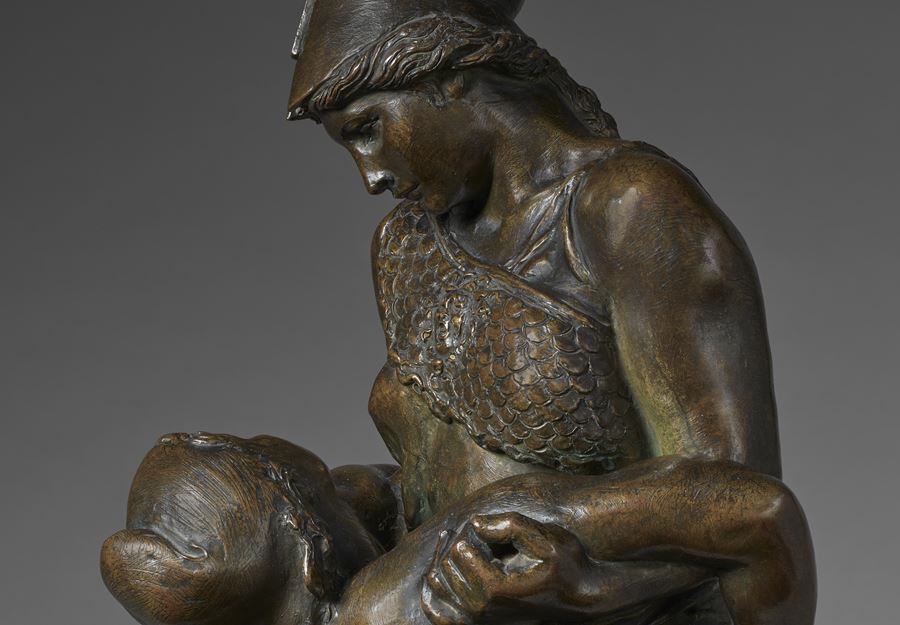 Discover the gallery
Daniel Katz Gallery
Fine Art from Antiquity to the Twentieth Century
More Works From This Gallery