Description & Technical information
This pair of impressive mirror stands are made from steel, and decorated with engraved and openwork designs as well as gold damascening. The outer rims of the mirror frames are intricately ornamented with openwork medallions and adjoining pendants, set within a circular framework with cusped edges. The decoration throughout consists of symmetrically arranged arabesque designs. The patterns on the reverse are more restrained with radiating lines bearing delicate foliate pendants. These patterns continue to the bulbous, cusped feet of the stands, joined to the frames by thin legs with baluster-shaped curves. Similar decorative schemes with gold damascening on steel can be found on a selection of objects including bowls, jugs and mirrors illustrated in Fellinger, pp. 376-79, Cat. Nos. 372-77.
Each stand has a hinged door that opens to reveal a mirror on one side and a lacquer painting on the other. The paintings are compositionally similar, each depicting a couple seated outdoors surrounded by attendants. Following a stylistic convention found in classical Persian miniature painting, emotion is not portrayed in the facial expressions of the figures but, rather, symbolically through action. In Qajar examples the action of exchanging objects such as flowers, cups and fruit is often depicted among men and women.[1] In each of these mirror paintings, fruits are displayed in the foreground while cups are offered among attendants. Additionally, the female of the couple in one painting is depicted holding a tall ewer and offering a cup to the male, while in the other painting the woman holds a mirror towards her male partner. In both paintings, trees in the background denote landscape.
Surrounding each of the paintings are cartouches filled with verses by various poets. The verses are the same on both and read:
From a ghazal by Shater 'Abbas Sabuhi (d. 1315/1897-8):
'That idol looked into the mirror and said to herself,
Blessed is the lover whose sweetheart is this one!'
From a ghazal of Sa'di:
'You walk along, beautifully, all alone – to you alone is [our] life devoted,
You leave bewildered those enraptured by your loveliness.
Look into the mirror to see your own beauty,
Astonished at yourself your finger will remain in your mouth.'
Two lines from two separate ghazals of Hafiz:
'O sun, mirror holder to your beauty!
The sun, that throws a shadow on the side of your hat.'
The second line would appear to be a variant on the standard version, where the sun is described as the saya-parvar, the 'one cherished (in the shade of the border of your hat)'.[2]
For further examples of Qajar mirror stands, see the British Museum, London, Accession Number 1967,0718.1, and the Cleveland Museum of Art, Cleveland, Ohio, Accession Number 1983.1111.

[1] Chekhab-Abudaya and Sobers-Khan, pp. 118 & 128
[2] Wilberforce Clarke, p. 777.
Date: 19th century
Period: 1850-1900, 19th century
Origin: Iran
Medium: Steel
Dimensions: 61.5 x 28.2 cm (24¹/₄ x 11¹/₈ inches)
Provenance: Private UK Collection since the 1970s

Literature: Chekhab-Abudaya, M., Sobers-Khan, N. Qajar Women: Images of Women in 19th-Century Iran, Silvana Editoriale, Milan, 2016.
Fellinger, G., et al. L'Empire des roses: chefs-d'œuvre de l'art person du XIXᵉ siècle, Snoeck, Gand, 2018.
Wilberforce Clarke, H. The Divan, written in the fourteenth century, by Khwaja Shamsu-d-Din Muhammad-i-Hafiz-i-Shirazi, London, 1891, vol. II, p. 777.

Categories: Oriental and Asian Art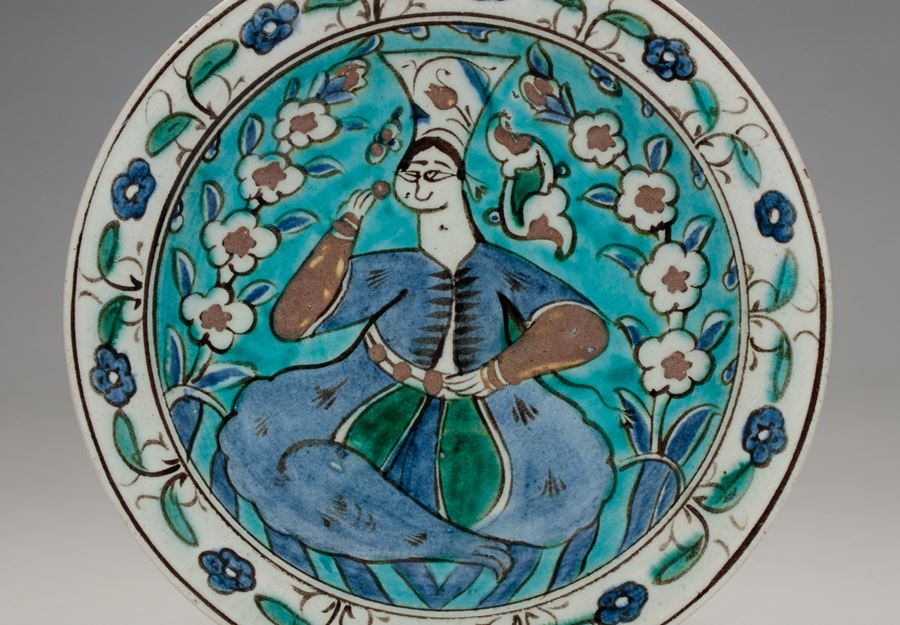 Discover the gallery
Amir Mohtashemi Ltd.
Indian,Islamic and Cross-Cultural Works of Art
More Works From This Gallery