Description & Technical information
Qianlong period
Dutch Market

A rare Chinese export porcelain teapot, cover and stand painted in a restrained palette of famille rose with a mythological scene, the teapot of bullet form and the stand of lobed hexagonal form.

This is from a rare teaservice, pieces of which are published in several collections. The colouring is unusual as the drawing is mainly done en grisaille with a little rouge-de-fer for the hands and faces, with areas of colour in the robes in puce and blue.
The image shows Vertumnus & Pomona as described in Ovid's Metamorphoses, book 14. The male god Vertumnus has disguised himself as an old woman in order to become close to Pomona the goddess of fruitfulness. The subject was a popular one with artists of the sixteenth to the eighteenth centuries, with its disguised erotic subtext.
This image is derived from one of a small series of engravings made by Crispin de Passe the elder (ca. 1564-1637) between 1602 and 1607. This is the only one from this series found on Chinese porcelain, though many other illustrations of the Metamorphoses were used in China, from those of Antonio Tempesta and Willem Baur in the early 17th century, to Sebastien Leclerc and François Chauveau for the Benserade translation of 1676, and the Bernard Picart series in the 18th century for the edition with notes by Abbé Banier. At least 10 of the images from this last edition of 1732 have been found on Chinese export art in various media.

References: Hervouët & Bruneau 1986, p309, No 13.68, a saucer; Brawer 1992, pp130, a teapoy with this design.

Date: 1740
Period: 1600-1750, 18th century
Origin: China
Medium: porcelain
Dimensions: 13.5 cm (5³/₈ inches)
Categories: Oriental and Asian Art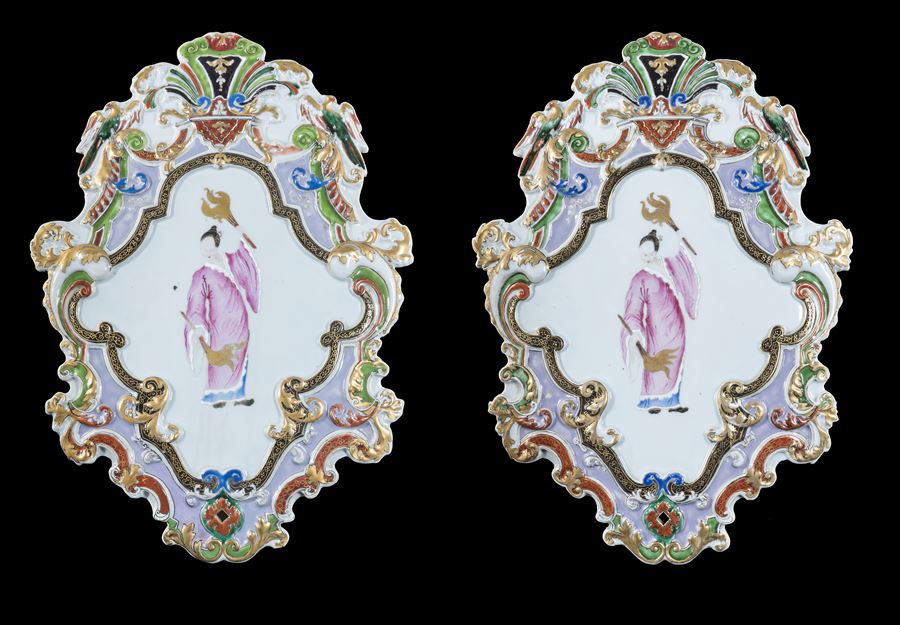 Discover the gallery
Cohen & Cohen
Chinese Export Porcelain, 17th & 18th Century, Works of Art
More Works From This Gallery