Description & Technical information
Qianlong period
Prussian Market

Price: £45,000

A Chinese export porcelain armorial meatdish with lobed rim and decorated in famille rose with a central elaborate armorial with two wild men as supporters, on the rim the crest of a black eagle and a narrow border with a variant of the Greek key motif.

The arms are for Frederick the Great as King of Prussia, the standard Grossewappen for the Prussian Monarchy of 1747.
This is one of the most famous and sought after armorials on Chinese export porcelain. The dish comes from a large service with many unusual shapes and with a dramatic and complex history. Armorial services for the German market are rare and mainly for princely families including the Anhalt-Zerbst and Mecklenberg-Schwerin. The first German East India Company had been founded in 1684 by the Elector of Brandenburg (Frederick the Great's grandfather) but none of its ships reached China. A second Company was founded by Frederick in 1751, the Königliche Preussische Asiatische Companie zu Emden based in Emden and several ships made successful journeys to Canton but this company closed at the start of the Seven Years' War in 1756. The porcelain trade of this company also had to contend with competition from the growing manufacture of hard-paste porcelain in Meissen.
There are several stories and legends surrounding this service, including a romantic story of the returning ship running aground on the East Frisian island of Borkum and the porcelain salvaged and sold off, having originally been intended as a present for Frederick. Another story has it as a present from the town of Leer to Frederick the Great after his success in the Seven Years War but he refused it because he had no money left to offer a reciprocal gift. It was certainly a very large service and seems to have been scattered early on. Jörg (1989) has shed light on all this having discovered a notice in a Dutch Newspaper posted by the Emden Prussian East India Company on 23 August 1756 advertising for sale '200 blue and white and enamelled porcelains, among which several Royal dinner are outstanding'. He has correlated this with two Prussian Company ships which were in Canton in 1755, the Burg von Emden and the König von Preussen. The cargo of the former mentions a service with wavy rims while the latter does not - so he suggests that this service was carried to Europe aboard the Burg von Emden in 1756. This ship was not wrecked so the more dramatic elements of the legends seem apocryphal.
The border on this plate is only known on one other service, that for the family of Famars of Amsterdam, which may have also been ordered through the Prussian Company at the same time. Le Corbeiller illustrates a plate with a different filigree gilt border after Meissen. Other pieces are known with only the eagle crest and the Hermitage Museum has a warming plate with these arms.

References: Howard 1994, p110, No 104, a tureen stand from this service; Le Corbeiller 1974, pp80-83, several pieces illustrated and a discussion of the service; Beurdeley 1962, p195, Cat 195, a dinner plate from this service; Jansen 1976, p157, Cat 375, a dinner plate; Williamson 1970, plate XXXVIII, a dinner plate; Jörg 1989, a dinner plate and discussion; Maertens de Noordhout & Kozyreff 2000, No 3 a dinner plate; Lunsingh Scheurleer 1974, No 156, a wine cooler and a tureen and cover, with the knop moulded as a black eagle; Arapova, Menshikova et al. 2003, Cat 38, a warming plate, with drilled holes which may have been part of some ormolu mounted assembly, and is of a later date than the main service; Cohen & Cohen 1999, p26, Cat 19, two plates from the Famars service; Suebsman et al 2015, No 92, a plate.

Date: 1755
Period: 1750-1850, 18th century
Origin: China
Medium: porcelain
Dimensions: 37 cm (14⁵/₈ inches)
Categories: Oriental and Asian Art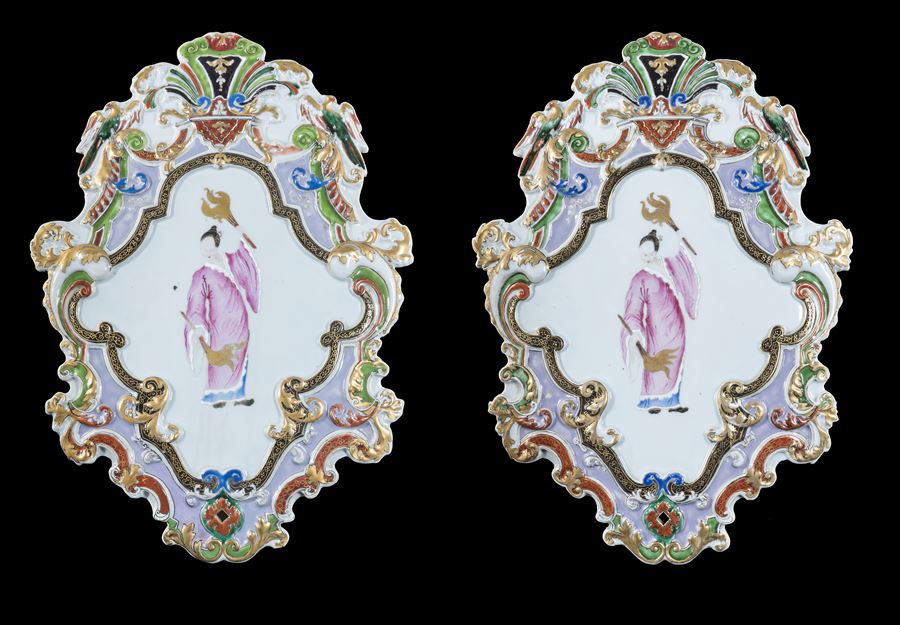 Discover the gallery
Cohen & Cohen
Chinese Export Porcelain, 17th & 18th Century, Works of Art
More Works From This Gallery