Description & Technical information
A powerfully carved ancestor figure possibly representing a recently deceased person. The male figure is shown in a vertical position with down pointing feet. The elongated head is pierced through the coif for suspension - this is unusual and may be indicative of a hanging figure like those from the Keram River Area or it is ossibly for the attachment of an ornamental feathered coif. The face is typical of the Ramu river style with bulging eyes and concentric pupils to either side of a large wide and long hooked nose with flared nostrils. The figure wears a dentate beard and has pierced ears. The face and body show ritual or clan identification body ornaments painted with ochre.

Down pointing feet seem synonymous with the representation of the actuality of a dead person; the feet of the recently deceased tend to point downward as the muscles and tendons distend in death after rigor mortis dissipates approximately 36 to 48 hours after death.

Ramu River, Papua New Guinea, Melanesia. Wood (Alstonia ?), pigments (left foot is an old restoration).

Date: 19/20th century
Period: 1850-1900, 19th century, 20th century
Origin: Melanesia
Medium: Wood, Pigments
Dimensions: 55.5 x 14.3 x 9 cm (21⁷/₈ x 5⁵/₈ x 3¹/₂ inches)
Provenance: Ludwig Bretschneider, Munich (1909-1987) ; Acquired by Josef Schmidt (1920-1995), Munich. By descent through the family.
Categories: Tribal Art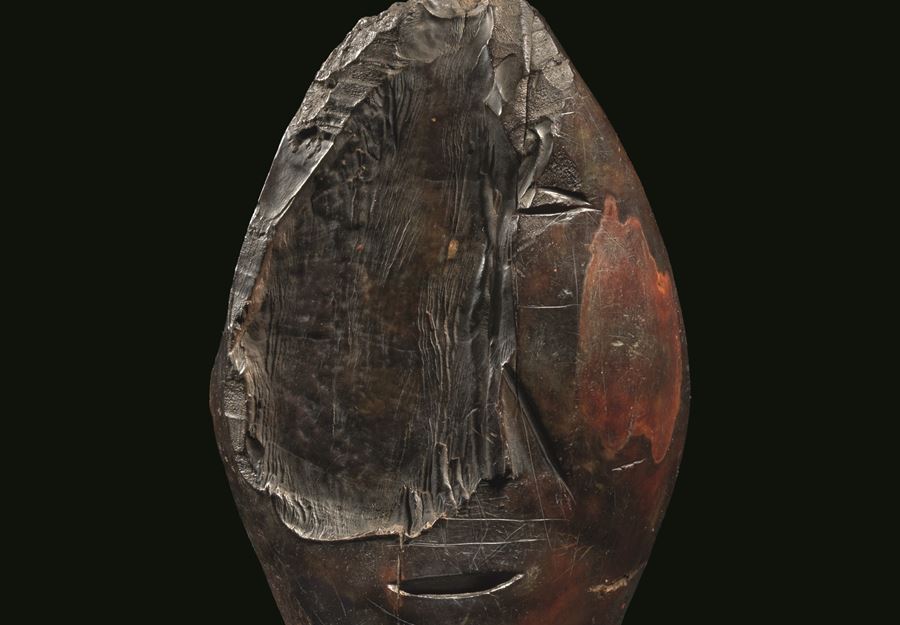 Discover the gallery
Galerie Meyer-Oceanic Art
Tribal Art dealer specializing in early Oceanic Art since 1980 and archaic Eskimo Art since 2010
More Works From This Gallery