Description & Technical information
Scottish Market
from the Golden Gate Collection

A Chinese export porcelain armorial dinner plate with a central medallion of a seated classical figure next to a coat of arms, surrounded by a rope and anchors, the rim with four panels showing stylised images of the Four Continents.

The arms are for Ker with Martin in pretence, probably made for William Ker (1775- ) of Gateshaw, Roxburgh, son of Gilbert Ker and Margaret Hood, who married his first cousin Jane Martin (1785- ), daughter of Ellis Martin and Elizabeth Ker, Gilbert's sister. They married in Leith on 21 October 1806.
The traditional dating for this service has been circa 1790 but it cannot be much earlier than 1806 though possibly a lengthy betrothal might push it a little earlier. Alternatively it has been suggested that it might have been made for Jane's parents who married in 1768, which is too early for the style and has the 'in pretence' the wrong way round.
Gilbert's brother Robert was a Lt-Colonel in the EICS and another of Gilbert's sisters, Essex Ker, was married to a Captain Turner in the EIC, either of whom might have assisted with the order of this porcelain. Of William's brothers, John was a Lieutenant in the 19th Regiment and died in Ceylon, George was in the Navy and Thomas was a merchant who died in Jamaica.
The central figure holding the shield is Hope, who appears on other late 18th century amorials and pseudoarmorials for the American market.
The concept of the 'Four Parts' of the world goes back to antiquity. Some early maps from the 8th century have the world as an island divided into four parts and later the iconology of these four parts was developed, especially in Cesare Ripa's Iconologia (1593). By the late 18th century these had long been a popular series of images and many variations of them were produced. The precise print sources for the four images on this service have not been found. Here America has a bear and a tobacco pipe or tomahawk, Africa has an elephant and crocodile, Europe has a cap of liberty and olive branch with ships in the background, while Asia has a parasol, camel, pyramids and a pagoda in the distance.
Given the dispersal of William Ker's family to the corners of the globe, these images are entirely appropriate.

References: Howard & Ayers 1978, p435, a plate and basket stand; Litzenburg 2003, p133, a warming plate; Tudor Craig 1925, p40, a pair of chestnut baskets and a large basin; Howard 1994, p101, a plate; Lange 2005, p219, a plate; The Scots Magazine, Volume 68 (1806), p806, marriage notice for William Ker and Jane Martin.

Date: 1806
Period: 1750-1850, 19th century
Origin: China
Medium: porcelain
Dimensions: 23 cm (9 inches)
Categories: Oriental and Asian Art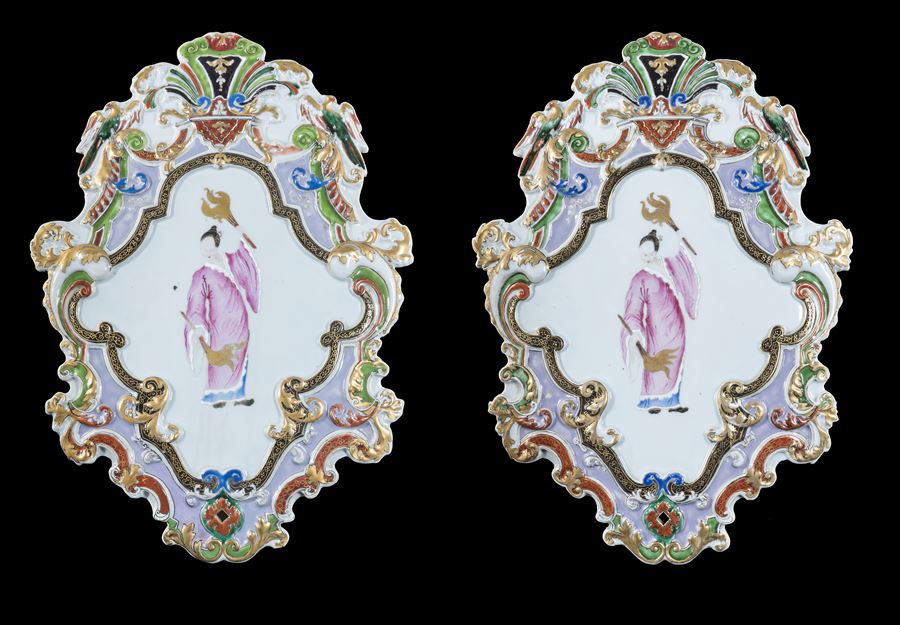 Discover the gallery
Cohen & Cohen
Chinese Export Porcelain, 17th & 18th Century, Works of Art
More Works From This Gallery