Description & Technical information
This eight-pointed star tile was originally part of an alternating star-and-cross-shaped dado panel.1 It is decorated with an overglaze painting technique known as lustre painting to produce a lustrous metallic colour derived from silver and copper oxides.
There are four small diamonds forming a large central medallion which connects a floral device ornamented with leaves and dots in cobalt blue, which were painted into the glaze before firing. The golden-brown lustre was then added over the glaze and, thus, the tile required a second firing which made it both complicated and costly to produce.
The border is adorned with fine naskh inscriptions on a white background framed with blue lines reflecting the star shape of the tile. The inscriptions recite verses from Firdawsi's Shahnama ("The Book of Kings") as follows:
Follow the sayings of your Prophet,
Wash the darkness from your heart in their waters.
What did he say, the Lord of inspired revelation,
the Lord of enjoying and forbidding?
"I am the city of knowledge, 'Ali is its gate",
these words are correct, they are the speech of the Prophet.
I bear witness that this is his secret,
you would say his voice fills my ears.
The philosopher regards this world as an ocean
on which the waves are driven by a hurricane.
As if eighty ships arrayed on it,
each with its sail unfurled….
Since the beginning of the thirteenth century Kashan had become the main centre for ceramic production in Iran and lustreware became its best-known and most numerous product.2 This production slowed down due to the Mongol invasions. However, large scale production resumed in the 1260s,3 the period which this tile probably belongs to. Indeed, the floral style is reminiscent of the dado around the tomb of Imamzada Yahya in Veramin, which dates to 1261-63.4 In addition, there is an eight-pointed star tile with inscriptions from the Shahnama in the British Museum in London (Accession Number: G.232.1-2) which dates to 1260-70.


Period: Late 13th century
Origin: Iran
Dimensions: 23.5 x 23.5 cm (9¹/₄ x 9¹/₄ inches)
Provenance: Mentioned in the inventory of a private European collector, pre-1960, and documented under the sales list of 1960.

Literature: Footnotes:
1. See, Oliver Watson. 1985. Persian Lustre Ware. London: Faber & Faber. p.122.
2. Ibid. p.123.
3. Linda Komaroff and Stefano Carboni. 2002. "Catalogue: 107, Star and Cross Tiles". In The Legacy of Genghis Khan: Courtly Art and Culture in Western Asia, 1256-1353, edited by Linda Komaroff and Stefano Carboni. New York: The Metropolitan Museum of Art. p.266.

Categories: Oriental and Asian Art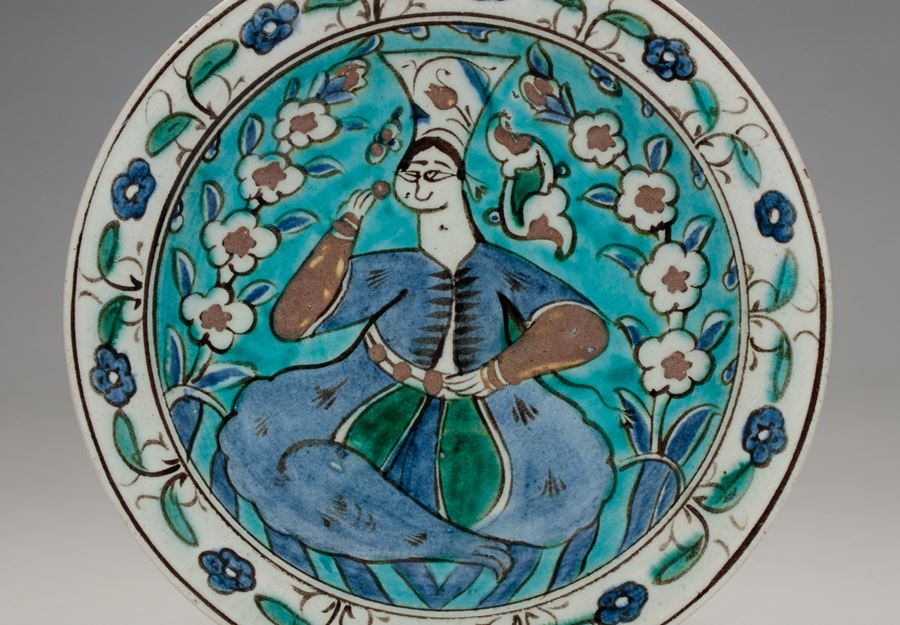 Discover the gallery
Amir Mohtashemi Ltd.
Indian,Islamic and Cross-Cultural Works of Art
More Works From This Gallery