Description & Technical information
Exceptional circular box in gold and carmine red enamel. The central scene on the lid of the box portrays ships sailing out to sea. A landscape of buildings, boulders, and quickly sketched people frame this departure scene. The composition is framed with a floral frieze in multicolored enamel. On the body of the box, four panels with angled corners repeat the central composition. The enamel panels are interspaced with enameled foliage on a matte gold background. The sharp contrasts in shading of the enamel contributes to its perspective.
The quality of the enamel as well as the variations in color between brown and carmine on the pink enamel background that is lightly opalescent, are all reminiscent of the dendritic agate that was in fashion during the mid-18th century. The seaport motif is reminiscent of scenes painted by Claude Lorrain.
This box is similar to a box being conserved in the Musée Cognacq-Jay in Paris, attributed to the Toussaint brothers from Hanau, Germany.

Weight: 3 oz (85 g)

Bird heads, probably originating from certain German cities such as Hanau.

Number on the box's body: 258 3570

Most likely German work

Price: On request.



Date: 1770-1780
Period: 18th century
Origin: German
Medium: Enamel, gold
Signature: Gold Marks:
Prestigious gold marks.
Crowned "K".

Dimensions: 2.6 x 5 x 6.5 cm (1 x 2 x 2¹/₂ inches)
Categories: Jewellery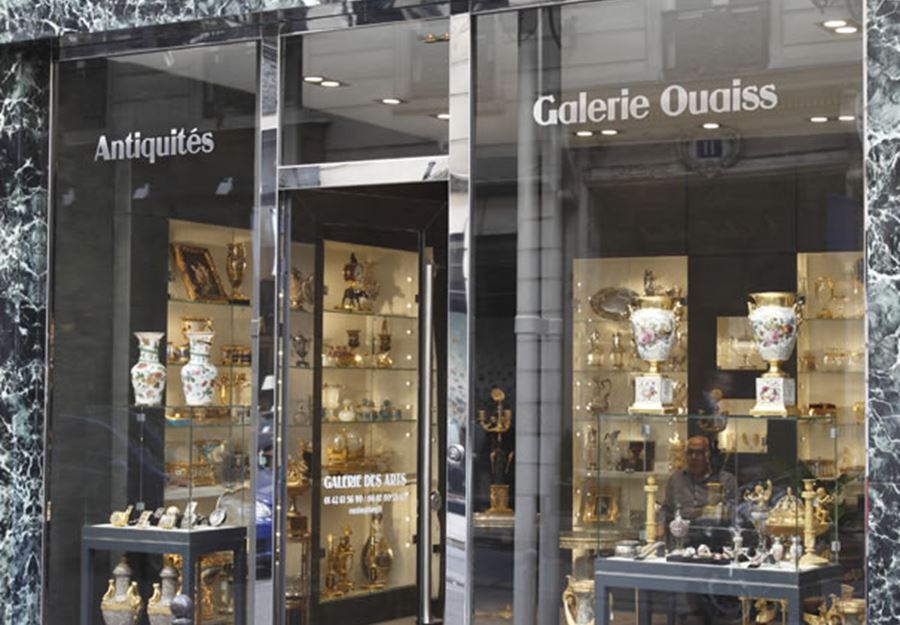 Discover the gallery
Galerie Ouaiss Antiquités
Antique snuff and gold boxes decorated with precious stones, enamel, and micromosaics.
More Works From This Gallery