Description & Technical information
This bronze pilgrim flask, which rests on a splayed rhomboid foot, is of crescent shape with voluted terminals and is decorated with a lightly modelled lappet of trefoil arrangement which extends to form the long neck of the vessel. There are attachment rings beneath the hinged domed lid as well as hinges on both sides of the shoulders of the main body and one beneath the tubular spout.
Containers in this form can be found depicted in Deccani court painting; in particular, paintings from the sixteenth and seventeenth centuries show such flasks associated with people of political or spiritual authority. Therefore, it is quite possible that this vessel type was emblematic of the owner's high rank.1
In addition to relating to a group of similarly shaped vessels made of animal hide in India, the rigorous symmetry and form of this flask is also observable in earlier prototypes from Ottoman Turkey. Indeed, this form emulates Ottoman leather prototypes, a few of which have survived,2 as have engraved gilt brass versions.
There are several pilgrim flasks of identical form held in the Metropolitan Museum of Art in New York (without a lid, Accession Number: 1992.50), the David Collection in Copenhagen (Accession Number: 32/2008) and the Khalili Collection in London (Accession Number: MTW 1530).


Period: 16th-17th century
Origin: Deccan, India
Medium: Bronze
Dimensions: 30 x 26 cm (11³/₄ x 10¹/₄ inches)
Provenance: Private US collection

Literature: Footnotes:
1. Mark Zebrowski. 1997. Gold, Silver and Bronze from Mughal India. London: Alexandria Press. p.200.
2. The best known of these Ottoman leather flasks was presented by Sultan Murad III to the Holy Roman Emperor Rudolf II ca.1580, now in the Kunsthistorisches Museum in Vienna (Accession Number: HJRK_C_28).

Categories: Oriental and Asian Art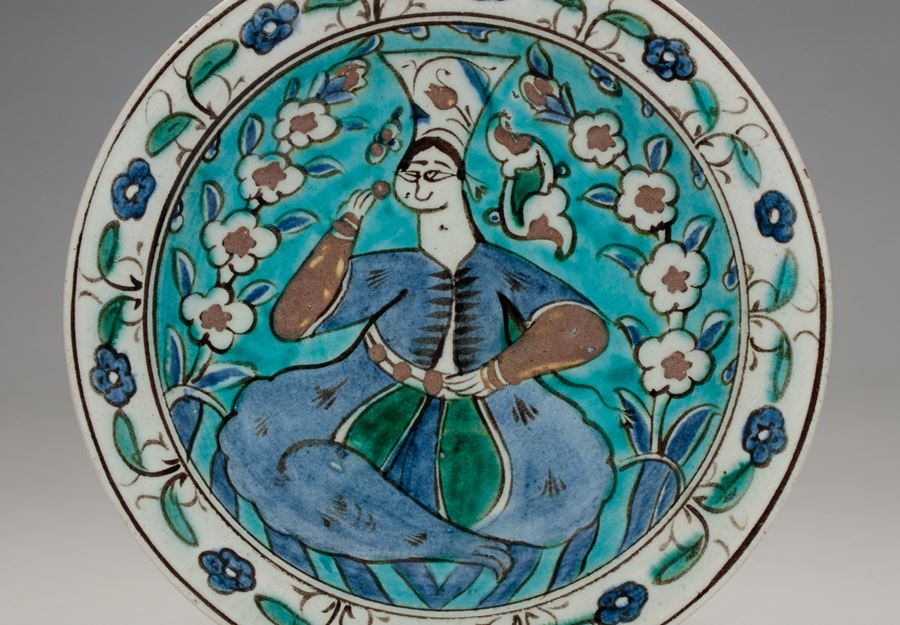 Discover the gallery
Amir Mohtashemi Ltd.
Indian,Islamic and Cross-Cultural Works of Art
More Works From This Gallery