Description & Technical information
This extremely rare, ornate ladle (kinissa) replicates traditional ladles used in Sri Lanka for serving water for both drinking and ritual purposes when holy water was poured over a Buddha figure. Simpler ladles were usually manufactured in coconut and wood, of which there are several examples (see British Museum, London, Accession Number: As1898,0703.80.).
In contrast, this present ladle has a finely chased silver bowl with rich relief and an elaborate ivory handle carved with a lion's head (simha), spouting decorative floral ornamentation (liya pata). At the base of the handle, attached to the silver bowl, is a kneeling male figure in prayer which represents either a Buddhist priest or a devotee.
Stylistically, this ladle is comparable in date and manufacture to the refined, finely carved ivory caskets, portable cabinets, containers and fan handles executed in the seventeenth and eighteenth centuries in Kandy, the last capital of the ancient kings of Ceylon. These sophisticated Sinhalese ivories made for export linked Asia with Europe, as they were destined for European consumers and were widely circulated in the trading networks of the Portuguese and later those of the Dutch. High-quality Sinhalese metalwork and weapons, especially the handles of daggers and knives (pihiya kättha), such as a gold knife kept in the Rijksmuseum in Amsterdam (Accession Number: NG-NM-7114), correspond to the unique shape and decoration of this handle.
An eighteenth century ladle comparable to this one, in the Victoria and Albert Museum in London (Accession Number: IS. 19-1886), is encrusted with gold and gemstones; the lion (simha) sporting ruby eyes. A second ladle in the British Museum in London (Accession Number: FBInd.43), dated to the seventeenth century, has a bowl made of chased copper and an ivory handle studded with silver rivets. This present ladle lacks the additional decoration of jewels, gold inlays or silver studs. All three ladles probably originated from Kandy, the ivory carved in one of the royal workshops there, whilst the bowls were manufactured in another.
Sri Lanka was, and still is, predominantly Buddhist, and over the centuries it has produced a range of exquisite carvings with Buddhist subject matter. In 1904, F. H. Andrews proposed the Victoria and Albert Museum ladle was used for sacrificial purposes, which A. K. Coomaraswamy refuted, suggesting such rare ivory ladles were either devotional objects dedicated to a temple or reserved for elite use in a royal palace.


Period: 17th-18th Century
Origin: Kandy, Sri Lanka
Medium: silver
Provenance: UK private collection since the 1940s

Literature: Literature:
Fred H. Andrews. 1904. 'The Elephant in Industry and Art', The Journal of Indian Art and Industry, vol. 10, pp. 81-88.
Alan Chong. 2013. 'Sri Lankan Ivories for the Dutch and Portuguese', Journal of Historians of Netherlandish Art, 5 (2).
Ananda Kentish Coomaraswamy. 1908. Medieval Sinhalese Art: Being a Monograph on Mediaeval Sinhalese Arts & Crafts, Mainly as Surviving in the Eighteenth Century, with an Account of the Structure of Society, and the Status of Craftsmen. Broad Campden: Essex House Press. p. 334, Pls. XIII and LXI.
P.E.P. Deraniyagala. 1942. 'Sinhala weapons and armour', The Journal of the Ceylon Branch of the Royal Asiatic Society of Great Britain & Ireland, XXXV, no. 95, pp. 106-112.
Annemarie Jordan Gschwend and Johannes Beltz. (eds). 2010. Elfenbeine aus Ceylon. Luxusgüter für Luxusgüter für Katharina von Habsburg (1507-1578). Zurich: Museum Rietberg.
Lodewijk Wagenaar. 2016. Cinnamon and Elephants: Sri Lanka and the Netherlands from 1600. Nijmegen: Vantilt Publishers. p. 122, fig. 4.14.

Categories: Oriental and Asian Art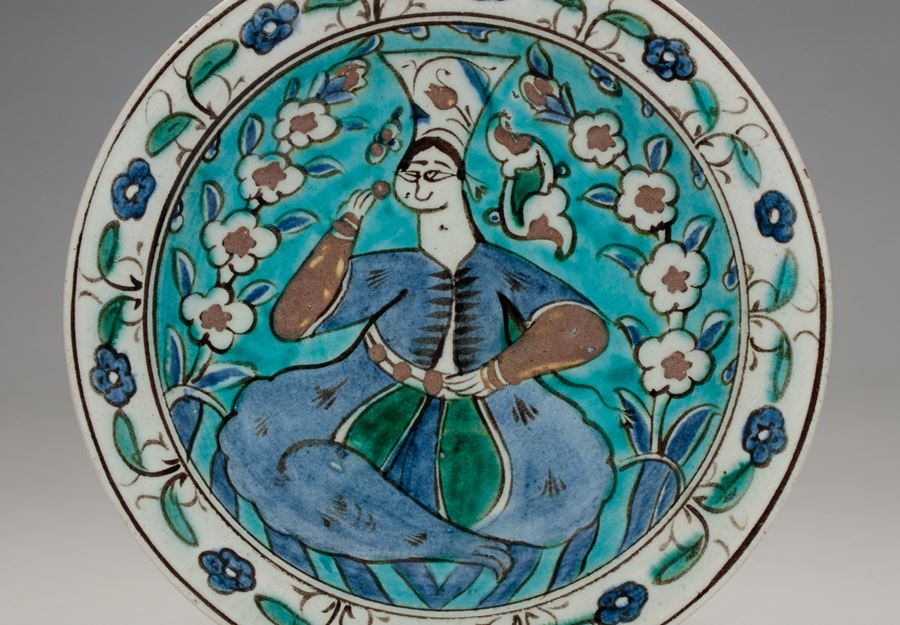 Discover the gallery
Amir Mohtashemi Ltd.
Indian,Islamic and Cross-Cultural Works of Art
More Works From This Gallery