Description & Technical information
The tray is made of pure gold—thus ranking as a gift of the highest order—and would have been produced by a skilled goldsmith employed at the Department of the Ten Crafts (Krom Chang Sip Mu) responsible for producing the finest artworks for the royal court of Siam.1 It is decorated profusely to the interior, around the lobed rim and the foot with a pattern of daisies, which were one of King Chulalongkorn's favourite flowers and a symbol of the heart. It is noteworthy that in 1887, the king ordered a large quantity of tea sets with the same daisy pattern from the Sèvres Porcelain Factory in France as commemorative gifts for guests at the Royal Cremation Ceremony of his recently deceased beloved son, Prince Sirirat.2
Although this type of footed tray would typically have been used to make offerings at a Thai temple during important religious ceremonies, this particular very fine example was created in gold as a parting gift from King Chulalongkorn (Rama V, 1853-1910) of Siam to his long-time Danish friend and confidant, Admiral Andreas du Plessis de Richlieu (1852-1932).
An inscription in English reads: "To his excellence Phya Cholayutyothin. In dear remembrance as a token of high esteem of old acquaintance and sincere friendship", whereas an inscription in Thai offers a stronger indication of the high regard and fondness in which King Chulalongkorn held Richlieu, and may literally be translated: "Given to his excellence Phya Cholayutyothin with love from me as my love to my kin, siblings, best friends, by my love and reverence due to us having to part ways. Please keep this as a reminder of our friendship."
After working as a merchant seaman on Danish East Asiatic Company ships sailing to Asia and Australia, Richlieu arrived in Bangkok in April 1875 with a letter of introduction from King Christian IX of Denmark to King Chulalongkorn.3 Although it took considerable persistence and a few weeks before Richlieu managed to obtain a royal audience, he and King Chulalongkorn seem to have developed an immediate rapport, landing him a position with the Siamese Navy. The king tasked him with a number of assignments of increasing importance, resulting in his being named Commander in 1883, and eventually becoming the first and only foreign Admiral and Commander-in-Chief of the Siamese Navy in 1900.4 Richlieu oversaw the successful expansion and modernisation of the navy while his stature and influence at the court grew over the years as he received numerous royal titles and decorations. He also accompanied King Chulalongkorn and Crown Prince Maha Vajiravudh on domestic inspection tours and overseas visits.5
Richlieu retired from the navy and returned to Denmark in 1902, missing his wife and young family, who had returned home the year before, and in poor health after suffering a bout of malaria.6 King Chulalongkorn personally saw him off to Singapore aboard the Royal Yacht, showering him with a considerable number of important and valuable gifts. These included several medals and niello, silver and gold utensils, including this splendid footed tray.



Period: 20th century
Origin: Thailand
Medium: gold
Dimensions: 8 cm (3¹/₈ inches)
Provenance: Presented to Admiral Andreas du Plessis de Richlieu (Thai noble title: Phraya (Phya) Cholayuth Yothin) by King Rama V of Siam in 1902, and then by descent.

Literature: Footnotes:
1. Mary Laugesen, Poul Westphall, and Robin Dannhorn. 1980. Scandinavians in Siam. Bangkok: Scandinavian Society of Thailand. p. 25.
2. M.R. Usnisa Sukhsvasti. 2012. Journey of the Robe. Bangkok: Anders Normann. p.5.
3. Ibid, p. 6.
4. Fleming Winther Nielsen. 2010. "Andreas du Plessis de Richelieu: The Admiral Who Went Ashore", ScandAsia, 22 March 2010. https://scandasia.com/6074-andreas-du-plessis-de-richelieu-the-admiral-who-went-ashore/ (accessed on 14 December 2019).
5. Paul Bromberg. 2019. THAI SILVER and Nielloware. Bangkok: River Books. pp. 151-152.
6. Jeffery Sng and Phimpraphai Bisalputra. 2011. Bencharong & Chinaware in the Court of Siam: The Surat Osathanugrah Collection. Bangkok: Chawpipope Osathanugrah. p. 263.

Categories: Oriental and Asian Art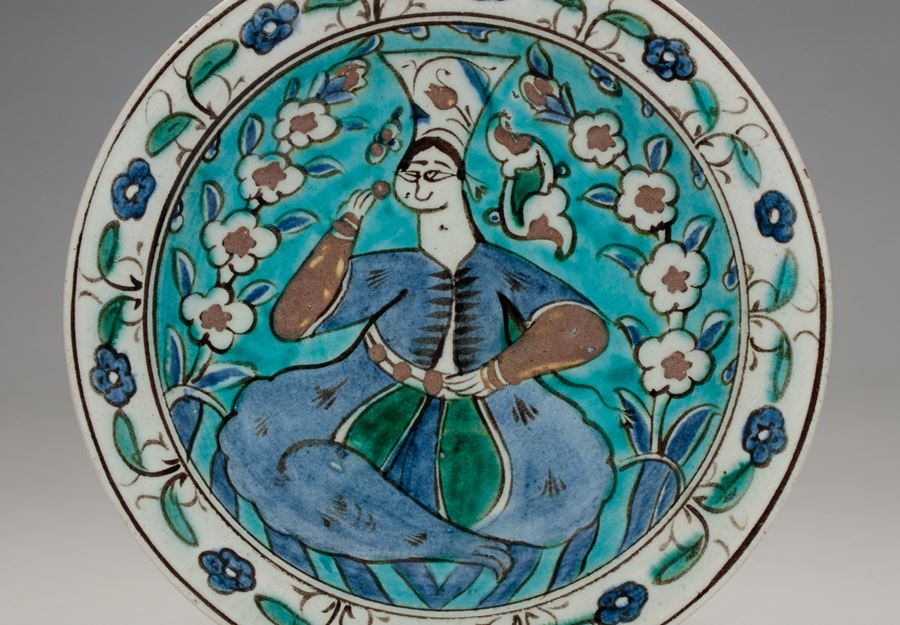 Discover the gallery
Amir Mohtashemi Ltd.
Indian,Islamic and Cross-Cultural Works of Art
More Works From This Gallery