Description & Technical information
This underglaze-painted polychrome tile is decorated with a symmetrical pattern of addorsed saz leaves with serrated edges dominated by emerald-green painting and splashes of cobalt-blue and bole-red detail. These leaves emerge from both sides of a centralised blue crescent cartouche which is crowned by a red floral motif and two green bending stalks on either side. In addition, there is a small blue trefoil placed between both pairs of saz leaves and, on the opposite side, elegantly painted cusped cartouches of split-leaf palmettes dominated by a blue background with splashes of green and red. Indeed, the use of green and red for the floral details around these half-palmettes harmonises the scheme and truly enables one to appreciate the striking white background of the tile.
The design of this İznik tile is very similar to some of the tiles in the Selimiye Mosque in Edirne. In addition, there are tiles in the Hagia Sophia Library in İstanbul which also recall this design of addorsed saz leaves but lacks the red coloured details.1
Footnotes:
1. See, Katharina Otto-Dorn. 1957. Türkische Keramik. Ankara: Türk Tarih Kurumu Basimevi. fig.68 & p.180; and Semavi Eyice. 1991. "Ayasofya", TDV İslâm Ansiklopedisi, fig.22.



Date: 1570-75
Period: 16th Century
Origin: Ottoman Turkey
Medium: Ceramic
Dimensions: 28 x 28 cm (11 x 11 inches)
Provenance: European private collection

Categories: Oriental and Asian Art, Paintings, Drawings & Prints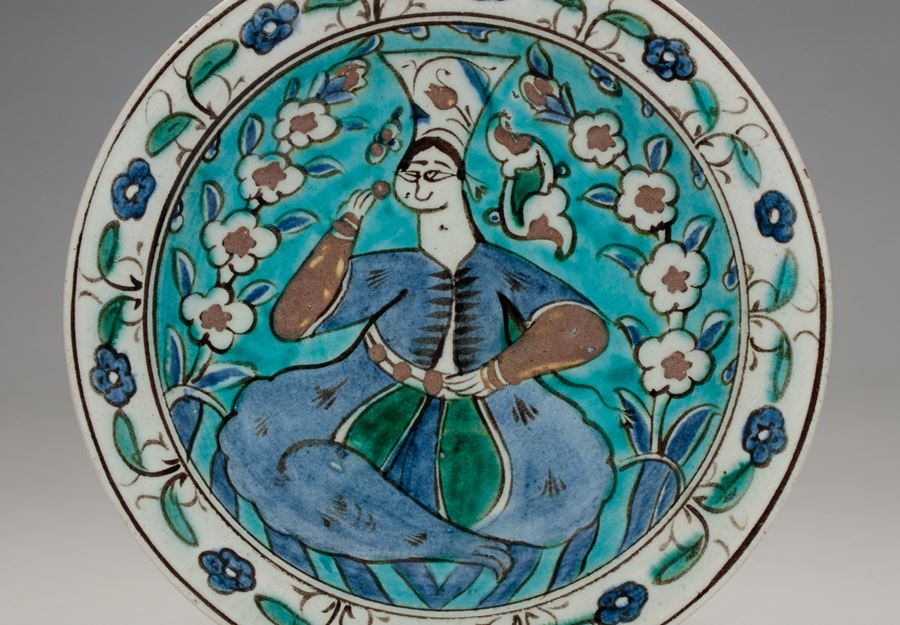 Discover the gallery
Amir Mohtashemi Ltd.
Indian,Islamic and Cross-Cultural Works of Art
More Works From This Gallery