Description & Technical information
Manuel Cargaleiro a Portuguese artist, started his first artistic
experiences in 1945. He joined the geographic and natural sciences
classes at the Faculty of Sciences of the University of Lisbon, that he
would abandon to fully devote himself to the arts. In 1952, he organized
his first solo exhibition at he Foz Palace in Lisbon. He would teach
two years later at the School of Decorative Arts Antonio Arroyo. It was
at the same time that he frequented the Café Gelo of the Rossio, where
the "Groupe du Gelo" was being constituted comprising young artists
close to the Surrealistic movement including Mario Cesariny, Luiz
Pacheco and Ernesto Sampan. He also frequented the Café "A Brasileira"
known for its artistic and literary meetings.
Thanks to a scholarship
program provided by the Italian government, Cargaleiro studied the
ceramic in Florence, Rome and Faenza. In 1958, he joined another project
in the same field in Gien, in France, this time financed by the
Calouste Gulbenkian Foundation. He developed there an experienced
technique in the creation of faience tiles called Azulejo of which he
became a real master; this art is still renowned in Portugal and Italy.
Cargaleiro's
work knew a real turning point when he started the creation of large
mural compositions, at the beginning of the 1950's. His passion led him
to move to France in 1957, a country that became his second home, and
Paris his first home port. Profoundly influenced by the artists of the
Ecole de Paris and the avant-garde ones like Delaunay, Ernst, Vasarely
or Klee, his art is based on constant interactions between ceramic and
painting, between an accomplished geometry and a lyrical figuration. His
compositions are based on geometric modules and a range of primary
colors, though richly nuanced, suggesting movement in space. If painting
and graphic works are the expression of intimate values, the mural
ceramic always plays a social role with Cargaleiro.
Knowing public
commissions thanks to the French Ministry of Culture, the artist
executed in Paris, the murals for the Parisian metro station
Champs-Elysées Clemenceau in 1995, while he also worked for the Vietri
Museum. He is today known to be a major figure or both French and
Portugese contemporary artistic scenes, and he has received official
recognition in the two countries (Officier des Arts et des Lettres,
Grande-Croix de l'Ordre du Mérite).

Date: 2000
Period: 21st century
Origin: France
Medium: Oil on canvas
Dimensions: 73.3 x 60 cm (28⁷/₈ x 23⁵/₈ inches)
Provenance:
Artist collection. Certificate of authenticity issued by the artist. Signed lower right and dated lower left. Signed, titled, dated and located on the back : Paris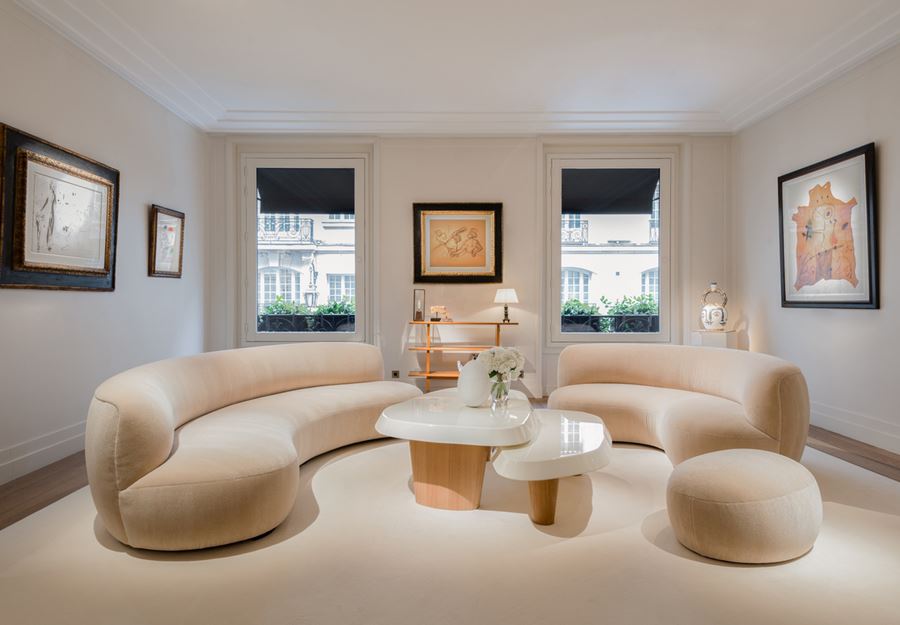 Discover the gallery
Helene Bailly Gallery
Impressionist, Modern and Contemporary art
More Works From This Gallery