Description & Technical information
This powerful still life, typical of Kirchner's Expressionist style, shows an oil lamp, a striking pink coffee cup, a basket of fruits and other elements which recur in works from 1911 and 1912, such as the kerosene lamp. It is painted in subtle and distinctive tones of pink,
ochre, yellow and green. The arrangement of the objects of the foreground is counterbalanced by the two seated naked women, seen in the background.
This painting is inspired by Kirchner's studio at 80
Berlinerstrasse, in Dresden, a small space where he stayed until he move to Berlin in 1911.
Several photos taken by the artist show the
interior of his studio and the impressive frescoes on the walls. The atmosphere, the colors and the composition of the painting recall Matisse's "La nature morte à la danse". Notably the basket of fruits on the table as well as the pink of the tissue reminiscent of the coffee cup in our composition.

The subject of the nude evolving naturally and simply in the landscape is a major theme of Kirchner's work, and more generally in the work of members of the Die Brücke group
of which Kirchner was a driving force.
At that time, it was not unusual for Kirchner to join artists such as Erich Heckel and Karl
Schmidt-Rottluff for trips across Germany, notably to the Island Of Fehmarn and on the shores of Lake Moritzburger. The artists spent whole days bathing and playing naked withe their female models, living in
tents or huts. This naturist experience, coupled with the tribal art he saw in museums of Dresden, inspired Kirchner in his frescoes of nude bathers and erotic scenes that covered the walls of his studio, like the two women in the background of our painting.

At the time, Kirchner was at the height of his experimentation with Expressionism.
The full-frontal power of the perspective of our painting with its image head-on towards the viewer, echoes the audacity and assurance of the vision that the artist had at the time. By distorting the perspective and the combination of themes, it transcends the laws of perception and
creates a more symbolic concept of space close to the first phase of Cubism.

Date: 1912
Period: 20th century
Origin: France
Medium: Oil on original canvas and chassis
Dimensions: 95 x 95 cm (37³/₈ x 37³/₈ inches)
Provenance: Neue Kunst - Hans Goltz, Munich, 1913 between 1911-1927.
Paul Poiret (1879-1944), Paris.
Perrine Poiret, Paul Poiret's daughter, 1944.
Sophie Rang des Adret, Perrine Poiret's daughter, France, till February 1999.
Sale Yves Rabourdin & Olivier Choppin de Janvry, Hôtel Drouot, Paris, February 17th, 1999.
Private collection, Switzerland.

Literature: Umelecky Mesicnik, Tome II, 1913, Prague, photography signed of
the work illustrated p.113. Letter from Kirchner to Vincenc Kramár,
April 28th, 1913.
Kubismus in Prag, 1909-1925, Exhibition Catalogue,
Kunstverein für die Rheinlande und Westfalen, Düsseldorf,
1991, photography signed of the work illustrated p.73.
Brücke - El
Nacimiento del Expresionismo Alemán, Exhibition Catalogue, Museo
Thyssen-Bornemisza & Fundación Caja Madrid, Madrid, 2005,
illustrated under the n°137, p.269.
Brücke - Die Geburt des deutschen
Expressionismus, Exhibition Catalogue, Brücke-Museum, Berlin, 2005,
illustrated under the n°143, p.235.
Doris Hansmann, Ernst Ludwig Kirchner, Place des Victoires Editions, illustrated full page p.117.

Exhibitions: Brücke - El Nacimiento del Expresionismo Alemán, Museo
Thyssen-Bornemisza & Fundación Caja Madrid, Madrid, February 1st - May 15th, 2005, n°137.
Brücke - Die Geburt des deutschen Expressionismus, Brücke-Museum, Berlin, October 2nd, 2005 - January 2006, n°143.
Expressionnisme. Le Fauve est lâché, Fondation Pierre Arnaud, Switzerland, February 2nd - May 20th 2018 (loan request).

Categories: Paintings, Drawings & Prints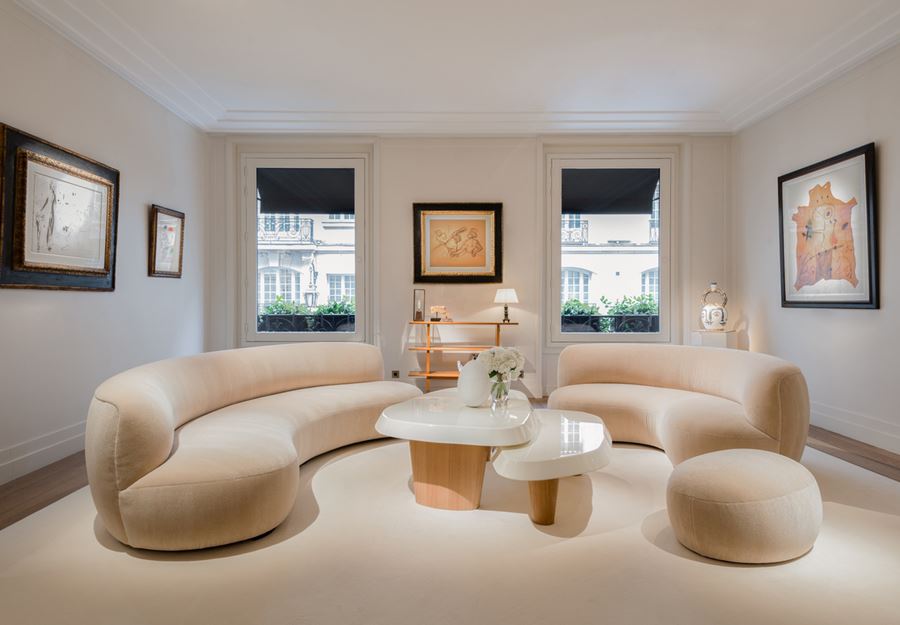 Discover the gallery
Helene Bailly Gallery
Impressionist, Modern and Contemporary art
More Works From This Gallery