Description & Technical information
Henri Matisse produced in 1937 a series of lead pencil and ink drawings depicting the painter himself and his model. In our work, Matisse is seated in front of a mirror drawing a naked woman lying down seen from the front and back.
Typical of the artist's drawings, "Le peintre et son modèle" is both marked by the excacerbated dynamism and the strong sensuality. Matisse only uses a pencil and a paper, the only strength of his drawing is enough to create a vivid work. The choice of the blank page is totally assumed, it gives the composition a certain clarity. A handfree drawing, the line predominates, the artist plays with the transparency of the sheet to define the bodies, the decor
and the objects. He modulates the pressure on his pencil strokes in order to provide movement and life to the surrounding elements. A minimum of shadowing is provided, the drawing is essentially made of
curved lines. The arabesque, typical of Matisse's works, melds into the whiteness of the paper to express light and space. A genuine graphic identity of the artist, he suggests a roundness referring her to the warm feminine curves and the intimacy of the scene. Minimalist, this drawing also keeps a decorative part found in the patterns of the paper
and the oriental fabric on which the model lies. Matisse also uses the old masters' traditional technique of the mirror. This latter acts in the heart of the composition, it frames the artist working and the surrounding decor, behind the model whose back is only visible to the
spectator but the mirror allows us to observe the instant entirely captured.
Since 1920, while in Nice, the studio views are numerous
in the artist's work. These are not only self-portraits, nor academic representations but the intimate moment shared between the artist and his model. In our work, the model depicted is most probably Lydia Delectorskaya, a Russian immigrant that the Matisse family welcomed in 1932. This young woman became Matisse's muse and also his assistant and of whom he produced more than a hundred portraits and drawings.
Date: 1937
Period: 20th century
Origin: France
Medium: Lead pencil on paper
Signature:
Signed with monogram lower left: HM
Certificate of authenticity issued by Mrs. Wanda de Guébriant dated May 3rd 2001.
Dimensions:
26 x 33 cm (10¹/₄ x 13 inches)
Provenance:
Private collection, France.
Categories:
Paintings, Drawings & Prints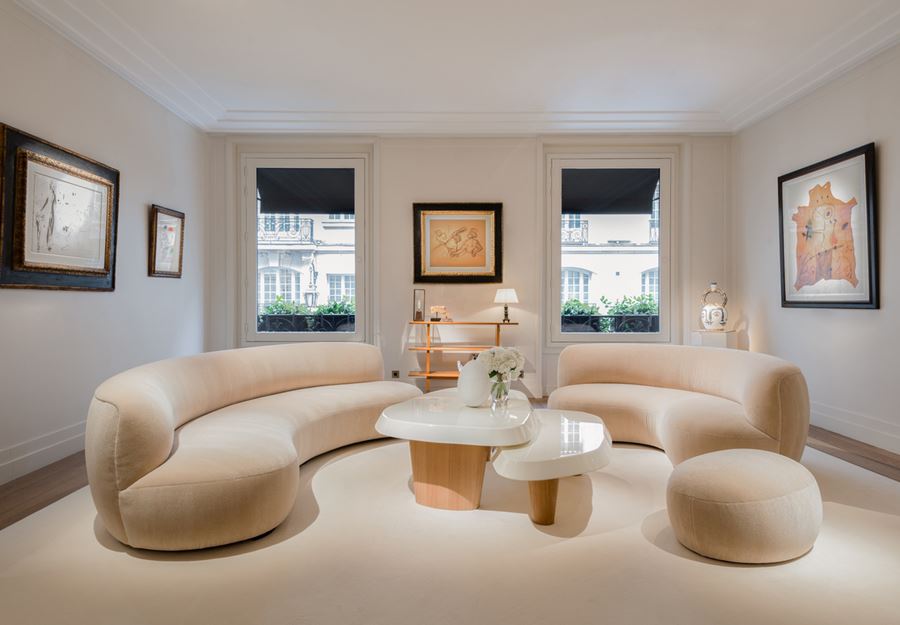 Discover the gallery
Helene Bailly Gallery
Impressionist, Modern and Contemporary art
More Works From This Gallery