Description & Technical information
The head with long tapering neck and shield shaped face. Thin arching brows above almond-shaped eyes inlaid with white stone, the pupils originally of glass or lapis (mostly missing). Her long straight nose above a narrow mouth. Her roughly chiselled hair seemingly tucked behind small, protruding ears. This rough finish to the hair and top of the head may have allowed the figure to be finished with the addition of plaster or stucco. The alabaster base, if not original, is certainly ancient. The stepped form is more usually associated with altars but it may have been reused.

This form of head is associated with the kingdom of Qataban which, together with Ma'in, Saba, Himyar, and Hadhramaut, was one of the five kingdoms of southern Arabia. Pliny the Elder recorded that Timna, the capital of this ancient kingdom was a busy metropolis housing no less than 65 temple complexes. Its wealth was based on its monopoly of the ancient cinnamon and incense trade routes. The area was first excavated in the 1950s by the American archaeologist Wendell Phillips, (W. Phillips, 'Qataban and Sheba: Exploring the ancient kingdoms on the Biblical spice routes of Arabia', London, 1955).
Period: Antiquity
Medium: Alabaster
Dimensions: 29.6 cm (11⁵/₈ inches)
Provenance: From the Collection of the late Ralph Hinshelwood Daly OBE (1924-2006), acquired prior to 1967.
In 1955 Daly joined the Colonial Service and was posted to the Aden Protectorates that today form the Republic of Yemen. It was here that he met and married his wife Elizabeth Anne Daly (née Fenton Wells) and acquired the collection of alabaster sculptures. In 1967 the Aden Protectorates became independent from Britain, and Ralph, awarded an OBE for his work, retired from the Colonial Service and returned with Elizabeth to Europe, taking their collection of alabasters with them.
Literature: For a similar example, nicknamed 'Miriam' by the workman at the time of discovery, see St. J. Simpson (ed.), 'Queen of Sheba, Treasures of Ancient Yemen', London, 2002, pp. 194-195, no. 270. This head retains the plaster hair.
Categories: Oriental and Asian Art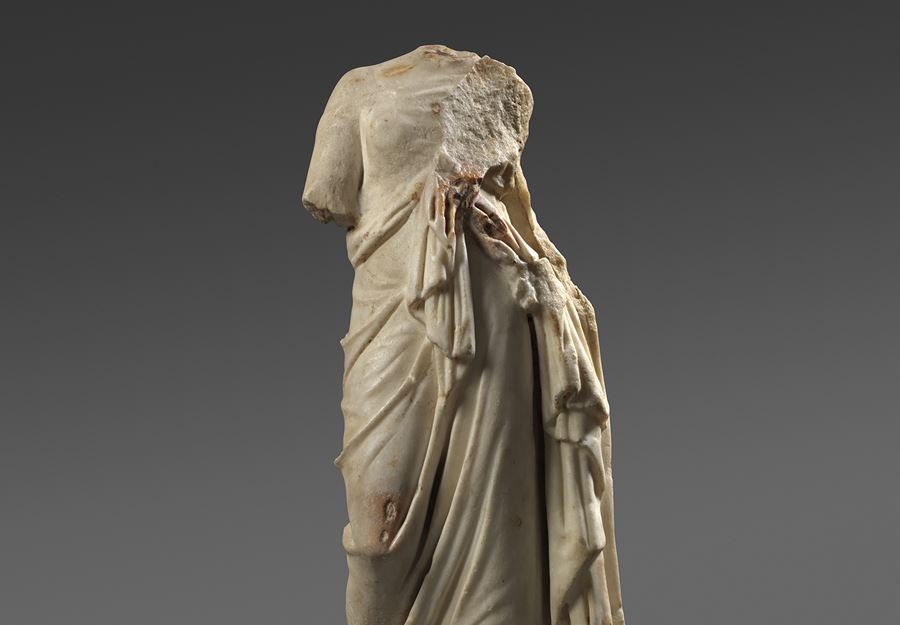 Discover the gallery
Rupert Wace Ancient Art Ltd
Ancient Art from the Classical World, Egypt, the Near East and the Early Cultures of Northern Europe
More Works From This Gallery