Description & Technical information
After WWI, the French people who were marked by years of deprivation, were craving for liberty. Driven by a dynamism that came from the United States, Paris became a festive and cheerful city characterized by a period of intense social, cultural and artistic activities. It's during the 1920-1930's that the cinema, the radio and the jazz appeared. Placed at the heart of this creative emulation, the artists became the protagonists of an innovative period and experimented new artistic languages. A Franco-Dutch painter, Kees Van Dongen particularly found his place. Fauvist, anarchist but also socialite, the artist led a
flamboyant life in the Paris of the 1920's. The "roaring twenties" were a great period of creativity for the painter who transcribed in his works this new way of life based on pleasure and exuberance. The "Cocktail period" like he used to say, allowed him to get closer to the well off
spheres of society and to become their official painter. His fauvist palette and incendiary style made him an inescapable figure of this "bohemian milieu". Invited to the most popular events, Van Dongen placed himself in the front row of these Parisian nights. Capturing the
charming and frivolous atmosphere of the nightclubs and typical cafés of the 1920's, the artist became an interpreter and actor of this vibrant life.
The work "Nightclub, Jazz Band, le Chanteur Johnny Hudgins" is a perfect example of these Parisian nights transcribed by the artist.
Painted in 1926, in the era of the "Jazz Age", it illustrates the famous Afro-American singer and dancer Johnny Hudgins performing a vaudeville on the stage of a Parisian nightclub. Van Dongen depicts here the artist facing a public with an elegant appearance. The face
disguised with black he sings his famous "Ouaa-Ouaa", the mouth wide open and circled with red. This funny and innovative comedy comes alive under the painter's broad brushstrokes. The drawing is less important than the intense color. The artist's palette is composed of different
color tones of blue emphasized by touches of yellow, red and white. This contrast of colors catches the attention of the spectator whom imagination is thus required.
The atmosphere of this tremendous evening is tangible, it seems that we can almost hear the uplifting
music from the Jazz-Band on the background. The liveliness of the touch gives a strong expressivity to the characters, Van Dongen captures the essence of the night and thrusts us into the heart of the show. Fauvism
is strongly rooted in this painting with the incendiary palette and a bold touch. However, the strong expressivity of the composition is also close to the German Expressionism. In 1908, after his meeting with the painter Max Pechstein in Paris, Van Dongen painted strong works on the
theme of the nigthclub and circus that were very much appreciated and transcribed by the German artists of the avant-garde. In this painting, the artist focuses on characters and their faces. In order to emphasize
the emotion that emerges, he focuses more on the lines and shapes that he underlines than details. Like the Expressionists, he enlarges some anatomical elements like the hands or the mouth of the singer who
irradiates the scene and who prevails over the rest of the painting.
True testimony of the Jazz Age in Paris, this major work shows us a vision of the influence of the Afro-American cultures in Europe and of which Johnny Hudgins was a major figure. Friend of Josephine Baker, they were
together stars of the vaudeville comedies with "La Revue Nègre" in Paris in 1925 where his comedian talents earned him an international recognition. Nicknamed the "Charly Chaplin of color", he became popular thanks to his talent as a "Wah-Wah man" which is a show mixing music and
mimes and dance. In this pantomime comedy, the artist used muffled onomatopoeia associated with a an expressive gesture imitating the sounds of the accompagnying instruments. It is precisely that episod
that Van Dongen captures in his painting. On the stage of a nightclub onthe Champs-Elysées or rue Blomet in Paris, Hudgins sings and mimes this popular piece of music that we can perceive through the shape of his mouth. This type of American popular theater was born in the 1830's.
White actors disguised as Black people produced the original culture of the first workers in the plantations. These informal shows inspired the first "blackface" comedians who brought these pantomime gestures to the new-yorker theater, making up their faces and hands with burnt cork or
grease.
Following the Secession War, the freed Afro-Americans
adaptated these performing codes and would as well wear the same make up on stage. Thus a black tradition of the "Blackface" show was created and this new generation of artists managed to use these shows to value
their culture.
Johnny Hudgins is a perfect example. He was one of
the first artists to play in successful comedies such as "Sur un air de Charleston" by Jean Renoir in 1926 or "Feet-fun an Fancy" by the British Pathé production in 1927.
"Nightclub" possesses its own strength. It is both a wonderful depiction of the Golden Age of the Parisian
nightclubs and a real homage to the Jazz and Afro-American culture that has made Europe vibrate and that still does.
Date: circa 1926
Period: 20th century
Origin: France
Medium: Oil on canvas
Dimensions: 134 x 120 cm (52³/₄ x 47¹/₄ inches)
Provenance: Frans Buffa & Zonen, Amsterdam (circa 1935)
Henri van Abbe, Eindhoven (circa 1937)
Jan F. van Abbe, Waalre, by descent from above
Tinus van Bakel, Waalre, acquired from above (1956)
Pieter van Bakel, Bruxelles, by descent from above (circa 2000)
Sale Sotheby's, London, June 25, 2008, n°53
Private collection, Great Britain, acquired from the above
Private collection, Paris, acquired from the former owner.

Literature:
Gaston Diehl, Van Dongen, Flammarion, Paris, 1968, illustrated p.68 sous le titre "Le Nightclub. Le chanteur Johnny Hudgins", daté 1929 (collection Tinus van Bakel, Waalre).
Charles Terrasse, "Kees van Dongen", L'Art d'aujourd'hui, n°17, 1968, illustrated pl.11 as "Le chanteur Johnny Hudgins").
Charles Wentinck, Van Dongen "Les Beaux-arts aux Pays-Bas", 1963, illustrated p.14.
Anita Hopmans, Van Dongen, Fauve, anarchiste et mondain, Museum Boijmans Van Beuningen, Rotterdam, n°84, under the titled "Johnny Hudgins, chanteur
nègre", dated 1927.
Anita Hopmans, Van Dongen : Fauve, anarchiste et mondain, Musée moderne de la ville de Paris, illustrated p.193.
This work will be included in the forthcoming van Dongen Digital Catalogue Raisonné being prepared by the Wildenstein Plattner Institute, Inc. Attestation of inclusion dated May 24, 2019.
Exhibitions:
Kees van Dongen, Galerie Le Centaure, Brussels, February 5-16, 1926, n°14 (as "Cabaret nègre").
Kees van Dongen tentoonstelling, Stedelijk Museum Amsterdam, April 9 - May 8 1927, n°14 (as "Cabaret nègre (Neger cabaret)")
Exposeeren
nieuwe werken door Kees van Dongen, Frans Bufffa & Zonen, Amsterdam, March 4-27, 1935, n°6, (as "Johnny Hudgins, chanteur nègre").
Van Dongen 1877-1937, Eere-tentoonstelling, Stedelijk Museum, Amsterdam, December 18, 1937 - January 9, 1938, n°9 (as "Nightclub").
Van Dongen, Stedelijk Van Abbe-Museum, Eindhoven, February 5 - March 2,
1938, n°8 (as "Nightclub") (lender: Henri van Abbe, Eindhoven).
Tentoonstelling Kees Van Dongen. Werken van 1894 tot 1949, Museum Boymans, Rotterdam,
May 28 - July 10, 1949, n°85 (as "Nightclub").
Keerpunten in de nederlandse schilderkunst, 1920-1960, Stedelijk Van Abbemuseum, Eindhoven, January 9 - February 15, 1960, n°31 ("De jazzband", dated
1920) (lender: Tinus van Bakel, Waalre). Traveled to: Groningen, Groninger Museum voor Stad en Lande, February 20 - March 26, 1960.
Eindhoven verzamelt. Van Jongkind tot Jorn in particulier bezit Plaats, Stedelijk Van Abbemuseum, Eindhoven, November 5 - December 13, 1960, n°41 ("De
jazzband", dated circa 1920) (lender: Tinus van Bakel, Waalre). Traveled to: Stedelijk Museum Schiedam, December 17, 1960 - January 30, 1961.
Figuratie,defiguratie. De menselijke figuur sedert Picasso, Museum voor Schone Kunsten, Gand, July 10 - October 4, 1964, n°272 (as "Nightclub") (lender: Tinus van Bakel, Waalre)
Van Dongen, Musée National d'Art Moderne, Paris, October 13 - November 26, 1967, n°135 (as "Nightclub -
Le chanteur Johnny Hudgins ", dated 1929) (lender: Tinus van Bakel, Waalre). Traveled to: Museum Boymans van Beunigen, Rotterdam, December 8, 1967 - January 28, 1968.
Van Dongen. Fauve, anarchiste et mondain,
Museum Boijmans Van Beuningen, September 18, 2010 - January 23, 2011, n°84 p.171 (as "Johnny Hudgins, chanteur nègre", dated 1927) (lender:
private collection, England, United Kingdom). Traveled to: Musée d'Art moderne de la ville de Paris, March 25 - July 17, 2011, illustrated under the n°100 p.193.
Categories:
Paintings, Drawings & Prints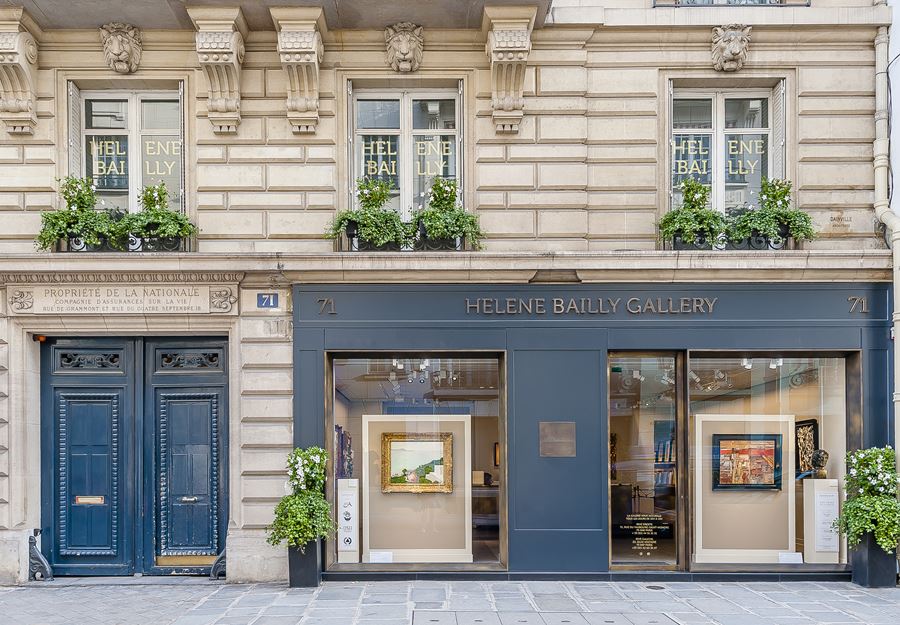 Discover the gallery
Helene Bailly Gallery
Impressionist, Modern and Contemporary art
More Works From This Gallery