Description & Technical information
An emblematic figure of the Seconde Ecole de Paris, Maria Elena Vieira da Silva made France her second home and participated in her own way in the development of an aesthetic that no longer considered the debate between figurative and abstract.
When she arrived in Paris at the age of 20, she began to sculpt at Bourdelle's and followed the teaching of Fernand Léger and Robert Bissière. Married to the Hungarian painter Arpad Szenes, she was forced into exile in Brazil during the war, where she met Torres-Garcia. His geometric style and symbolic language would inspire Vieira da Silva to build a very personal mythology. After all sorts of plays of "Lines" [1936], of images of "Disasters" [1942] and interlaced writings of "Weavers" [1936-1948], Vieira da Silva would find the mark of a style with surprising perspectives. She invented a new pictorial space made of
grids playing with light and shadow, urban landscapes and endless views. Her paintings from the 1950s to the 1960s show a formal freedom which plays on gaps between outpouring and restraint, constructed rigour and visual overflow. This style is perfectly visible in the work
"Communal", painted in 1969 and which was exhibited at the Jeanne Bucher gallery.
The artist who inscribed on her paintings networks of tangled lines where people get lost, defined them as an organisation submitted to the research of structure and depth.
Later on, Vieira da Silva's art got a disturbing "whiteness with gloom's scratches" as the critic Raoul-Jean Moulin would write. The fact is that her painting which became more and more immaterial offered a dazzling vision of the world, almost blinding. As if the painter sought to get
rid of everything that could interfere with the quest of something essential, even existential.
The title "Communal" can be read as a great library or as an aerial view of various communes.
Date: 1969
Period: 20th century
Origin: France
Medium: Oil on original canvas
Dimensions: 60 x 73 cm (23⁵/₈ x 28³/₄ inches)
Provenance: Private collection.
Jeanne Bucher Gallery, Paris.

Literature: Virginie Duval, Diane Daval Béran, Vieira da Silva : Catalogue Raisonné, Skira Editions, Paris, 1994, illustrated under the n°2270, p.463.

Categories: Paintings, Drawings & Prints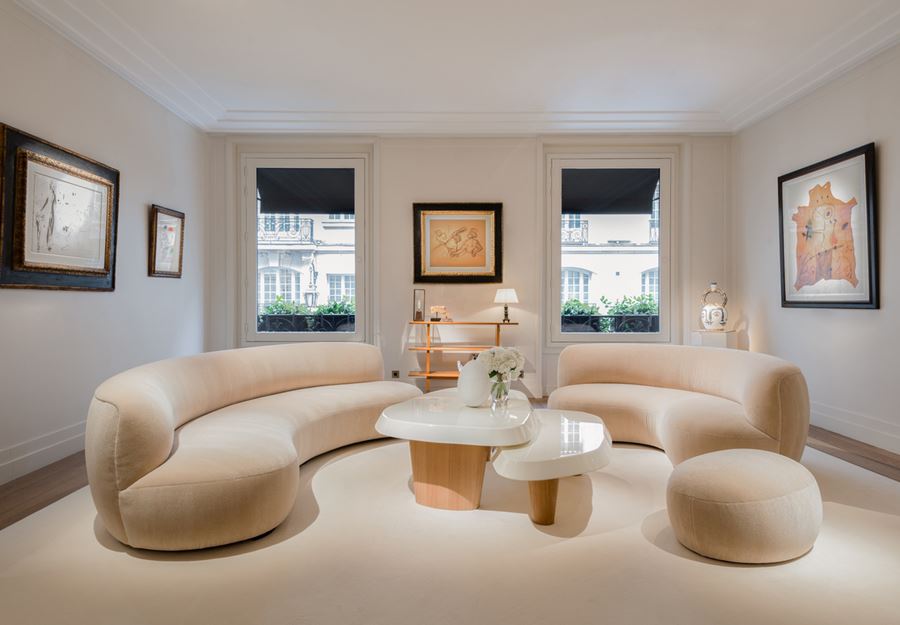 Discover the gallery
Helene Bailly Gallery
Impressionist, Modern and Contemporary art
More Works From This Gallery