Description & Technical information
Made for the Islamic market
Stock No.: A5338​

This large blue-and-white kraak porcelain dish has in its centre medallion two seated Persian figures, possibly female. Facing each other, they are both wearing long garments and headdresses with the aigrette, worn by the nobility. The figure on the left, shown against a rocky outcrop, holds a small drinking cup in the right hand. The figures are set amidst a landscape of flowers and vegetation consisting of grasses and a small tree. The centre is enclosed by a border of stylised flowers, including tulips.
The rim of the dish is composed of eight wide panels, which have Chinese narrative scenes alternating with different floral designs. The scenes depict a scholar seated inside a pavilion in a rocky landscape and flying geese, an angler carrying a fishing rod with a creel, a farmer wearing a straw-hat with produce on a shoulder pole, and a peasant with a hoe. In the background are trees and Western style dwellings with gabled roofs. The panels of flowers have tulips and pomegranate fruits with outward sprouting, ornamental leaves. The narrower panels, flanking the alternating narrative panels, consist of flower- sprays of carnations, irises and other flowers. The exterior of the dish is decorated with lozenges alternating with tulips and pomegranates, between narrow panels of prunus, pine and flowering plants.
Kraak refers to a group of Chinese blue-and-white export porcelain, made in Jingdezhen in Jiangxi province in southern China. Kraak wares were shipped to Europe, the Middle East, Japan, Southeast Asia and Mexico in huge quantities during the late 16th and 17th centuries.1 The name kraak is thought to derive from the Portuguese name for their merchant ships, caracca, used to transport porcelain; both the Portuguese and the Dutch East India Company (VOC) controlled the porcelain export trade from China to Europe. However, it has also been suggested that the name may come from the Dutch word kraken, "to break easily".
Shah 'Abbas I (1571–1629) of the Safavid dynasty is known for his donation of luxury vessels to the Ardabil Shrine (northwest Iran) in the early 17th century, most of which were Chinese blue-and-white porcelain. To accommodate this substantial collection, one of the chambers at the shrine was converted and renamed chīnīkhāne, or the "house of porcelain", where niches on the walls displayed the porcelain objects. The chīnīkhane-s were then copied by the nobility for displaying precious blue-and-white wares. Being held in high regard, they were even depicted in Safavid book paintings.2 This attests to the popularity of Chinese porcelain in the upper echelons of the Safavid society.
The central motif of the two Persian figures implies that the dish was made to order for the Persian market. Figures with elongated narrow eyes, straight noses, thin long braids and short curls on the sides of the face, dressed in loose cut long garments with an aigrette in the headdress, are established in the Persian painting tradition and can be found in 16th and 17th century Safavid book paintings (see S.1986.152, S. 1986,297 and S.305 Freer Gallery of Art, Washington D.C.). A large kraak dish at the British Museum, dated to ca. 1635- 1650, has a central motif of two Persian figures identical to ours.3 The rim also has panels with two Chinese narrative scenes of a farmer carrying a load on a shoulder pole amongst stylised flowers, such as tulips, carnations and also pomegranates (British Museum, PDF C645. See also a dish with similar figures, Asian Civilisations Museum, Singapore, 1995–03897).
There are several comparative blue-and-white kraak dishes, dating to the second quarter of the 17th century with Chinese imagery in the centre but also with very similar decorative border schemes in the collection of the Topkapı Museum, Istanbul (see figures 1600, 1601, 1602, 1603, 1604 and 1606 in Regina Krahl, Chinese Ceramics in the Topkapı Saray Museum Istanbul, II Yuan and Ming Dynasty Porcelains). Kraak porcelain was exported around the world in large quantities; however, the pieces specifically made for the Persian market, recognised by their distinctive imagery, are rare.

Footnotes:
1. Kerr and Mengoni, Chinese Export Ceramics, 2011, 22.
2. Canby, Shah 'Abbas, 2009, 121. See a ca. 1640 miniature painting illustrated in Canby, fig. 80, p. 167.
3. The British Museum dish is 45.7 cm in diameter.

Bibliography:
Canby, Sheila R. Shah 'Abbas. The Remaking of Iran. The British Museum Press, London. 2009.
Kerr, Rose and Mengoni Luisa E. Chinese Export Ceramics. V&A Publishing, London. 2011.
Krahl, Regina. Chinese Ceramics in the Topkapı Saray Museum Istanbul, II Yuan and Ming Dynasty Porcelains. Sotheby's Publications, London. 1986.
Sims, Eleanor. Peerless Images. Persian Painting and its Sources. Yale University Press, New Haven and London. 2002.
Ströber, Eva. Ming. Porcelain for a Global Trade. Arnoldsche Art Publishers, Stuttgart. 2013.
Period: 17th century
Origin: Jingdezhen, China
Medium: Porcelain decorated in underglaze cobalt blue
Dimensions: 50 cm (19⁵/₈ inches)
Provenance: From the collection of a French noble family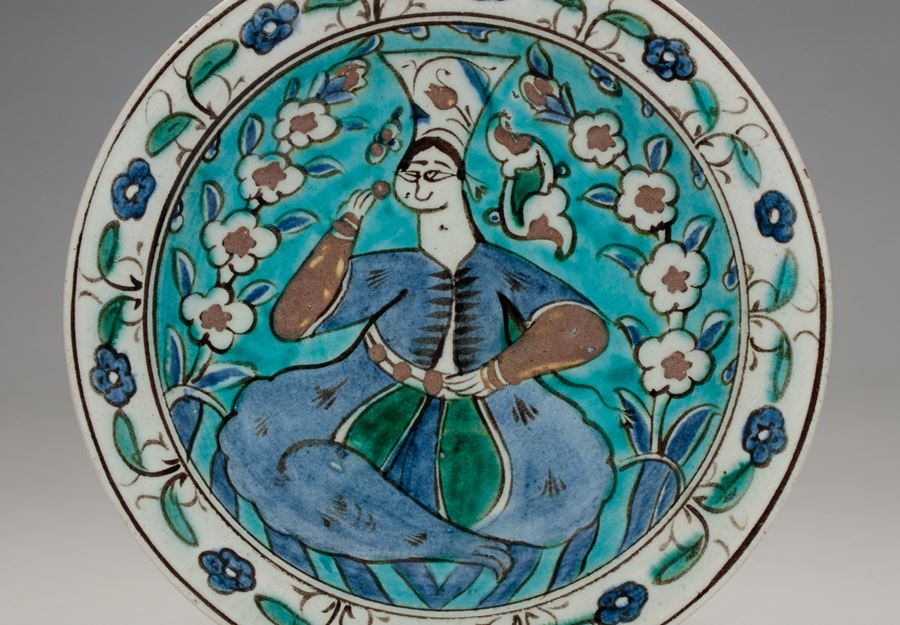 Discover the gallery
Amir Mohtashemi Ltd.
Indian,Islamic and Cross-Cultural Works of Art
More Works From This Gallery