Description & Technical information
This picture is remarkable not for the éclat of the name of the female artist but as an example of flower painting from nineteenth-century France. Redouté's favourite medium was watercolour, usually on vellum, and he and his pupils thus carried on the tradition of the Vélins du Roy, the collection of botanical designs commissioned by Gaston d'Orléans and continued by Louis XIV, Louis XV and Louis XVI. Although not a pupil of Redouté, Mademoiselle Burat's use – and mastery – of this difficult medium nearly thirty years after the death of its greatest exponent shows how pervasive his influence was.

Another wellspring of the rich school of flower painting in France at this time was to be found in the decoration of porcelain, and its 'Mecca' was, of course, Sèvres. Among the most accomplished of all the flower painters working there was Moise Jacob Ber, dit Jacobber (1786-1863), and his dazzling draughtsmanship and brilliant colouring owed everything to the great Dutch still life painters of the seventeenth and eighteenth centuries. Jacobber spent over thirty years of his life working at Sèvres and among his pupils was Fanny Burat.

Before she could begin working on it, this large vellum was dampened and stretched over stiff card and, as it dried, it shrank and created a shallow hollow in the curved space between the vellum and its support, thus affording the artist a drum-like surface to work on. It is rare to find such a large and delicate vellum so well preserved after one hundred and fifty years, not to mention the unfaded pigments of the painting itself. One of Fanny Burat's skills is to paint white flowers on a white background in a three-dimensional way, and the whole, twisting composition is at once both ethereal and convincing. It is typical of that uncommon age that such a talented individual should today be known only by two or three pictures, one of them now in the Musée des Beaux-Arts at Tours.
Medium: Watercolour on vellum
Signature: signed and dated 1869

Dimensions: 79 x 63 cm (31¹/₈ x 24³/₄ inches)
Provenance: with very fine 2nd Empire frame
Categories: Paintings, Drawings & Prints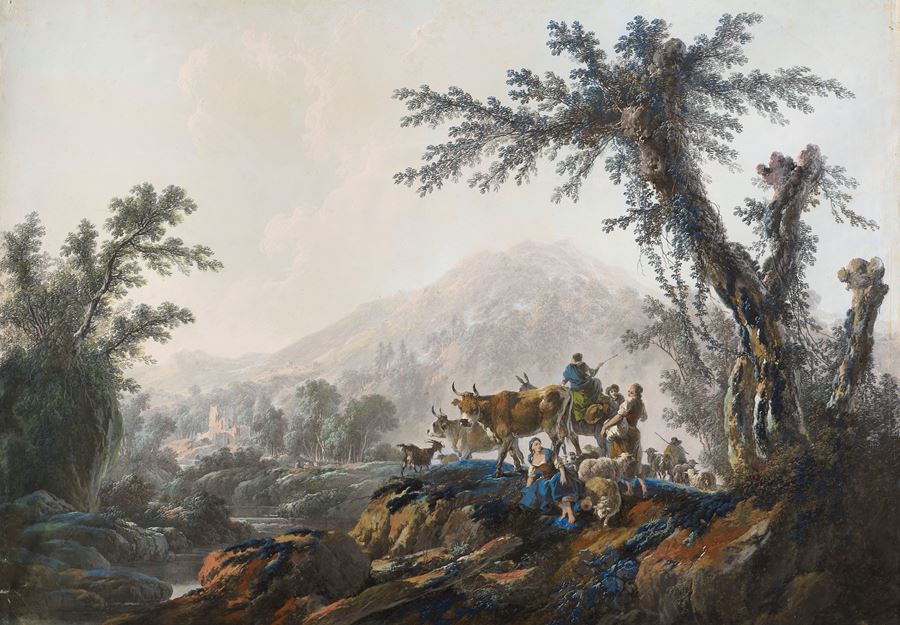 Discover the gallery
John Mitchell Fine Paintings
Old Master, 19th Century European & British Paintings, Drawings & Watercolours
More Works From This Gallery