Description & Technical information
Dutch market

Price: £12,000

An armorial charger decorated in iron red, blue, white, lavender tone and black enamels with gilt, painted in the centre with the large arms of Valckenier topped by a rising falcon crest, the rim with three sprays of peonies and plum blossom within an undulating gilt band at the edge.

The Dutch family Valckenier of Amsterdam were prominent in the seventeenth and eighteenth centuries, especially in the Dutch East India Company (VOC). By 1670 some had settled in the East Indies and their position in the VOC was influential especially from their residence in Batavia, which gave them ready access to the China trade, which explains why there are at least fifteen armorial services known with these arms.

This service was made for Adriaan Valckenier (1695-1751) who was resident in Batavia from 1715 and rose through the VOC as bookkeeper, counsel, director-general and Governor-General of the Dutch East Indies (1737-41). His career ended in great difficulties following his involvement in the massacre of some 10,000 Chinese in 1740, after which he set off for home on the ship Amsterdam, carrying at least 2,400 pieces of Chinese porcelain with his arms.

Kroes lists 15 different designs of which this one is 2C. Valckenier had initially been acquitted of his involvement in the massacre but on his way home he was arrested in Cape Town and brought back to Batavia where he was imprisoned during an investigation that was still ongoing when he died in 1751.

References: Phillips 1956, p95, plate 22 a dinner plate from this service; Le Corbeiller 1974, p87, fig 47, a dinner plate from this service that is in the Museum of Fine Arts, Boston, The Helena Woolworth McCann Collection; p87, fig 46, the blue and white mug with silver mounts; Jörg 1989, p254, No 101, a teapot stand and teabowl and saucer in famille rose; Howard 1994, p79, No 62, a dinner plate from this service; No 61, a dinner plate from the service with the grisaille scenes; p211, No 247, a jug and cover from this service and a charger decorated in underglaze blue with three sprays of flowers on the rim; Litzenberg 2003, p100, No 84, a dinner plate from the service with the grisaille panels, Kroes 2007, p134, Cat 36, this service, p646, Appendix 1G, a list of all the Valckenier services.

Date: 1735
Period: 18th century, Yongzheng period
Origin: China
Medium: porcelain
Dimensions: 45 cm (17³/₄ inches)
Categories: Oriental and Asian Art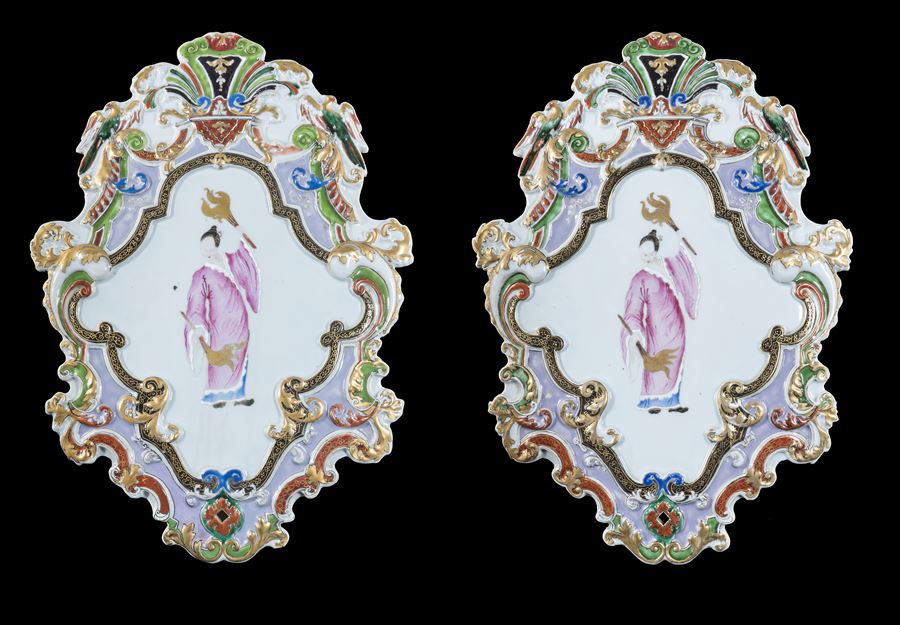 Discover the gallery
Cohen & Cohen
Chinese Export Porcelain, 17th & 18th Century, Works of Art
More Works From This Gallery