Description & Technical information
English Market

Price: £5,400

A Chinese export armorial porcelain dinner plate decorated in sepia and grisaille with a central roundel with various putti playing with baskets of fruits and flowers within a foliate-shaped rim, the cavetto with a painted border of acanthus leaves and darts, the rim with floral swags and ribbons and an armorial crest of a marten.

This design is taken from one of the Four Seasons (Summer) by Giovanni Battista Cipriani (1727-1785), engraved by Francesco Bartolozzi (1727-1815) and published by Pergolesi in London, 1782. Cipriani settled in England in 1755 arriving from Rome with his good friend Joseph Wilton and may have been inspired by Francois Boucher (1703-1770) who did a similar series of the seasons, which were engraved by Claude Duflos (1700-1786) some of whose engravings are also known on Chinese Export Porcelain. Cipriani died at Hammersmith in London and was buried at Chelsea, where Bartolozzi erected a monument to his memory. It would seem that this plate is part of an armorial service as there is an heraldic crest of a marten. Howard (1974) suggests that this could be a rebus on the family name of Martin but he has not found any particular family that ordered such a service.

Porcelains are also known with the design Autumn from the series but Spring and Winter remain to be discovered, if they were used at all. The service included many elaborate items including pierced baskets and vases with pierced covers. The Autumn design is also known on Wedgewood pearlware.

References: Howard 1974, p335, the service is discussed; Howard & Ayers 1978, p376, a plate; Beurdeley 1962, No 63a/b, p128, vases with pierced covers and an illustration of the Bartolozzi engraving; Hervouët & Bruneau 1986, p320, two plates fig 13.97 (Autumn) and fig 13.96 (Summer); Veiga 1989, p180, a dinner plate ; Cohen & Cohen 2006, p64, a bowl with two medallions with the Bartolozzi engraving (Summer) and with further decoration copying that found around the image in the prints; Sargent 2012, p340, No 182, a dinner plate with Summer; Phillips 1956, pp164-5, figs 55 and 75, items with the Autumn designs and an example of the Wedgewood pearlware; Conner 1986, Cat 127, a plate with circular rim and the Autumn design; Litzenberg 2003, No 196, a plate of octagonal form with Autumn.

Date: circa 1782
Period: 18th century, Qianlong period
Origin: China
Medium: porcelain
Dimensions: 23 cm (9 inches)
Categories: Oriental and Asian Art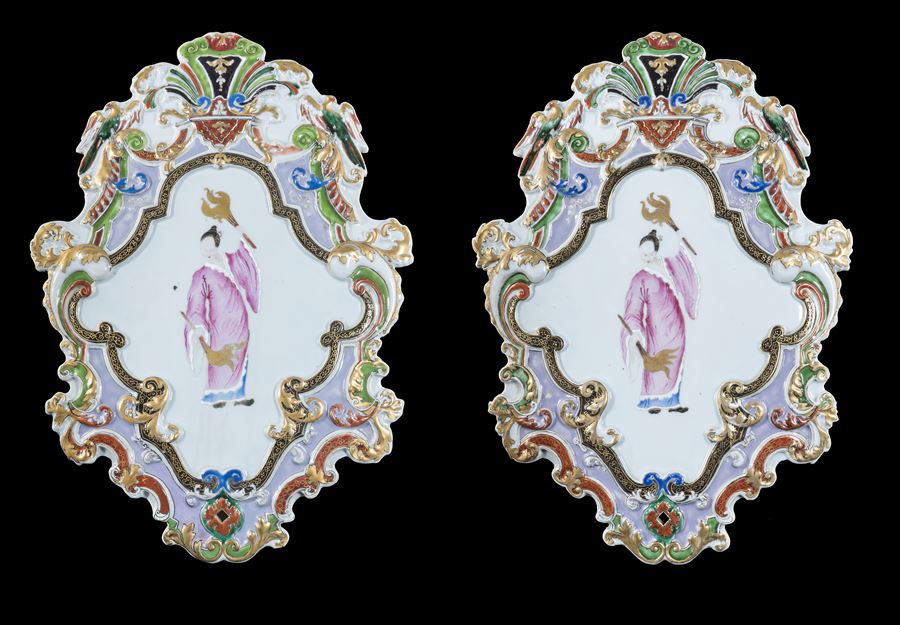 Discover the gallery
Cohen & Cohen
Chinese Export Porcelain, 17th & 18th Century, Works of Art
More Works From This Gallery