Description & Technical information
English Market

Price: £2,200

A Chinese export porcelain reticulated oval dish with the arms of the Honorable East India Company, (EEIC) the rim with a neo-classical border on pale brown.

The Honorable English East India Company had been established by Act of Parliament, 1698, incorporating an earlier company established during the reign of Elizabeth I in 1599. This service was ordered for use by East India Company officers in India, possibly to celebrate these centenaries. Howard (1974) says that it was used by the Company in Bombay and Madras and that some Governors were known to have brought parts of it back to England when they completed their term of office.

The border is inspired by a similar one in a pattern book of 1770 by Josiah Wedgwood and used on creamware for several decades. The small British coat of arms in one quadrant was adopted in 1801.

References: an identical dish in the V&A, No 335J-1898, purchased in 1898 for £13 10s, illustrated Kerr & Mengoni 2011, p9, plate 1; Howard 1974, p774, details of this service; Le Corbeiller 1974, p120, No 51, two similar dishes.

Date: 1801
Period: 19th century, Jiaqing period
Origin: China
Medium: porcelain
Dimensions: 26 cm (10¹/₄ inches)
Categories: Oriental and Asian Art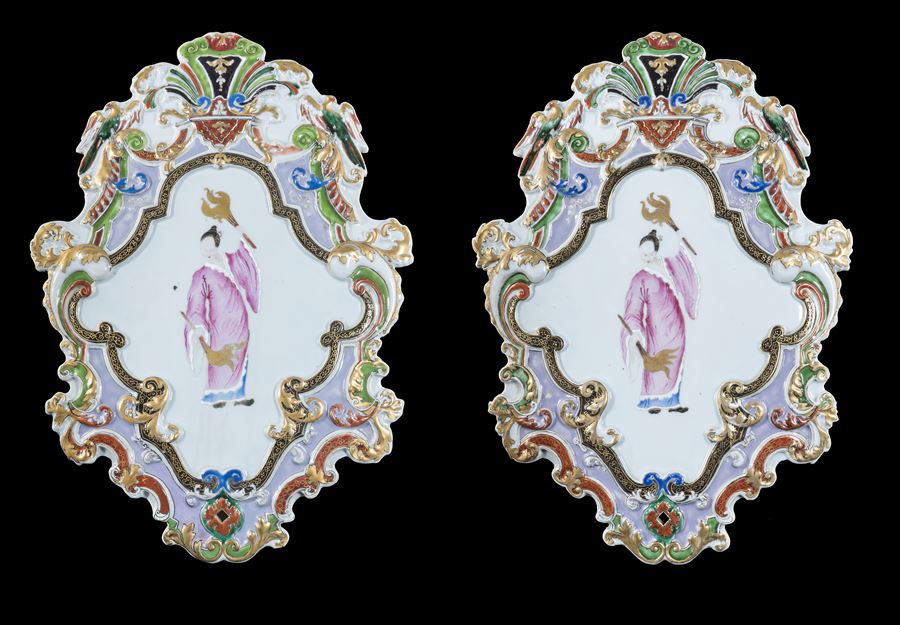 Discover the gallery
Cohen & Cohen
Chinese Export Porcelain, 17th & 18th Century, Works of Art
More Works From This Gallery