Description & Technical information
European Market

Price: £9,000

A Chinese export porcelain armorial basin with a large central coat of arms with two supporters, the cavetto with daoist symbols on a grisaille cell diaper, the rim with flowers and a further crest.

The arms are for Grant of Luss: Gules three eastern croans or, with a badge of a Baronet of Nova Scotia.
Crest: a burning hill Motto: Stand Fast Craig Elachie (which refers to the clan rallying cry to a beacon on a large rock by the Spey near Aviemore).

This service was ordered by Sir James Grant, 6th Baronet of Luss (1679-1747), who inherited the title from his father-in-law in 1718. He was the son of Ludovic Grant (1641-1714), 8th Laird of Freuchie and 1st of Grant and Janet Brodie (c1650-1697). He married Ann, daughter and heir of Sir Humphrey Colquhoun of Luss in 1702 and she bore him six sons and eight daughters. Sir James had initially changed his name to Colquhoun in order to inherit his father-in-law's Baronetcy when Sir Humphrey died in 1718. He changed it back to Grant in 1719 as he became Chief of Clan Grant when his older brother Alexander died without heir. Alexander, a Brigadier-General had sided with the Government in the Jacobite uprising of 1715 but by 1717 he was described as "under the care of the physician of Bedlam and in iron cuffs".

Sir James was MP for Invernessshire (1722-1741) and Elgin Burghs (1741-47). His eldest son inherited the Grant titles and his second son Ludovic inherited the Colquhoun titles. That simple plan failed when the eldest son died and Ludovic became Grant again, the Colquhoun titles and land passing to a third son James who built a famous house Rossdhu on the banks of Loch Lomond with his wife Lady Helen Gordon, entertaining Samuel Johnson and James Boswell there on their tour of the Highlands in 1773.

During the 1745 rebellion Sir James remained in London, advising his son "to stay at home, take care of his country and join no party". Ann Colquhoun was descended from the famous Sir John Colquhoun, created a Baronet of Nova Scotia in 1625, who married a daughter of the Earl of Montrose but in 1632 he absconded to Italy with his wife's sister and in his absence was accused of witchcraft and sorcery.

Sir James Grant's great-grandson, James Ludovic, was Captain of the ship Brunswick which was in Canton in 1798 and 1802 but he died in India in 1804. His brother Francis William Grant (d1853) ordered another Chinese dinner service in 1820 with these arms but without the badge.

References: Howard 1974, p242, this service, p1002, the 1820 service for Francis Grant.

Date: 1740
Period: 18th century, Qianlong period
Origin: China
Medium: porcelain
Literature: References: Howard 1974, p242, this service, p1002, the 1820 service for Francis Grant.

Categories: Oriental and Asian Art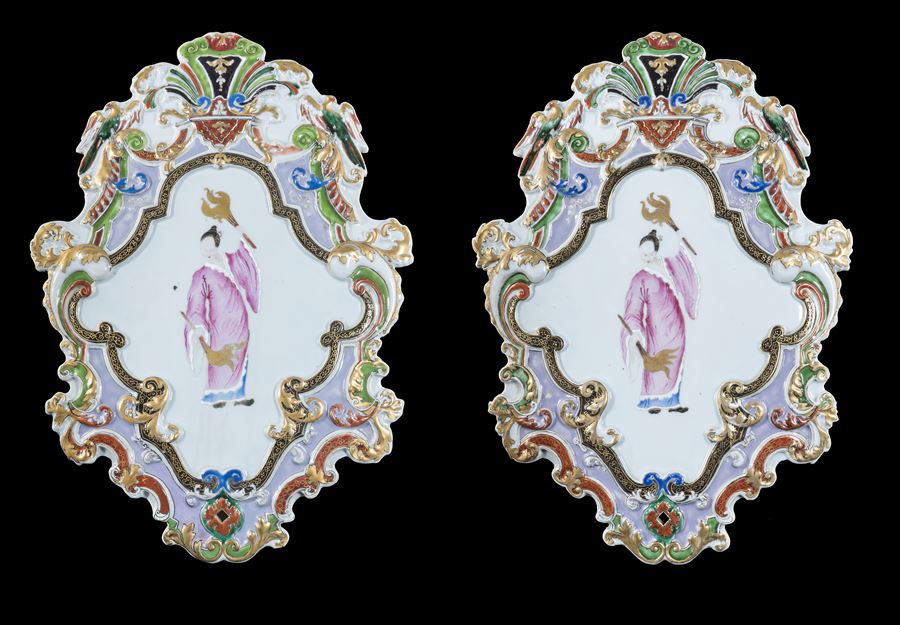 Discover the gallery
Cohen & Cohen
Chinese Export Porcelain, 17th & 18th Century, Works of Art
More Works From This Gallery