Description & Technical information
Qianlong period
Portuguese (English) Market
A rare Portuguese market octagonal meat dish with the central arms of Mendes da Costa, the cavetto with a chain border, the rim with scattered flowers in bright famille rose. Previously attributed to Joao and Catarina Mendes da Costa, the monogramme HMDC would be for Hananel Mendes da Costa (1739-1810) son of Jacob and Branca (d1777), and of a related family though the genealogy is uncertain. Hananel was born in Hackney and became a successful and wealthy merchant in London, trading diamonds and coral with India, working with his uncle Benjamin and very active with the East India Company. The Mendes da Costas had a close association with the de Castro family who also traded coral from India, a relationship that was further cemented when Hananel's daughter Judith married Moses de Castro in 1784. From 1761 he traded under his own name and he married about this time to Ester (named in his will as his widow 1810 and she died 1813). It is assumed that the service was also ordered at this time - the chain border in the cavetto of the plate is very typical of the 1760s. He lived in Willoughby House, Edmonton from 1764-1773 moving to Devonshire Square, Bishopsgate Street about 1780. His son Hananel (1789-1826) was President of the Royal Medical Society in 1816. Hananel Sr traded in whatever he could: in 1774 he is mentioned as buying 291 hogsheads of tobacco imported from Maryland, in the American Colonies, by Joshua Johnson, which he sold on to the Dutch market. The Mendes family were from a Sephardic Jewish family that had been forced, under threat of execution, to convert to Christianity by the Inquisition in the Iberian peninsular in the sixteenth century. By the seventeenth century a number of such families had moved to London, Vienna or Amsterdam where they had become very successful merchants. These families included da Costa, Lousada and D'Aguilar - all of whom intermarried with the Mendes family and some were later ennobled. References: Howard 1974, p551, this service; CAP Vol II, p348, the milk jug with 'crescent for difference'; p704, the 1880 service; The Gentlemen's Magazine, Jan 1812, Vol 82, p22, an article on the Mendes da Costa family by a member of the family using personal MSS; Joshua Johnson`s Letterbook 1771-1774: Letters from a merchant in London to his partners in Maryland (London Record Society, 1979), pp. VII-XXVIII ; Castro 1988, p97 a circular dinner plate from this service; NB: the Mendes da Costa genealogy is tortuously complex as they routinely married cousins, aunts etc, used a small range of names repeatedly and the various online accounts contradict each other - a definitive account has yet to be published.

Date: 1761
Period: 1750-1850, 18th century
Origin: China
Medium: porcelain
Dimensions: 26.5 cm (10³/₈ inches)
Categories: Oriental and Asian Art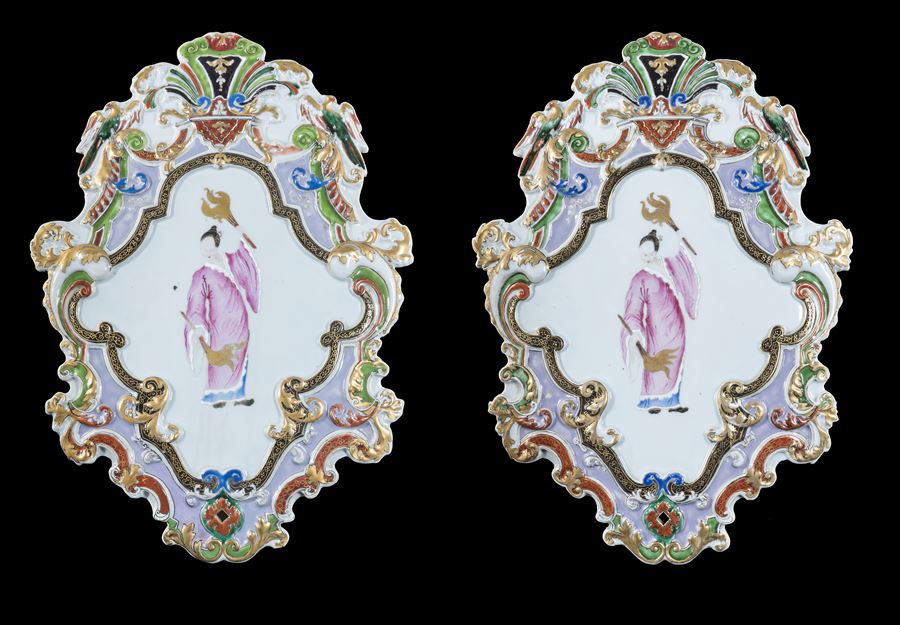 Discover the gallery
Cohen & Cohen
Chinese Export Porcelain, 17th & 18th Century, Works of Art
More Works From This Gallery