Description & Technical information
European Market

Price: £4,800

A large Chinese export armorial meatdish with unidentified continental arms containing a squirrel device on a chequered floor, the borders with finely painted floral sprays.

The fine enamelling of the flowers in the borders suggests a fairly early date for these. The arms are unknown but the style of the mantling and the shield suggests a Dutch or Scandinavian family. It is most likely taken from a bookplate. The squirrel with its arms up like this is supposed to be cracking nuts, missing here, and appears thus in the arms of the Hervey family, as used in 1636, by William and Thomas Hervey of Dorchester, Massachusetts. The crest of a squirrel is used by the Sichterman family, with a well-known Chinese armorial service ordered in the eighteenth century, but their coat of arms has a squirrel on a gold ground. The French family of Nicholas Fouquet, Finance Minister for Louis XIV has a standing squirrel on his coat of arms. It has also been suggested, by Elinor Gordon among others, that these might have been arms used by Harry Lee II (1730-1787) of Westmoreland County, Virginia Colony in America. The crest is similar and the chequy motif also features in the arms of Lee.

The division of the blazon in half is similar in style to some Portuguese armorials and these dishes are known to have been in a Portuguese collection but they remain unidentified.

Reference: Huitfeldt 1993, p143, large pierced basket from this service, arms unidentified but she suggests they may be English.

Date: 1740
Period: 18th century, Qianlong period
Origin: China
Medium: porcelain
Dimensions: 42 cm (16¹/₂ inches)
Categories: Oriental and Asian Art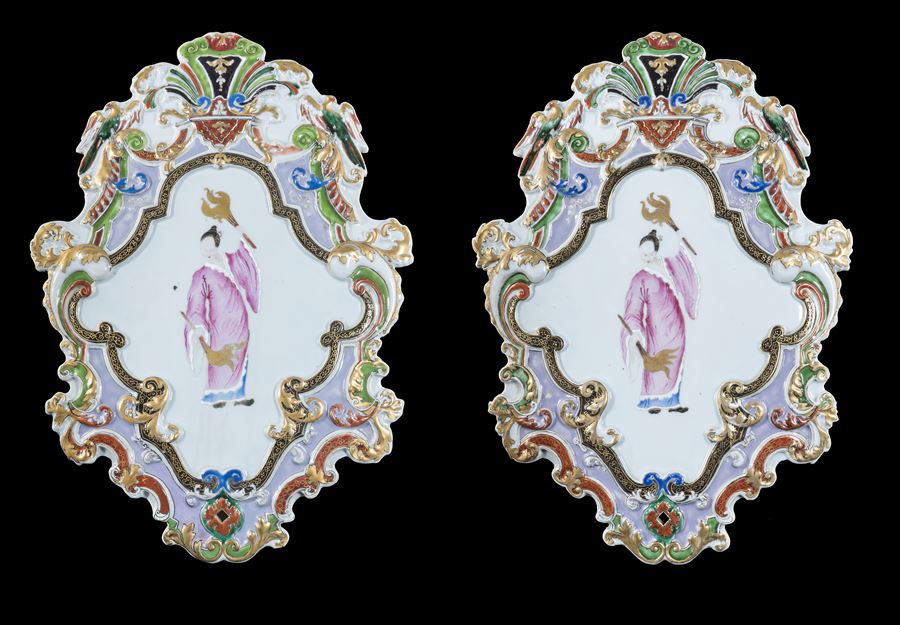 Discover the gallery
Cohen & Cohen
Chinese Export Porcelain, 17th & 18th Century, Works of Art
More Works From This Gallery