Description & Technical information
A Chinese export porcelain massive charger with the French arms of Jubert de Bouville accollée with Guyot de Saint-Amand de Chenizot, the rim and cavetto brightly enamelled.

The service to which this piece belongs was made for André Jubert (1699-1742) Marquis de Bouville who married in 1724, Marie-Thérèse-Julie Guyot de Saint-Armand de Chenizot (1706-1772) daughter of François Chenizot, Secretary to the King 1712, and Finance Secretary 1726.

André was the son of Louis-Guillaume Jubert (1677-1741) and Gabrielle Martin d'Auzielle (c1680-1742). He was born in Orleans and was brought up at Chateau Bizy built by has grandfather Michel-André, who was Intendant of Orléans circa 1650. He moved with his parents to Chateau Dangu which his father bought in 1714. Chateau Bizy was sold after his grandfather's death in 1720 to the Marquis de Belle-Isle. Dangu was sold by the family in 1781.

André's younger brother Louis-Alphonse (1703-1775) was a significant captain in the French navy, serving in Canada and then as Captain of L'Espérance in 1755 when he was captured by HMS Oxford and spent two years as a prisoner in England. He was clearly favoured, as the baptism of his only son was attended by Louis XV and the Marquise de Pompadour.

The Guyot de Chenizot arms on the sinister belong to André Jubert's wife. Her father François Vincent Guyot de Chenizot acquired a fine house in Paris that he remodelled in the rococo style and is now the Guyot Chenizot Hotel.

This service is an example of the very early use of famille rose enamels, contrasting with the decorative style in the cavetto which is characteristic of Kangxi armorial porcelain.



Date: 1724
Period: 1600-1750, 18th century, Yongzheng period
Origin: China
Medium: porcelain
Dimensions: 46.5 cm (18¹/₄ inches)
Literature: References: Lebel 2009, p68, a plate; La Chesnaye, (Noble Arms etc ) Vol II p147; La Chesnaye 1757,p357; Reitstap 1965, Vol II p1052 and 859

Categories: Oriental and Asian Art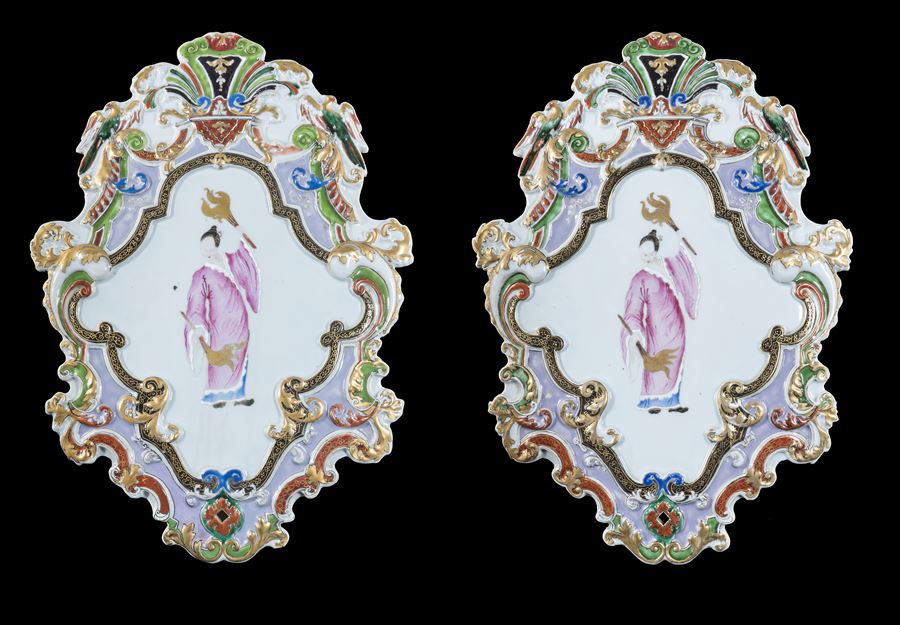 Discover the gallery
Cohen & Cohen
Chinese Export Porcelain, 17th & 18th Century, Works of Art
More Works From This Gallery