Description & Technical information
Dutch Market

A rare famille rose dinner plate brightly enamelled with a scene showing three elaborately robed figures seated beneath a flowering tree, the figures to the right and centre each holding a fish, and a fourth bald-headed and simply clothed figure standing behind them. In front of the seated men is a low table of European design on which rests a large kraak porcelain dish, in the background a peacock is perched on a trellis fence watching a bird in the tree, the rim with reserves of fish.

Price: £3,900

The scene on this plate is known as 'The Doctor's Visit to the Emperor' and is after a design by the Dutch artist Cornelis Pronk. It was the second drawing (of four) the Dutch East India Company (VOC) commissioned from Cornelis Pronk in 1735, and, like the others, it portrays a very Western view of life in China. For example the table is of a European design and the dish on it is of the 'kraak' style, which is a type that was exported to the West in the late sixteenth and seventeenth centuries and would not have been used by the Emperor. The parrot often symbolises a prostitute or painted courtesan in Chinese art so would never have been included next to the Emperor. The design may have been inspired by a design on a Ming jar which depicts three Daoist 'star-gods' in a cave playing chess. Another possible source for the design is found in a late Ming blue and white bowl with the poet Su Dongpo on a boat seated at a table with two drinking companions, with an inscription that quotes from the Ode to the Red Cliffs, about catching fish.

The design arrived in Canton in 1737 and presented the supercargoes responsible for placing the porcelain order with a problem familiar from the first Pronk design: both were highly detailed and therefore very expensive to produce, and so the supercargoes dared place only a small order.


Date: 1738
Period: 18th century, Qianlong period
Origin: China
Medium: porcelain
Dimensions: 23 cm (9 inches)
Literature: References: Jörg 1980, pp 26-7, items with this design; Howard & Ayers 1978, p294, discussion of Pronk designs; Pietsch, TW (Ed) 1995, discussion of the Fallours fish drawings in Renard's Poissons etc; Cohen & Cohen 1999, p35, a pair of famille rose cisterns with this design; C&C 2008, a cistern and basin with identification of many of the fish; Wirgin 1998, p177, a basin with different fish trio inside, in imari palette.

Categories: Oriental and Asian Art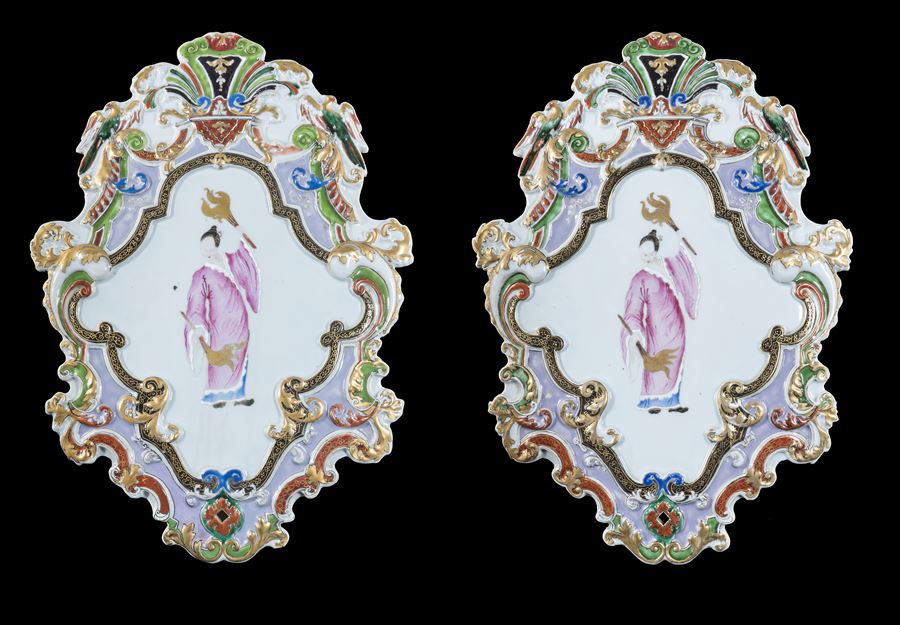 Discover the gallery
Cohen & Cohen
Chinese Export Porcelain, 17th & 18th Century, Works of Art
More Works From This Gallery