Description & Technical information

Chinese export erotic subject gilt metal mounted snuffbox, the exterior of the cover painted with a fashionable European lady and the interior with a naked couple on a fur rug; the mounts European.

The style presented here on the exterior is typical of the 18th century fashion for turquerie. The lady reclines in furs and has coffee pots etc beside her. This is all suggestive but not explicit. The interior however leaves little to the imagination.

These items were for the use of men and were often given as gifts from one man to another. The original source for the painting on the top of this box has yet to be found. However it is known also on the inside of another rare box, with a Dutch armorial on the outer lid. This image looks similar to works by Etienne Jeaurat or Bernard Picart from the first third of the eighteenth century.

Snuff boxes made in Chinese export porcelain are rare - the Chinese themselves used snuff bottles and in Europe many of the porcelain boxes were made at Meissen or in other factories where the relative cost of the material in such small items competed with effectively the Chinese trade.

Snuff was an aromatic powdered tobacco that was very fashionable in the eighteenth century and snuffboxes were an essential accessory for the society gentleman of the time. In 1781 Jean Sebastian Mercier wrote that a well dressed man should have a different snuffbox for every day of the year.



Date: 1750
Period: 18th century, Qianlong period
Origin: China
Medium: Gilt metal mounted
Dimensions: 7.3 cm (2⁷/₈ inches)
Provenance: HERVOUËT, F&N & BRUNEAU, Y, (1986) La Porcelaine Des Compagnies Des Indes A Décor Occidental, p178, No 7.108, a saucer with its underside painted with an embracing couple very similar to this one. HUITFELDT, Johanne (1993) Ostindisk Porslen i Norge, p148, a box of identical shape but with the church of Frederick V on the lid and a monogram inside. COHEN & COHEN (2003) Soldier Soldier, p52, Cat 25, the armorial snuffbox mentioned above.

Categories: Oriental and Asian Art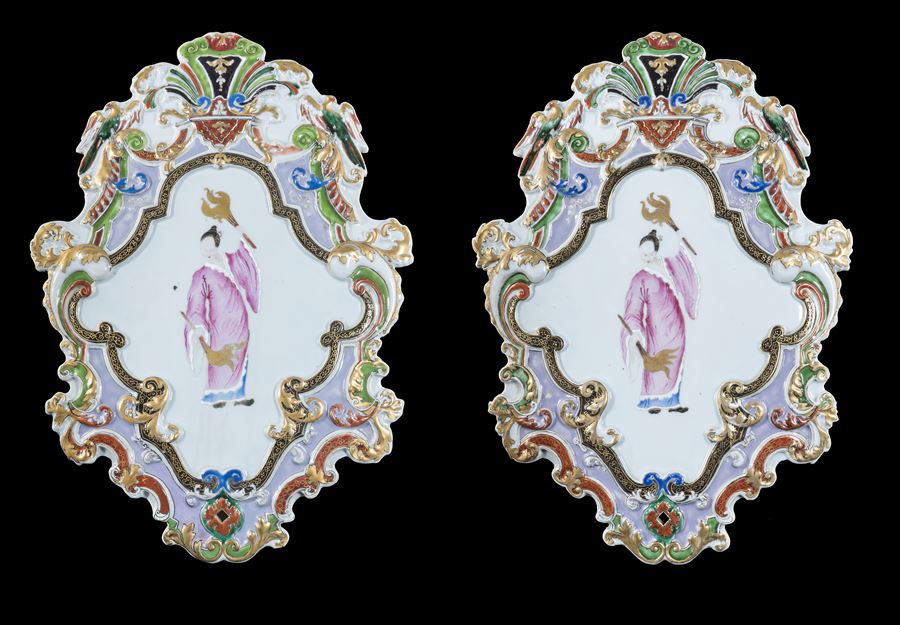 Discover the gallery
Cohen & Cohen
Chinese Export Porcelain, 17th & 18th Century, Works of Art
More Works From This Gallery