Description & Technical information
This stately and enchanting scene illustrates the initial encounter between Telemachus and Calypso narrated in François Fénelon's The Adventures of Telemachus. Telemachus, who set out in search of his father Odysseus after the Trojan war, is accompanied by the goddess Athena disguised as Mentor, the young man's aged guardian. The pair were shipwrecked on an island belonging to the nymph Calypso who immediately fell in love with Telemachus and tried to detain him. While there, Telemachus fell in love with Calypso's attendant Eucharis, which provoked the wrath of Venus, who had been aiding Calypso in her own romantic designs. As a result, Mentor threw his love-struck charge into the sea where fortunately he was picked up by a passing vessel and taken to safety. Inspired by Homer's Odyssey, and published in 1699, The Adventures of Telemachus provided a source of romantic inspiration for French and British artists during the eighteenth and early nineteenth centuries.

The statuesque figure of Calypso in Calypso Receiving Telemachus and Mentor in the Grottodominates the canvas and she looks a powerful and seductive temptress in her classically inspired white dress casually wrapped to reveal her figure. She wears delicate sandals tied with white ribbons and fastened with gold clasps, matched by the ribbon in her golden hair and her pale blue silk mantle which heightens her ethereal air. Telemachus appears naive and vulnerable as he is led further into her lair and Athena disguised as Mentor with scraggly white hair and a beard, warily watches the proceedings. They stand at the entrance to the grotto from which sharply angled rocks hang down intertwined with foliage, heightening its mysterious and somewhat menacing atmosphere.

A painting by William Hamilton in the Royal Academy of Arts, Vertumnus and Pomona, painted as a diploma work for the academy in 1789, parallels the present work stylistically and in its romantic narrative. The scene is taken from Ovid's Metamorphoses, in which the nymph Pomona is wooed by Vertumnus, the god of orchards, in the guise of an old woman. Pomona's features, pose and dress are classically inspired like Calypso's, and the choice of subject matter in both works reveals Hamilton's penchant for painting dramatic works of a mythological or historical nature.

Along with the present work, Hamilton exhibited Aeneas communicating to Dido the necessity of his departure from Carthage at the 1791 Royal Academy exhibition. Interestingly, smaller oil versions of these two works, (23 x 15 in each) entitled Aeneas and Dido, and A Poetical Subject [Calypso receiving Telemachus and Mentor] were sold as a pair at Christie's on 19 November 1970, lot 172.

Hamilton, the son of an assistant to Robert Adam (1728-1792), trained in Rome as an architectural draughtsman. He studied under Antonio Zucchi from c. 1766 and again after returning to London from 1768. Hamilton attended the Royal Academy Schools from 1769, where he shifted focus to figure painting. He exhibited portraits and historical works at the Royal Academy from 1774 to 1801, becoming A.R.A. in 1784 and R.A. in 1789. Hamilton became a leading member of the second generation of British Neo-Classical artists, building on the foundations laid by predecessors such as Benjamin West. Hamilton's oeuvre includes theatrical works, book illustrations, portraiture and historical and mythological scenes. Most notably, he painted twenty-three large-scale pictures for John Boydell's Shakespeare Gallery and contributed to illustrations for Bowyer's History of England and Thomas Macklin's Bible and British Poets. An accomplished draughtsman with an eclectic style, Hamilton was inspired by the work of artists such as Henry Fuseli, with whom he collaborated on various book illustrations. Fuseli's style of painting fantastical, theatrical themes with slightly elongated and distorted figures appears to have influenced the present work.
Period: 1750-1850, 18th century
Origin: England
Medium: Oil on canvas
Dimensions: 252.7 x 158.8 cm (99¹/₂ x 62¹/₂ inches)
Provenance: Frederick William Hotham, 6th Baron Hotham (1863-1923);
Sotheby's, London, 16 November 1983, lot 85.
Literature: Algernon Graves, The Royal Academy of Arts: A Complete Dictionary of Contributors..., vol. III (Henry Graves and co., London, 1905), p. 368;
A. T. Spanton, 'William Hamilton, R.A.' in The Connoisseur, Vol. XXI (May-August 1908), p. 41, no. 12.

Engraved:

John Eginton, Calypso conducting Telemachus & Mentor to the Grotto, 1796.
Exhibitions: London, Royal Academy, 1791, no. 133;
London, Heim Gallery, The Painted Image: British History Painting 1750-1830, May-June 1991, no. 95.
Categories: Paintings, Drawings & Prints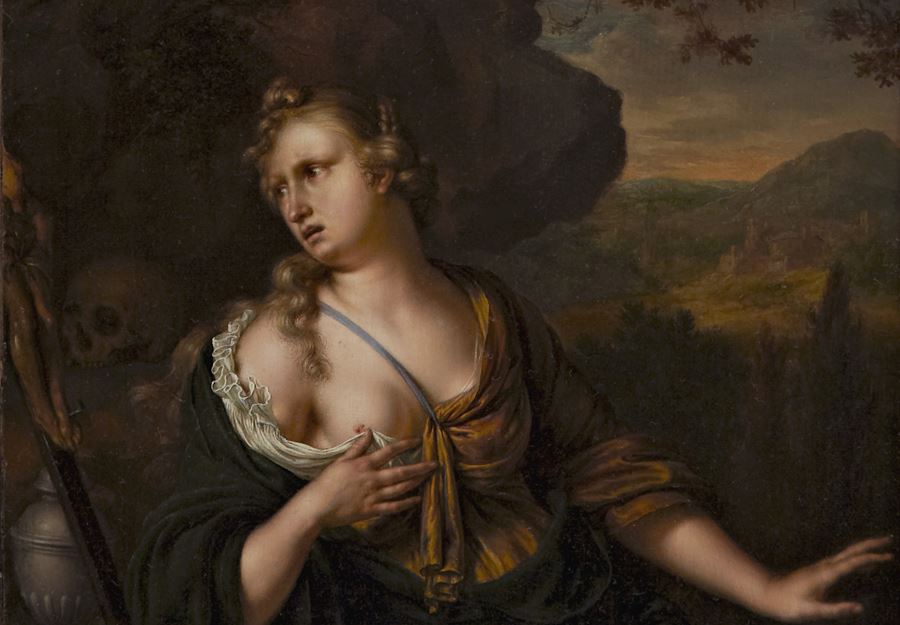 Discover the gallery
Sphinx Fine Art
Old Master & Russian Paintings
More Works From This Gallery