Description & Technical information
Funerary urn representing a seated character with crossed legs.
The character is wearing a large loincloth covering his legs. The hands are reaching the chest.
The face is adorned with a buccal mask representing Cocijo, god of rain and from which emerges a bifid tongue. The ears are ornamented by circular earrings. The round eyes are hollowed and extend by a volute. The head is surmounted by a headdress representing a divinity mask with wide open mouth and perforated eyes.

The Zapotec civilization develops from 500 B.C. in the valley of Oaxaca, in the south of Mexico, but its golden age is set between 200 and 700 A.D. The nerve center of this culture is located in the capital city Monte Alban, which concentrated all political, economic and religious powers. From an artistic point of view, the Zapotecs mainly produced funerary ceramics, notably urns, depicting richly adorned figures, mostly with the attributes of the god of rain, Cocijo.

Cocijo, whose name means "lightning" in Zapotec language, is the most frequently depicted god in the representations from the Zapotec culture. Closely related to rain, thunder and lightning, he appears as the creator of all things. According to the Zapotec mythology, he would indeed have made the sun, moon, stars and seasons; the land, mountains, rivers, plants and animals; as well as the day and night; from his breath only. Indicator of the nourishing rainfalls, he also is a significant symbol of fertility, here accentuated by the presence of corncobs.
Date: 600 – 900 A.D.
Period: Middle Ages
Origin: Mexico, Zapotec
Medium: Grey terracotta, Red painting marks
Dimensions: 27.7 x 17.5 cm (10⁷/₈ x 6⁷/₈ inches)
Provenance: Ancient European collection since 1966.
Categories: Tribal Art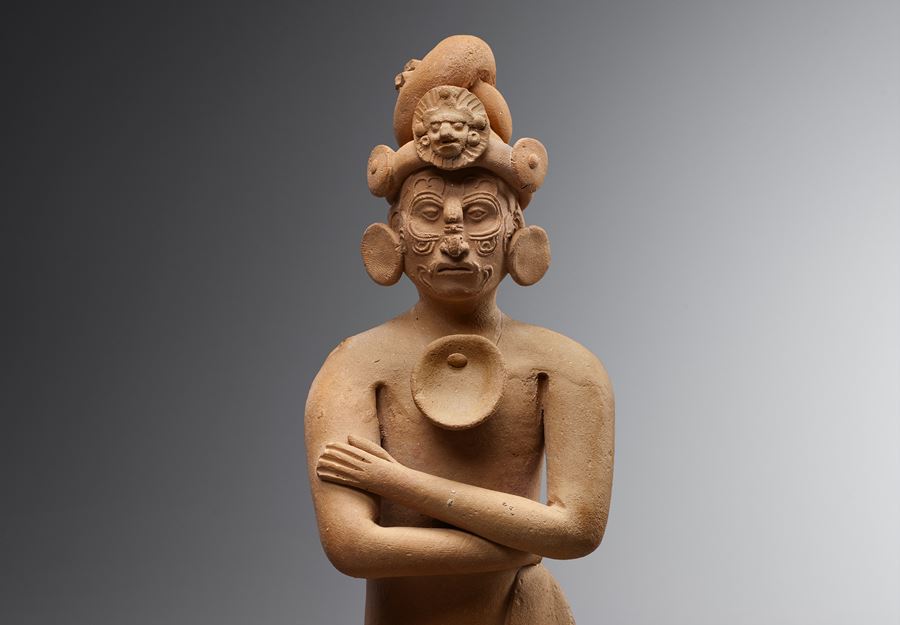 Discover the gallery
Galerie Mermoz
Pre-Columbian Mesoamerican and South American
More Works From This Gallery