Description & Technical information
Texier has painted a delicate watercolour scene, in a sepia palette, of the city of Tabriz, located in north eastern Iran. The large walled city has dome-shaped roofs and mosque minarets that recede towards the mountains faintly lining the horizon. On the right, two men appear to be engaged in conversation; one rests on a rock and the other stands, supporting himself on his staff. On the left of the painting, and opposite the convivial men, there is a comparatively morose vignette of a figure that kneels, solemnly, in front of a grave amongst other headstones. The graves are clearly outside the city and thus denote a separate, distinct space. In the distance men on horseback gallop on the plains. Lemaitre's engraving that illustrated Texier's book, entitled Vue général de Tabriz, would be identical to our painting if it were not for the absence of the grieving person (Texier, pl. 41). Furthermore, there is only one male rider galloping across the engraving and a group of men and their camels replace the many riders in Texier's original. This appears to be tantamount to the engraver's own artistic license.

Date: 19th century
Period: 19th century, 1750-1850, 1850-1900
Origin: Iran
Medium: ​Watercolour on paper
Dimensions: 17 x 27 cm (6³/₄ x 10⁵/₈ inches)
Provenance: Private European Collection

Literature: Texier, C. L'Arménie, la Perse et la Mésopotamie, Paris, 1842, Vol 1-2.

Categories: Oriental and Asian Art, Paintings, Drawings & Prints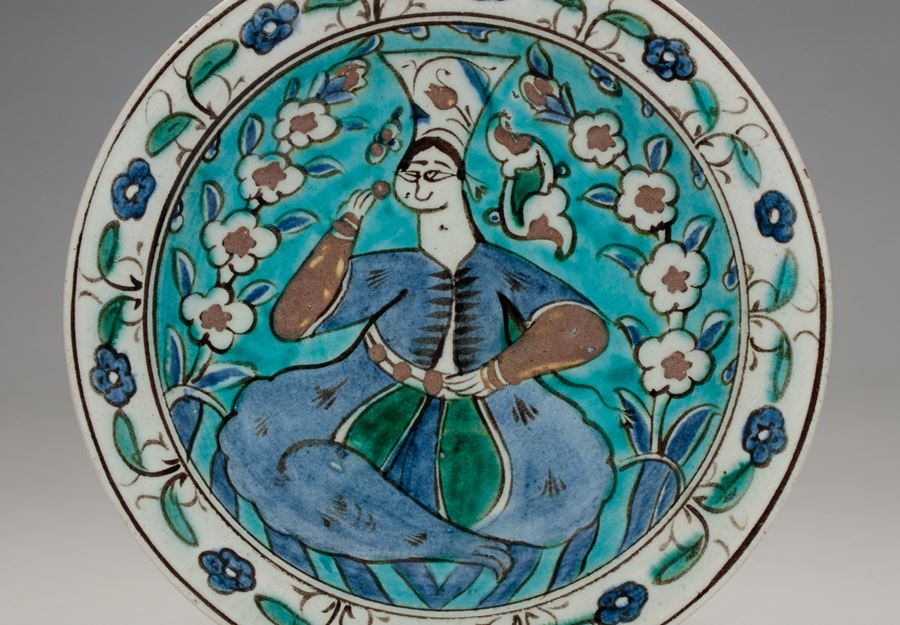 Discover the gallery
Amir Mohtashemi Ltd.
Indian,Islamic and Cross-Cultural Works of Art
More Works From This Gallery