Description & Technical information
The circular dish is painted in green, cobalt blue, bole red and black enamels with figures of chasing animals in the centre. The centre of the dish is decorated with a monkey, deer and hound-like animals. The border of the rim is encircled with lively hares, birds, foxes and hounds in pursuit. The reverse of the dish is decorated with painted blue, green and black alternating floral rosettes.
Two dishes in The Calouste Gulbenkian Collection, Lisbon, Accession Numbers 2034 and 779, have similar animal decoration in the central and border areas including representations of hares, hounds, foxes, birds and deer. The inner border of the central decoration includes half-rosette shapes of blue and red alternating petals which vary from the two Gulbenkian dishes which have blue thin saz-leaf decoration. In comparison to the two dishes in The Gulbenkian Collection, our dish differs in that it includes a quirky depiction of a crouching monkey with two painted blue breasts on its chest. In its one hand the monkey is mischievously holding an item while the other hand scratches its lower back.
Two other dishes with compositions including the rare depiction of monkeys are published in Bilgi, Dance of Fire: Iznik Tiles and Ceramics in The Sadberk Hanim Museum and Omer M. Koc Collections, Sadberk Hanim Museum, Istanbul, 2009, p. 466-467, pl. 302 and 303. Other Iznik dishes from the second half of the 16th century with chasing menagerie decoration can be found in The Ashmolean Museum, University of Oxford, Accession Number EA 1978.1420, The David Collection, Copenhagen, Accession Number 3/1985 and The Metropolitan Museum of Art, New York, Accession Number 1979.412.
An Iznik dish in The British Museum, London, Accession Number G. 165, is decorated with deer, fox, hounds, a plump quail-like bird and an owl. The border rim is decorated in the classic wave pattern without animals. Multiple Iznik dishes with various animal decoration are in The Musée National de la Renaissance, France, Accession Numbers 8354 (DS 2161), 8356 (DS 2163), 8357 (DS 2164), 8358 (DS 2165), 8359 (DS 2166), 8360 (DS 2167) and 8362 (DS 2169). The collection also includes an Iznik jug, circa 1590, Accession Number 9287 (DS 2638), with animals painted on a bluish-green background. The closest example to our dish (in terms in decoration but slightly larger at 29.4cm diameter is in The Musée National de la Renaissance Collection), Plat à la fries d'animaux passant sur le marli, Accession Number 8361 (DS 2168), circa 1575, is decorated with a sphinx, birds, deer, hares, foxes, hounds and a pair of leopard-like cats. Likewise, another similar dish, but of the exact same size as ours (28cm diameter) is illustrated in Rackham, Islamic Pottery and Italian Maiolica: Illustrated Catalogue of a Private Collection, Faber and Faber, London, 1959, p. 46, pl. 82B; the dish is decorated with cheetahs, hares, foxes and birds.
Date: 1585
Period: 1400-1600, 16th Century
Origin: Turkey
Medium: Ceramic
Dimensions: 28 cm (11 inches)
Provenance: Private French Collection

Categories: Oriental and Asian Art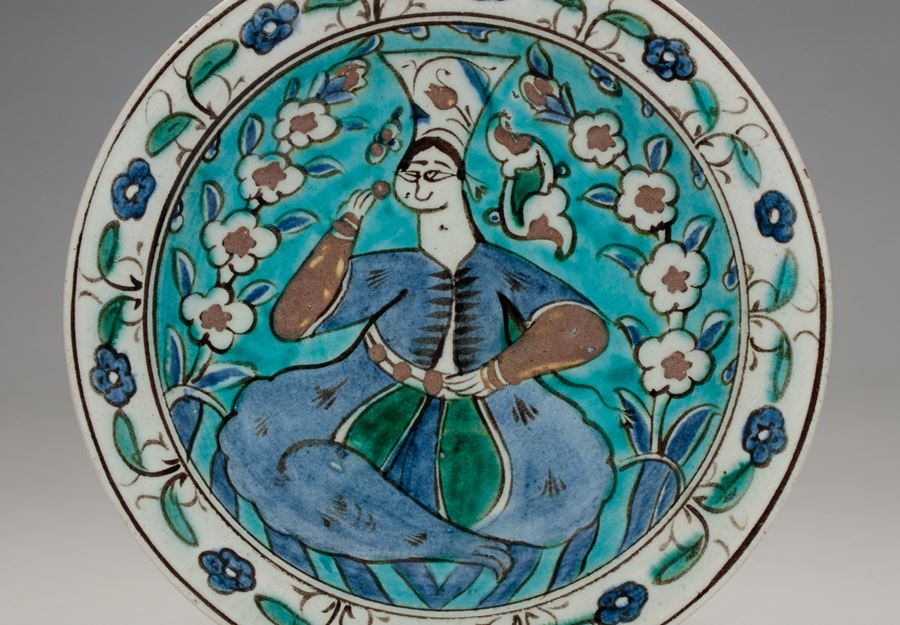 Discover the gallery
Amir Mohtashemi Ltd.
Indian,Islamic and Cross-Cultural Works of Art
More Works From This Gallery