Description & Technical information
China, Kangxi period (1662-1722)
Height: 29 cm – 31,5 cm

A group of eight Chinese famille verte figures on separate plinths. They are each dressed distinctively with varying postures, robes and attributes. They have predominantly green, yellow and aubergine enameling over biscuit porcelain. A category known as sousancai - tri-coloured enamel on biscuit porcelains. The figures represent the Eight Immortals (Baxian) each identifiable by their appearance and the attributes they carry. All the plinths have labels from the Leonard Gow Collection, some have additional labels with numbers from the Glasgow Museums and Art Galleries, of which he was an active patron.

This very popular and legendary group of eight Daoist figures, are very easy to recognize, as they are represented as a group of seven men and a woman, each with a distinctive emblematic object. They are all revered for their spiritual powers and worshipped as divine saints. What they have in common is that they were all once humans who attained immortality, the majority are said to have lived during the Tang Dynasty (618-906 AD). They all underwent spiritual and physical transformations, resulting in a divine immortal existence. As free spirits they move between heaven and earth, serving as role models for humanity, interceding on behalf of mortals with the gods. The Eight Immortals represent the broad spectrum of Chinese society - young and old, rich and poor, civil and military, men and women. In the tales of their lives, they face many challenges, which many people can relate to, which made them so incredibly popular. Stories of the Eight Immortals were popularized in folklore, drama, novels, and wood block prints, as well as on all kinds of other art forms such as porcelain and decorative objects.
A comparable complete set of famille verte immortals is in the Burrel Collection, Glasgow (38.829-38.836). The Taft Museum, Cincinnati, has a set of four Immortals from the former Garland & Morgan Collections. Many other museums have pairs of or single figures of the Eight Immortals.

Date: 1710-20
Period: 1600-1750, 18th century
Origin: China
Medium: porcelain
Dimensions: 29 cm (11³/₈ inches)
Provenance: Dr. Leonard Gow Collection, United Kingdom, 1930-'s
Exhibited in Glasgow Art Galleries and Museums 1936
Categories: Oriental and Asian Art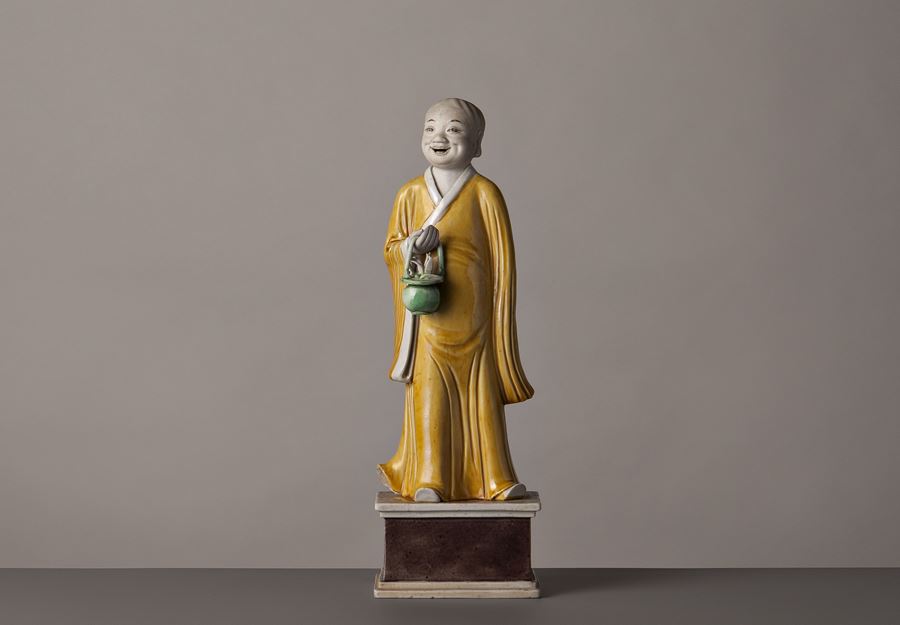 Discover the gallery
Vanderven Oriental Art
Chinese Ceramics and Works of Art
More Works From This Gallery