Description & Technical information
An impressive figure of the Daoist God of War, Guandi, seated in a semi-circular chair. His green robes hang loosely over his armour, a belt slung low around the hips. His right shoulder pad and the relief moulded studded armour are visible. High on his chest and around his ample belly are two belts, the lower one with taotie mask buckle. The formal court hat has a draped cloth hanging over the back of his neck and shoulders. His gently smiling face with a friendly expression, has long wispy facial hair. His right hand is raised holding his beard, the left hand rests on his knee. The whole is enamelled on the biscuit in green, yellow and aubergine glazes, the face and hands are left unglazed. The underside is unglazed and has an inventory number in red lacquer (J888). There is a square hole in the back, which could have been used for placing votive messages.

Guandi was the real historical figure General Guan Yu. He helped fight to restore the tottering Han Dynasty - together with Chang Fei and the dynastic heir Liu Bei -during the Three Kingdoms period (220-265AD). His feats are recounted in the epic historical novel Romance of the Three Kingdoms. This Ming dynasty book, describes his deeds of absolute righteousness, dignity and loyalty. Guandi's deification, had already begun before this famous piece of literature was published. However, due to the introduction of woodblock printing in this period, popular fiction was far more easily distributed on a large scale, thus fuelling his popularity.
Generously sized, finely modelled figures of Guandi such as this, are a rarity. A seated Guandi is in the collection of the Taft Museum, Cincinnati (1931.33). Another is in the Peabody Essex Museum, Salem (AE85883) and a standing Guandi with comparable enamelling from the former Salting Collection, is now in the Victoria & Albert Museum, London (c.1071-1910).

Date: 1680-90
Period: 1600-1750, 17th century
Origin: China
Medium: porcelain, Enamel
Dimensions: 25.6 x 14.5 cm (10¹/₈ x 5³/₄ inches)
Provenance: Private Collection, United Kingdom
With Alfred Speelman, London 1960-'s
Categories: Oriental and Asian Art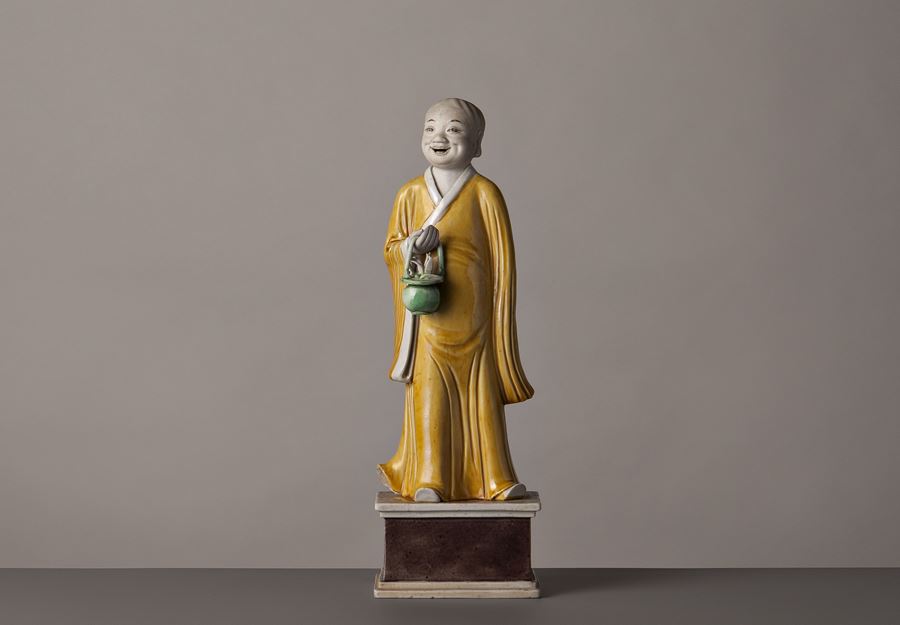 Discover the gallery
Vanderven Oriental Art
Chinese Ceramics and Works of Art
More Works From This Gallery