Description & Technical information
A large impressive elder portrait of a seated man in court dress. Depicted full length, he is seated in a chair draped with a silk cloth. He is dressed in a sumptuous red gongfu officials' robe and accompanying wusha hat. The front of the robe has a gold insignia badge of a baize – a symbol sported by high ranking nobels. Typical of the Ming period, is the white silk shirt (zhongdan) collar, visible around the neck. The mandatory blue belt (shudai), is embellished with gold mounted floral ornaments. On his feet, which rest on the chair rail, are blue choaoxia shoes – a colour only allowed for those who had passed their civil examinations.

There are no further decorations to be seen in the space surrounding the sitter, which encourages the viewer to focus on the face. The features are very realistically reproduced with great attention to detail; the whispy white beard, moustache and eyebrows delicately painted.

In the Chinese Confucian society, the aged were revered and respected and filial piety was a corner stone of the social order. Memorial family portraits played an important role in rituals surrounding the honouring of ancestors. They would be hung on special occasions, such as the New Year, so the forefathers would be in involved in the celebrations. Offerings such as food, would be placed in front of them to placate and encourage their assistance from the beyond. To enhance the status of the living family, the portrayed were painted wearing their most luxurious ceremonial robes.

Throughout the ages, the type of dress worn by Chinese men and women, was determined by rank and education. What is worn therefore reflects status, often conferring authority to the wearer. An extensive set of clothing regulations, first published in 1391, determined which robe colour, rank badge and accompanying embellishments were allowed to be worn. These detailed laws were obsessively regulated, ensuring that rank and authority was recognisable at all levels of society. The strict dress code of that era, now helpfully also provides us with clues for dating works. Literary records with detailed discussion on Ming costume are helpful sources of information, portraits providing further valuable visual evidence about costume from that period. There are also a few rare examples of surviving robes from tombs and given as diplomatic gifts.

Before the age of photography, painting and sculptures of individuals were an effective way of recording likenesses. But portraiture was much associated with funerary and commemorative practices. Portraits painted before the age of 30 are rarely found, as they were thought to rob you of vital energy by association with old age and death..

Similar portraits can be found in the British Museum, London (1926,0410,0.13), Sackler Collection, Washington (acc.nr.FSC-PA-234) and the Royal Ontario Museum, Toronto (921.1.149). A surviving red robe from the period, also with a woven gold Qilin badge, was sent as a diplomatic gift and is now in the Imperial Japanese collection.

Date: 16th century
Period: 1400-1600, 16th Century
Origin: China
Dimensions: 205.5 x 117 cm (80⁷/₈ x 46¹/₈ inches)
Provenance: Private collection, United Kingdom
Categories: Oriental and Asian Art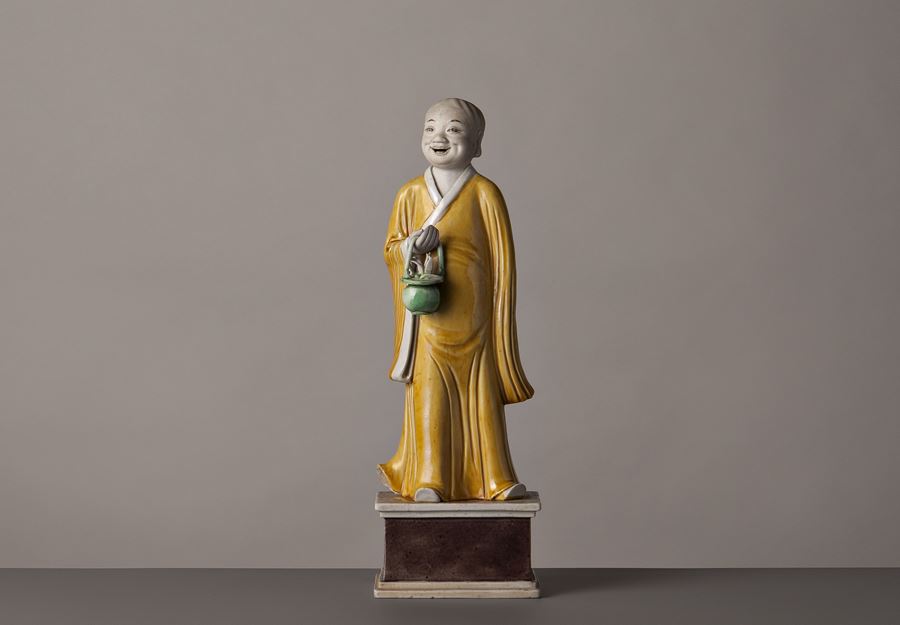 Discover the gallery
Vanderven Oriental Art
Chinese Ceramics and Works of Art
More Works From This Gallery