Description & Technical information
The Amlash culture is known almost exclusively through the archaeological record that has come to light in recent decades. The term refers to the material culture found in the modern day provinces of Gilan and Mazadaran, in Northern Iran that was most prevalent in the early first millennium B.C, and is known for its highly skilled artisans who produced exceptional and original pottery, which characteristically depicted themes of nature.
The word "rhyton" comes from the Ancient Greek meaning "to run through" and refers to a distinct type of vessel that contains a spout and was used to pour drinks in to the mouth and libations during rituals. Normally filled through one hole, and poured through another at the opposite end, rhytons were often zoomorphic and would be made to appear as the animal was either drinking or spouting from its mouth. During the 7th and 8th centuries B.C, zoomorphic rhytons, especially in bull form, were extremely popular in North Iran and local leaders would have competed to have the largest and most ornate example[1].
This fine burnished terracotta examples is in the shape of a stocky bull – an animal with great importance in Ancient History and much revered. Standing on four short legs that carefully balance the body of the rhyton, its prominent back hump and straightened horns have been delicately sculpted in geometric planes, capturing the majesty of the creature through smooth, rounded and full surfaces. The vessel has a long, prominent spout through which the liquid, probably wine, would be poured during ceremonial rituals. A band of hatched linear decoration surrounds both sides of the bull's face and neck, extending across its shoulders and front legs. The piece is accompanied with a thermoluminescence analysis report dating it to between 3,400 and 2,200 years old.
A smaller Amlash rhyton was sold by Bonham's in 2013, which lacks the fine detailing of decoration of this example, but speaks of their popularity and competition between owners to have the finest example[2]. Our rhyton is more conceptual in shape – the artist clearly has a deep understanding of abstraction of form in creating complex geometric surfaces in harmonious sizes, making it appear almost as a precursor to 20th century Cubist art.
This piece was once part of the private collection of George Sand[3]; the renowned French novelist and memoirist. Most remembered for her romance literature, her salacious work captivated French audiences with the details of her affairs with prominent members of French society at the time, including the pianist Frédéric Chopin.

SOLD


[1] A.R. Bromberg, K. Kilinski: Gods, Men and Heroes: Ancient Art at the Dallas Museum of Art, Dallas Museum of Art Press, 1996. P. 32.
[2] Amlash Rhyton, Iran, 10-8th centuries BC. Bonham, Antiquities, London New Bond Street, 23 October 2013. Lot 90.
[3] Amantine-Lucile-Aurore Dupin, also known as George Sand, 1804-1876. Photo George Sand, aged 60, by Nadar, 1864.
Date: 1st Millennium B.C.
Period: Antiquity
Origin: Iran
Medium: Terracotta
Dimensions: 37 cm (14⁵/₈ inches)
Provenance:
Collection of George Sand (Amantine-Lucile-Aurore Dupin), 1804-1876.
Private French Collection since 1963 (accompanied by purchase invoice from 24th November 1963 where the object was acquired at "Objets D'Art Orient et D'Extreme-Orient" auction in Versailles, France).
Private French Collection (accompanied by French Cultural Passport 176513).
Note on the Provenance
This bull was once in the collection of the famous French novelist and memoirist Amantine-Lucile-Aurore Dupin, best known by her pseudonym George Sand (1804–1876). An eccentric character, she was well known for her romantic affairs with the composer Frédéric Chopin and the writer Alfred de Musset, among others. This piece once graced her private residence in Paris. Her collection was sold after her death, at various auctions throughout Paris, with many pieces ending up in the Louvre.
Literature:
Objets D'Art Orient et D'Extreme-Orient, 24 November 1963, Lot 163.
Categories:
Oriental and Asian Art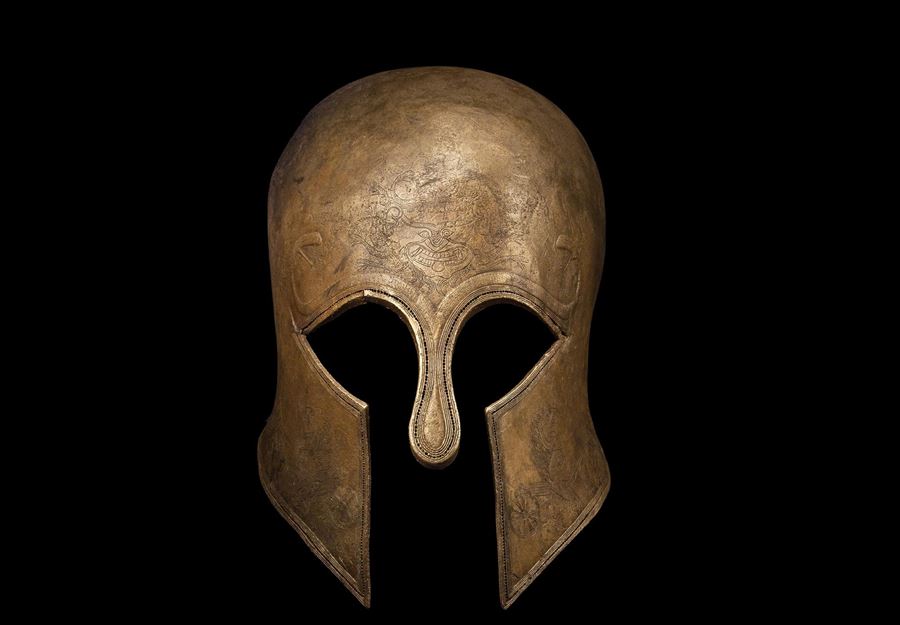 Discover the gallery
David Aaron
Specializing in Classical, Egyptian, Near Eastern, Islamic and Indian Works of art.
More Works From This Gallery