Description & Technical information
China, Tang Dynasty (618 – 907AD)
TL Tested by Oxford Authetication Ltd.

A pair of terracotta figures of Civil Official (wen gong). They hold their hands in an honorific manner and have the serious countenance of a Confucian trained Tang scholar. They are dressed in official court dress comprising a short wide sleeved jacket in reddish orange, edged with a band of floral decoration. The long under robes are a lighter colour. Both figures wear black court hats - jingdeguan (crown for the imparting of virtue) - denoting their position as court councilor. The ceremonial cuirasses, held in place by black straps, have a floral design on the front. The tips of their black pointed shoes peep out from under their garments. All the coloured details are 'cold decorated' - meaning they were applied to the figures after the firing.

Figures of civil officials were often paired with their military counterparts, as well as guardians to form a protective group of figures in the tomb chamber. Comparable figures are in the Victoria & Albert Museum London (nr.C.30-1943) and the Shaanxi History Museum, Xian and the Meijintang Collection.



Date: 618 – 907 A.D.
Period: Middle Ages, 7th century, 10th century
Origin: China
Medium: Terracotta
Dimensions: 59 cm (23¹/₄ inches)
Provenance: - Private Collection, The Netherlands (2015)
- With Vanderven Oriental Art (1996)
- Private Collection, Belgium

Categories: Oriental and Asian Art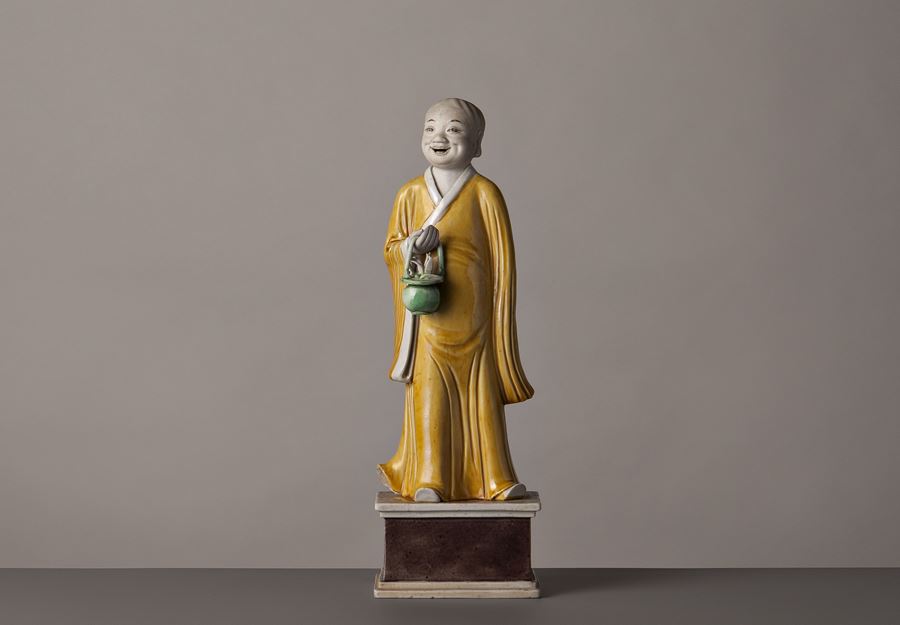 Discover the gallery
Vanderven Oriental Art
Chinese Ceramics and Works of Art
More Works From This Gallery